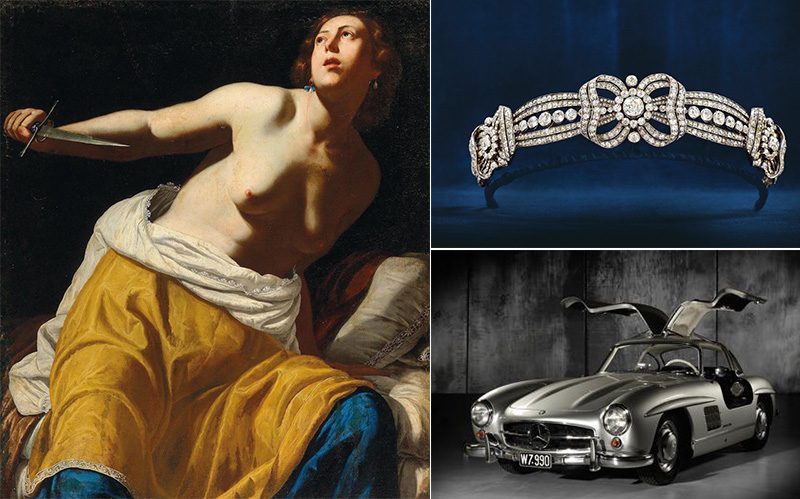 A STRONG YEAR FOR DOROTHEUM
2018 was a successful year full of highlights for Dorotheum and its clients, with hammer prices exceeding one million Euro and excellent results for unique works of art, antiques, jewellery, and exquisite collectibles.
Paintings with Hammer Prices of than a Million
Causing an international sensation, the dramatic depiction of the Roman heroine 'Lucretia', one of the rare Old Master paintings by the important Renaissance woman artist Artemisia Gentileschi, was sold for 1.9 million euros, while a bidder offered 1.425 million Euro for Sir Anthony van Dyck's 'Portrait of a Noblewoman with a Parrot'.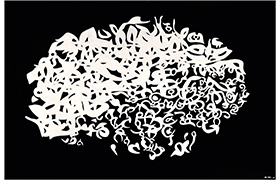 There was also a brisk demand for 19th-Century Paintings and Modern and Contemporary Art. Dorotheum proved traditionally strong in the domain of Post-War and Contemporary Art, with Günther Uecker's nail picture 'Field' realising 491,000 Euro and Lucio Fontana's concetto spaziale 'Attesa' selling for 552,000 Euro. 295,800 Euro meant a world record price for the painting 'Integrazione Ovale' by the Italian artist Carla Accardi.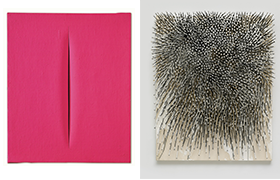 Top Results for Antiques and Jewellery
In the Tribal Art auction, a 81-centimetre-tall Uli figure from the famous Monzino Collection was hammered in at 1.425 million Euro. A table by Giacomo Manzu brought 271,400 Euro in the 'Design First' sale. The same price was offered for a fire-gilt bronze figure of a Buddha from the Ming dynasty. A ring set with diamonds weighing altogether seven carats (210,400 Euro) and a diadem commissioned from Köchert by Empress Sisi's daughter Marie-Valerie for the wedding of her own daughter Hedwig (186,000 Euro) ensured resplendent results in the Jewellery section.
Record for Classic Motor Vehicles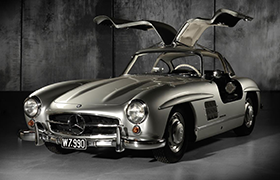 The sum of 5 million Euro was realised in the sale of thirteen Mercedes-Benz cars from the Wiesenthal Collection, held in the magnificent ambience of the Austrian National Library: a 1955 Mercedes-Benz 300 SL was sold for 1.5 million Euro, a 1957 Mercedes-Benz 300 SL Roadster realised 1.1 million Euro.
International Appearance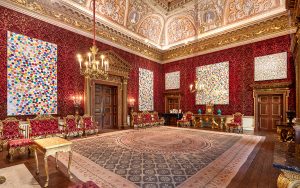 Dorotheum showed international commitment in its numerous sponsoring activities. Particular highlights included its cooperation in the exhibition of Damien Hirst's 'Colour Space Paintings' at Houghton Hall, United Kingdom, and its support of the big Franz West retrospective at the Centre Pompidou in Paris.
Read more about the 2018 auction year here!