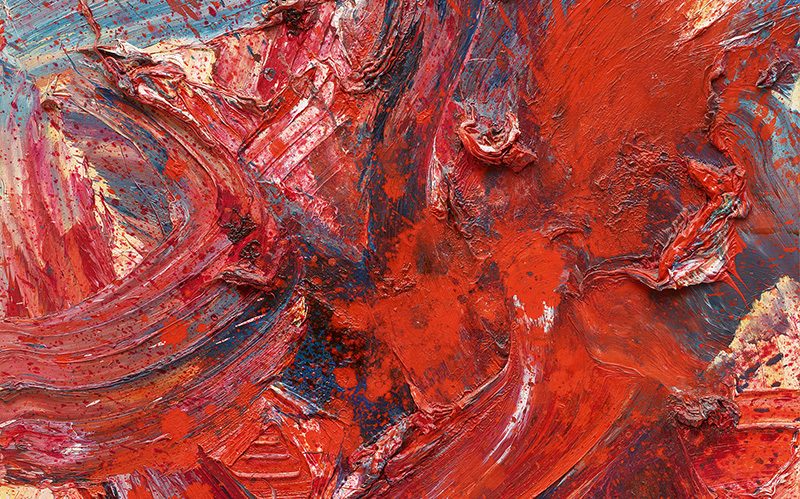 Vital energy
Dorotheum is to sell Kazuo Shiraga's "GI (The Game)", an important work from the Japanese Gutai group, on the 27 November 2019 at the Post-War and Contemporary Art auction.
Kazuo Shiraga was one of the most important artists of the Japanese post-war avant-garde and a member of the Gutai group of artists, which was founded in Osaka in 1954. His works are unusual because he painted with his feet, a method he stuck to until his death. As early as December 1953, the artist stopped using his hands to apply colour and pigments to the canvas; from then on, he worked almost exclusively with his feet.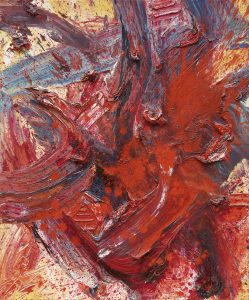 "Do what no one has done before. Never imitate others" – From the manifesto of the Gutai group, written by its founder, Jiro Yoshihara, in 1956
"Something comes out of your subconscious" – Kazuo Shiraga
This striving for immediacy and spontaneity revealed to the young artists the human psyche in all its depth; they used their entire bodies and mental strength to process the events of war in their art. Their extroverted working methods, which included performative painting with hands and feet, happenings, and installations, visualised their experiences. Their youthful performance art attracted attention in America and Europe. Jiro Yoshihara, the oldest Gutai artist and founder of the movement, wrote in the Gutai manifesto: "Do what no one has done before. Never imitate others", advising Japanese artists to intensively explore their own history and culture. In the late 1950s, Michel Tapié, a theorist of the Art Informel movement, presented Gutai and the group's works as Japan's answer to Europe's Art Informel, using "Informel" as an umbrella term for the various art movements based on the non-geometrical tradition of abstract painting. These include Gutai, Informel, Abstract Expressionism, Minimal Art, Arte Povera, Art Brut and Tachisme.
Gutai was an important movement for contemporary art, focussing both on the actions of the artists themselves and on the materialisation of painting. In Kazuo Shiraga's works the traces left by the artist's violent actions and the materiality of the paint join hands, as it were, though they also contradict each other. These two factors – the action and the materiality of paint – formed a unit in Shiraga's works throughout his life. In 1971 Kazuo Shiraga joined the Tendai Buddhist monastery of Enryaku-Ji on Hiei Mountain. He completed his religious training as a Buddhist monk in 1974. From that moment until his death in 2008, he immersed himself ever deeper in painting.
INFORMATION about the AUCTION
Auction date: Post-War and Contemporary Art auction, 27th November 2019, 6 p.m.
Location: Palais Dorotheum, Dorotheergasse 17, 1010 Vienna
Exhibition: 16th November 2019 –27th November 2019
Information: Petra Schäpers, expert for Modern Art and  Contemporary Art at Dorotheum
View now the auction catalogue and read our new myARTMAGAZINE!