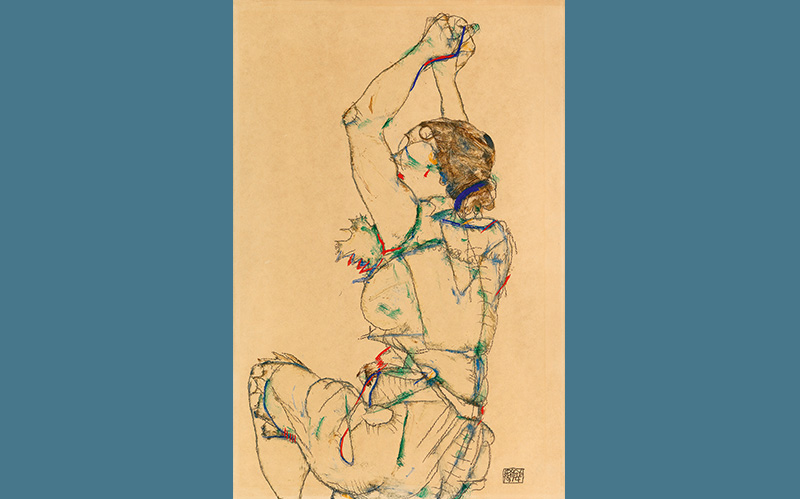 BETWEEN REASON AND EMOTION
Egon Schiele is one of the world's most important exponants of Modern Art. His expressive nudes and portraits and his candid views of people, cities, and landscapes, characterise Austrian Expressionism. "Woman with Raised Arms" originates from the later phase of his oeuvre. It will be sold in the Modern Art auction on 26 November at Dorotheum.
Jane Kallir, the international Schiele expert and author of the catalogue raisonné, analyses "Woman with Raised Arms" from the later phase of the artist's oeuvre. In particular it reflects his search for a new artistic form in this critical phase of his life.
by JANE KALLIR
Egon Schiele experienced a number of important transitions, both professional and personal, in 1914. He acquired a pivotal new patron in Heinrich Böhler, an art aficionado who not only bought Schiele's work but hired him as a private art tutor. When the two painted side-byside, Böhler paid for all the materials and models. Heinrich's cousin, Hans Böhler, an artist of some stature, commissioned a full-length portrait of his lady-friend, Friederike Maria Beer and toward the end of 1914, Schiele found a Viennese dealer, Guido Arnot, who was willing to give him a one-man show. With a sigh of relief, the artist was able to write his mother, "Ich habe die Empfindung daß ich endlich aus der unsicheren Existenz heraus bin." ("I believe I may finally be emerging from my insecure existence.")
The outbreak of World War I in August 1914 had little immediate effect on Schiele: afflicted with a congenital heart defect, he was initially excused from military service. The marriage in November of his favorite sister, Gerti, to his best friend, the artist Anton Peschka, had a more direct emotional impact. As Schiele himself began to think about settling down, he decided, regretfully, that his long-term partner, Wally Neuzil, would not make a socially acceptable wife. Instead, the artist began a flirtation with two sisters, Adele and Edith Harms, who lived opposite his studio on the Hietzinger Hauptstrasse. Wally, in a role that must surely have been excruciating, was recruited to play chaperone.
Schiele's ambivalence about jettisoning Wally for a more suitably bourgeois mate permeates much of the artist's work in 1914. In contrast to the waifs who populated his earlier drawings and watercolours, Schiele's 1914 nudes are lusty, full-grown women, whereas his earlier models evinced a palpable human presence, in 1914 the artist tended to view the female figure principally in formal terms. Through a combination of emotional and stylistic distancing, he simultaneously sublimated his own sexual feelings and defused the erotic volatility of his work.
"Woman with Raised Arms" exhibits the stylisation typical of Schiele's drawings in 1914. Her face an eyeless mask, the subject lacks a concrete identity. The work can be loosely dated to late spring or early summer, based on its relationship to several similar gouaches (K. D. 1538, D. 1539, D. 1540 and D. 1541) and the drypoint "Squatting Woman" (K. G6). During this period, Schiele's drawings were marked by a kind of scarification—seen here in the stitch-like strokes along the back of the figure and in the folds of her chemise. Crosshatching is typically used by printmakers to suggest volume, though it is unclear if Schiele's use of the technique derived from his experiences with drypoint, or if, conversely, his contemporaneous drawings influenced his approach to printmaking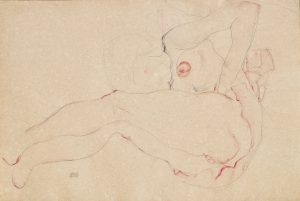 Schiele's erratic linework has the paradoxical effect of heightening the plasticity of "Woman with Raised Arms". The abstract segments of the chemise suggest volume, as do the rounded contours of the figure's limbs. Using the relatively dry medium of gouache, Schiele edged the principal forms with a light underglaze of brown, upon which he superimposed bold accents in red and green. The paint that defines the woman's hair is subtly manipulated and scored so as to evoke a tangible substance.
The noticeable volumes in "Woman with Raised Arms" contrast sharply with the resoundingly two-dimensional treatment of picture plane. The figure is pinioned, like a butterfly, against the flat sheet, and the signature location creates a deliberate sense of spatial dislocation. Although the model probably posed crouching on a low mattress, Schiele viewed her from above and accordingly signed the sheet as a vertical. Rather than occupying a real space, "Woman with Raised Arms" resides in an artistic realm of Schiele's creation. The push-pull between conventional realism and this self-contained artistic realm was the aesthetic counterpart to an ongoing personal conflict between society and self.
Schiele would gradually resolve this conflict in the remaining years of his brief life. In 1915, he was drafted into the Austrian army, and shortly before his induction, he married his bourgeois neighbour, Edith Harms. The experimentation with abstract form seen in "Woman with Raised Arms" gradually gave way to a more soothing verisimilitude. Schiele's late work can be extraordinarily beautiful, but it lost its earlier edge.
INFORMATION about the AUCTION
Auction date: Modern Art auction, 26th November 2019, 5 p.m.
Location: Palais Dorotheum, Dorotheergasse 17, 1010 Vienna
Exhibition: 16th November 2019 –26th November 2019
View now the auction catalogue and read our new myARTMAGAZINE!
View now the video about the works by Egon Schiele!