Late appreciation, great success and a book tip
Works by Maria Lassnig are currently in high demand in the art market. Dorotheum, which holds the present world record price for one of her paintings, included two important Lassnig paintings in the auction of "Contemporary Art" on 25 November 2015, which achieved top prices. Also, Sepp Dreissinger's volume of photographs of and interviews with the artist, which paints a very personal and comprehensive picture of this seminal artist and which was supported by Dorotheum, has recently been published.
Book and film by Sepp Dreissinger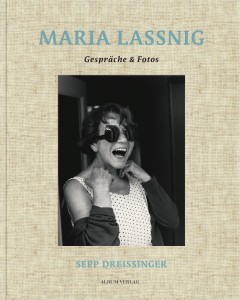 The new volume of photographs and interviews by the renowned photographer and filmmaker Sepp Dreissinger, who also achieved international recognition with a book on Thomas Bernhard, has given clearer outlines to Maria Lassnig as an individual and as an artist. Approximately 100 photographs of the artist document Dreissinger's "favourite photo-subject since 2001." A major interview with Lassnig and around 20 conversations with people close to her – including her patron Hans Ulrich Obrist, gallerist Gabriele Wimmer (Ulysses) or the collector Helmut Klewan – also add to the understanding of this artist's personality. The book, as well as the 35-minute film documentary on Maria Lassnig, are the impressive legacy of a long-lasting professional and also cordial relationship and were published in accordance with Maria Lassnig's expressed wishes.
Maria Lassnig, Gespräche & Fotos by Sepp Dreissinger, Album Verlag, Vienna 2015 (ISBN 978-3-85164-193-6)
The artist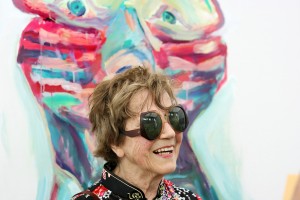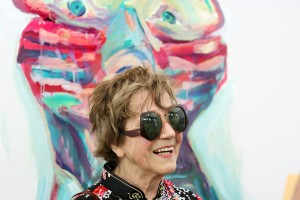 Her career did not take off until she was in her sixties, and the awards due to her paintings did not come until the very end of her life, including the 2013 Golden Lion of Venice for her life's work. Since her death in 2014, Maria Lassnig has certainly gained global recognition as one of the most important painters of the 20th century. Her path as an artist led from the avant-garde gallery "nächst St. Stephan" via Paris – where she met André Breton and Paul Celan – to New York, and then back to Vienna as the first female University professor of art in German-speaking Europe.
Her style
Maria Lassnig has a unique way of combining the figural with the abstract and the physical dimension with the psychological condition, and managed to cast an entirely fresh light on the inner life of the external world, not only in hundreds of self-portraits. In the "Körperzustandsbildern" she began to develop in 1949, the artist places her own body as a visible representation of the external world in front of these pictorial descriptions of human inner worlds. In a conversation with Lassnig, art critic Kristian Sotriffer described this process in the following terms: "She functions as a kind of bowl, collecting the world and then projecting it out again: Maria Lassnig as a passage, as a body that translates emotion and thought into painting, and thereby also appropriates part of the world, through self-observation, and self-perception."
Lassnig at Dorotheum
As the immense importance of the artist and the quality of her paintings only began to attract international attention quite late, though definitely following the publication of her diaries by curator Hans Ulrich Obrist, Lassnig's presence in the art market started out rather small. In recent years, top prices for Lassnig paintings began to attract notice – in 2014, Dorotheum was able to set a new world record with the €491,000 brought in by the 1985 large-format painting "Der Wald." In the same year, a "Stillleben mit rotem Selbstporträt" was successfully sold for €477,800, "Bischof" for €320,200, and the 1951 work "Zweiteilig" (Two-part) for €93,750.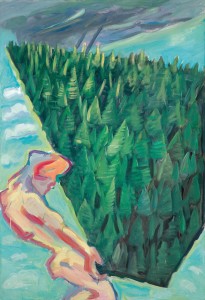 The Dorotheum auction of contemporary art on 25 November 2015 featured two oil paintings dating to the nineteen-sixties: the abstract-conceptual "Selbstporträt als Auto"(Self-portrait as a car) and the vividly coloured "Zwei Figuren" (Two Figures) (realized prices € 344,600 and € 341,202). The eloquent artist herself described the characteristic palette of her paintings in freshly-coined terms: "fear of cancer colours, pain colours, pressure colours, tension colours, strain colours, heat- and cold colours…"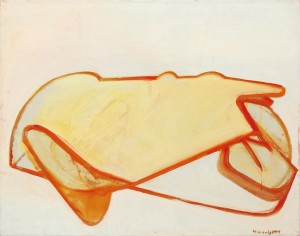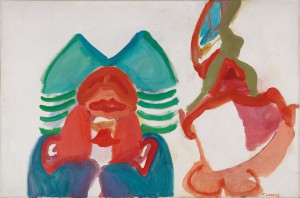 images above:
Photo Maria Lassnig © Sepp Dreissinger, 2006
Maria Lassnig, "Selbstporträt als Auto," 1963
Maria Lassnig, "Bischof," 1962
Maria Lassnig, "Der Wald," 1985
Maria Lassnig, "Stillleben mit rotem Selbstportrait," 1970