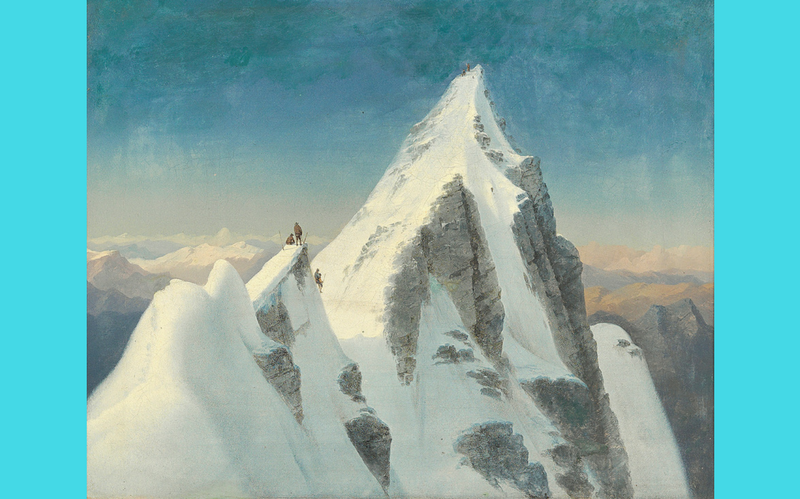 Markus Pernhart's Grossglockner: the peak of perfection
Fearless and passionate: these are words that spring to mind when thinking of Markus Pernhart. In defiance of the weather and alpine challenges, the Carinthian landscapist painted impressive records of his beloved native country. The works coming up for auction in October illustrate his multifaceted œuvre.
Markus Pernhart was born in humble conditions in Grafenstein, Carinthia, but his love of art drew him to Klagenfurt from his home village. He soon met industrialist Eduard von Moro, who also worked as an artist and is now considered the first representative of Biedermeier painting in Carinthia. As a student of Franz von Steinfeld, Moro, like Steinfeld himself, had an influence on Penhart's œuvre. This can be seen, above all, in the clear colouring of his works.
The artist received his first significant commission from Max von Moro, Eduard's nephew, who asked him to create numerous drawings of Carinthian castles and palaces in order to document the decaying buildings and thus preserve them for future generations. His meticulous drawings bear witness to Pernhart's great passion. One anecdote has it that he spent entire afternoons on the shores of the frozen Lake Wörth, with a pan of hot coal to warm himself and his paints.
Highly popular at the time of alpinism
When Pernhart was regularly featured in the monthly exhibitions of the Österreichischer Kunstverein (Austrian Art Association) between 1854 and 1857, his work caught the attention of Empress Elisabeth. In 1857 she purchased his painting entitled "Grossglockner mit der Kirche Heiligenblut" (Grossglockner with church Heiligenblut). Such views were highly popular at the time as alpinism was gaining in popularity. Mountains were no longer insurmountable obstacles across travel routes, but targets to be conquered. Unperturbed by low temperatures and the weather, the artist climbed Grossglockner several times in order to provide his contemporaries with cartographically precise images of inaccessible places. It is said that he climbed the mountain three times in four days in 1857 while creating his Grossglockner panorama, now held by the Carinthian State Museum. Over the next three years he summited the Grossglockner eight more times. Once the painting was finished, Pernhart sold it to the Austrian Alpine Club. It disappeared for two and a half years on its way to an exhibition and was only found after the artist's death, unharmed, in the hands of the company that had been commissioned with its shipping.
The perfection of Pernhart's landscape art can already be seen in his early work. As well as painting untouched alpine landscapes, he dedicated himself with the same intensity to reproducing nature influenced by man.
Industry as a component of equal value
Due to his close ties to factory owners, Pernhart was often commissioned to paint industrial buildings. When doing so he integrated industry into picturesque landscapes as a component of equal value. Even though his representation of these scenes followed traditional aspects, the subject itself was a novelty in the field of landscape art, as can be seen in the two views of the Ebental white lead factory.
Pernhart may not have created a new visual language, but he broke new ground in terms of content. His art was rooted in Biedermeier. It is impossible to deny the influence of great artists of that era like Waldmüller, for example. Pernhart refrained from charging his landscapes with symbolic content and showed nature without pathos of any kind, the way it was perceived by his contemporaries. His art allows the viewer to experience a concrete landscape without prejudice – a fact that is illustrated by the three works in the 19th century paintings auction in October.
---
Bianca Hawel and Caroline Ghiringhelli are art historians at Dorotheum's 19th-century paintings department.
Information: Dimitra Reimüller, specialist for 19th century paintings
Take me to the catalogue
image above:
Markus Pernhart (1824–1871)
"Der Großglockner"
oil on canvas, 32 cm x 39 cm
price realised € 50,000