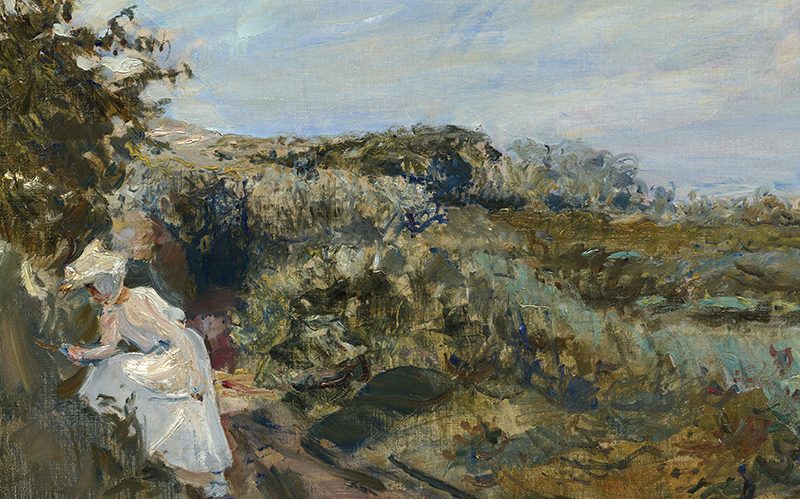 At the invitation of Berlin art dealer Paul Cassirer and legendary actress Tilla Durieux, Max Slevogt spent two weeks at the North Sea, where he created beach landscapes highly untypical of his œuvre. One of them, "Landscape with woman in white", is to be offered  for sale at Dorotheum's November auction.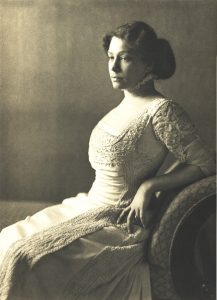 In the summer of 1908, Max Slevogt and his artist friends, Max Liebermann and Lovis Corinth, spent two weeks on the Dutch North Sea coast. These three artists were the triumvirate of German Impressionism. Their friend Paul Cassirer, a Berlin art dealer and editor, had invited them to visit his summer house on the beach of Noordwijk aan Zee. Cassirer, whose gallery represented many eminent contemporary artists, and his partner and future wife, Austrian actress Tilla Durieux, had had the holiday home built to their own design, amidst the dunes. Nestled in the thriving Dutch seaside resort of Noordwijk, the house was always open to Cassirer's friends, and artists represented by his gallery had an automatic right to hospitality. Slevogt and his two friends who, like him, were members of the Berlin Secession association of artists, visited Noordwijk to paint the sea and beach together.
Unlike his artist friends, who frequently went abroad to paint, Slevogt disliked travelling. He visited and painted the North Sea coast just once, and beach landscapes in general are extremely rare in his œuvre. Only six of his paintings feature this particular theme, so each one of them is a significant part of his work.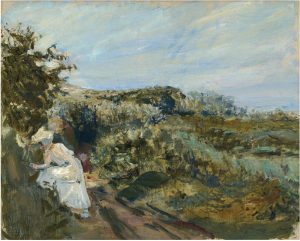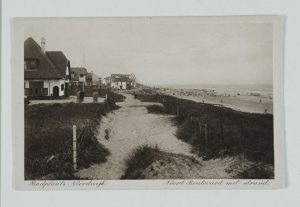 "Landscape with woman in white" is one of this small, but all the more important, series of paintings. Its bottom edge shows a woman in a spotless white summer dress that forms a stark contrast to the green hues of the dune landscape in the centre of the composition. This contrast creates a certain tension in the painting. The dialogue between space and figure epitomises the pleasure of seeing, so characteristic of Impressionism. Perhaps the painting was created during a shared outing or stroll near the holiday home. It was first presented in Berlin in 1918 on the occasion of an exhibition celebrating Slevogt's 50th birthday but was apparently labelled "Woman picking blackberries" at the time, as is evident from the catalogue accompanying the exhibition "A day by the sea. Slevogt, Liebermann and Cassirer" held at the Mainz State Museum a century later. The title suggests that the painting captures a delightful brambling spree in the summer. The woman is slightly bent forwards and appears to be combing the bushes for ripe berries. Light caresses her back, creating the impression of strong sunlight. Her white summer hat shades her face and reveals only a glimpse of her dark hair. We cannot be certain that the figure portrayed is in fact Tilla Durieux, but the close relationship between Slevogt, Cassirer and Tilla suggests as much – not least because Slevogt's handwritten catalogue of works lists her as the owner of the painting "Landscape with woman in white", or "Lady picking blackberries", as it were.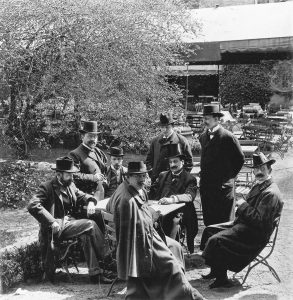 Ottilie Godeffroy was born in Vienna in August 1880 and moved to Berlin under her stage name, Tilla Durieux, in 1903. In Berlin she met Paul Cassirer, who became her second husband in 1910. Encouraged by Paul at all times, Tilla gained fame as a grande dame of theatre and one of the most frequently portrayed women of her time.
"Landscape with woman in white" was rediscovered in 2019 during preparations for the exhibition "A day by the sea". The painting is the last of its kind in Max Slevogt's œuvre, as he never painted another beach landscape after his stay in Noordwijk.
Petra Schäpers is a specialist for contemporary art and head of Dorotheum Düsseldorf, where Julia Bystron works as an art historian.
AUCTION
 Modern Art, 30 November 2021, 6 p.m.
Palais Dorotheum, Dorotheergasse 17, 1010 Vienna
20c.paintings@dorotheum.at
Tel. +43-1-515 60-358, 386
View now the auction catalogue and read our new myART MAGAZINE!