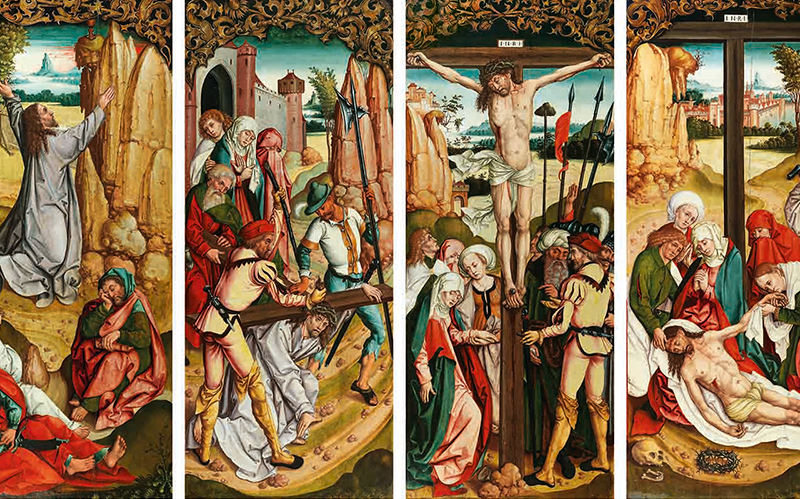 Christ on the Mount of Olives, Christ Carrying the Cross, The Crucifixion, The Lamentation​: These four panels depicting scenes from the Passion of Christ originally formed part of a winged altarpiece from southern Germany.
The panels, created around 1490, correspond both in composition and in painting technique to the high quality pieces produced by South German workshops during the last third of the 15th century. The figure constellations in the individual scenes are in line with the late medieval pictorial tradition, but are remarkably freely and clearly composed.The emotional and theological content of the scenes is impressively conveyed to the viewer. The atmospheric depiction of the landscape enhances the effect.
For half a century, art historical research has been trying to narrow down the regional origin of the four panels and ascribe them to one of the well-known painting workshops. Close relations to both Nuremberg and Ulm are being considered. This shows how lively the artistic exchange between the painters' workshops in southern Germany was at the turn of the 16th century. Although regional characteristics which define the painting styles of Swabia, Main-Franconia, and Nuremberg can certainly be identified, the constant switching back and forth of assistants that was so typical of early modern guild regulations and journeymanship inevitably led to a transfer of stylistic features and methods of technique. This, in turn, drove the creativity and innovative spirit of masters, some of whom had travelled far themselves.
The four panels are thought to have belonged to the collection of Prince Alexander von Dietrichstein of Nikolsburg.