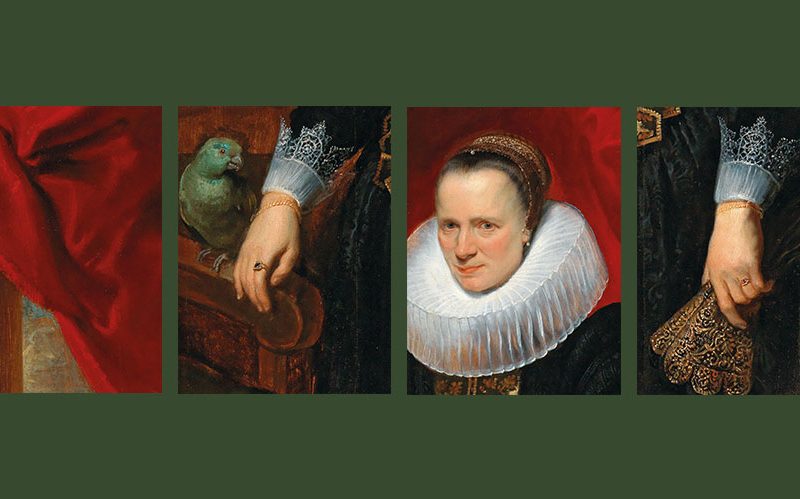 Portrait of a Noblewoman with a Parrot
Anthony van Dyck is regarded as the most eminent portrait painter of his era. His "Portrait of a Noblewoman with a Parrot" is a sensational art-historical rediscovery and a highlight in Dorotheum's October auction of Old Masters. As for the portrayed subject, we can only speculate about her identity.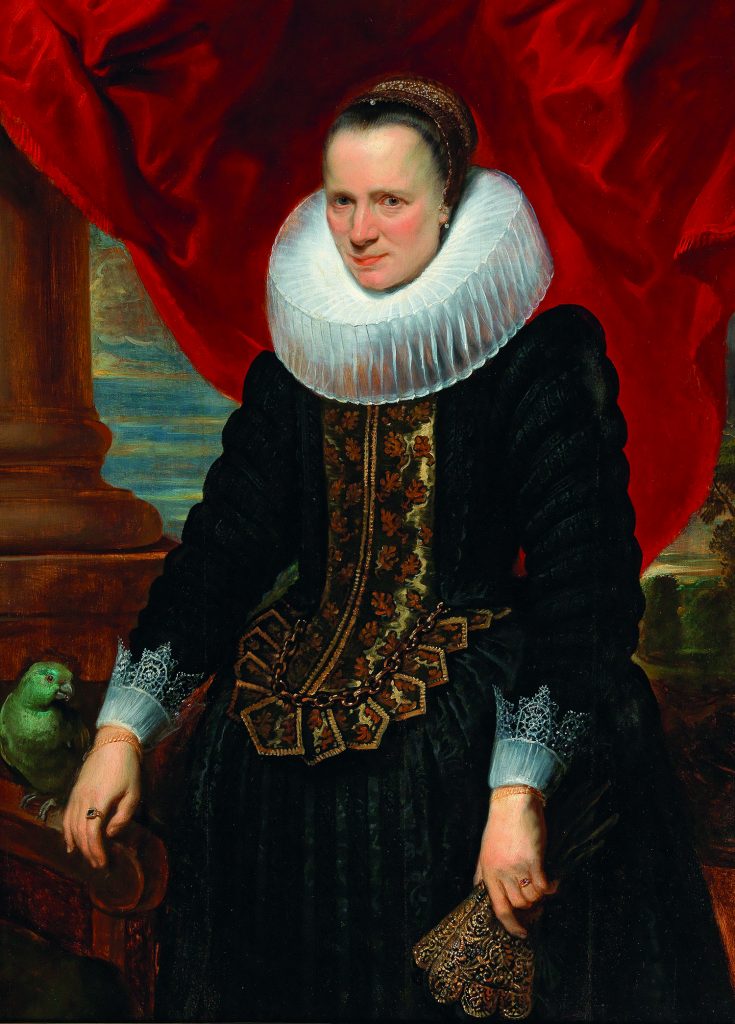 An important addition to van Dyck's corpus of work
The "Portrait of a Noblewoman with a Parrot" represents an important addition to Anthony van Dyck's corpus of work, not least because it dates back to the artist's first Antwerp period around 1615–1621, but also because it is incredibly well conserved on its original uncradled panel. In this crucial phase in Van Dyck's development the artist was establishing himself as an independent artist with his own workshop specialised in portraiture, while simultaneously working in the studio of Europe's most prominent representative of large-scale history painting, Peter Paul Rubens.
It may have been his master, Peter Paul Rubens himself, who recognised a great emerging talent in Van Dyck and directed him towards the genre of portraiture. It is believed that Rubens also enabled the young artist to take advantage of his own, large network of influential and wealthy clients, allowing Van Dyck to specialise in a field in which he was to become highly influential and greatly celebrated. Before long, Van Dyck's clients included royal and noble houses as well as rich and celebrated burghers in both continental Europe and England.
Van Dyck was invited to London as early as 1620, where he worked at the court of King James I. He stayed in England from October 1620 until February 1621 and left for Italy by the end of the same year, travelling the country as a portrait painter for about six years. After his return to Antwerp in July 1627 he became a favourite at the courts of Brussels and The Hague. In 1631 Van Dyck returned to England, this time at the invitation of King Charles I., to work prolifically in London until his death in 1641 as the most famous and influential portrait painter of his era.
A Portrait of a Lady
The magnificent "Portrait of a Noblewoman with a Parrot" is stylistically close to Van Dyck's portraits of Isabella Brant and Susanna Fourment with her daughter. The combination of the "millstone ruff", the lace cuffs, the headdress decorated with pearls, and the gold-embroidered bodice can also be observed in some other portraits by Van Dyck and is thought to have been fashionable in the early 1620s.
But who is this lady?
At present, the identity of the sitter, who is depicted with distinctly different-coloured eyes, remains unresolved. The rings on the woman's hands suggest that she was married and that there was a pendant portrait of her husband. It is, of course, entirely possible that the pair to the present panel has been destroyed, or is still lost.
Once part of the historic Arenberg collection, the "Portrait of a Noblewoman with a Parrot" has since remained obscure. Perhaps an Arenberg is indeed the subject of the present portrait. After all, Anthony van Dyck is known to have worked for the family, most notably for Albert de Ligne, Prince of Arenberg and Barbançon. Rubens, for his part, had been page to Duchess Margaretha de Ligne-Arenberg as a young boy, and was in close contact with Philip-Charles Arenberg, Duke of Aarschot, in 1616, around the time when the young Van Dyck was working as his assistant. The same Duke Philip-Charles of Arenberg re-married in 1620, five years after the death of his first wife. His new bride was Isabelle Claire de Berlaymont, Countess of Lalaing. The marriage might have presented an occasion on which to commission a portrait from the young Van Dyck, which would provide us with a possible identification for the sitter in the present work. This suggestion is, however, highly speculative.
Find out more in the video!
AUCTION
Old Master Paintings
23 October 2018, 5 pm
Palais Dorotheum Vienna
More blog-entries to Old Master paintings
Stroll through the exhibition of Old Master paintings and find out more about Bolognese paintings in this video!