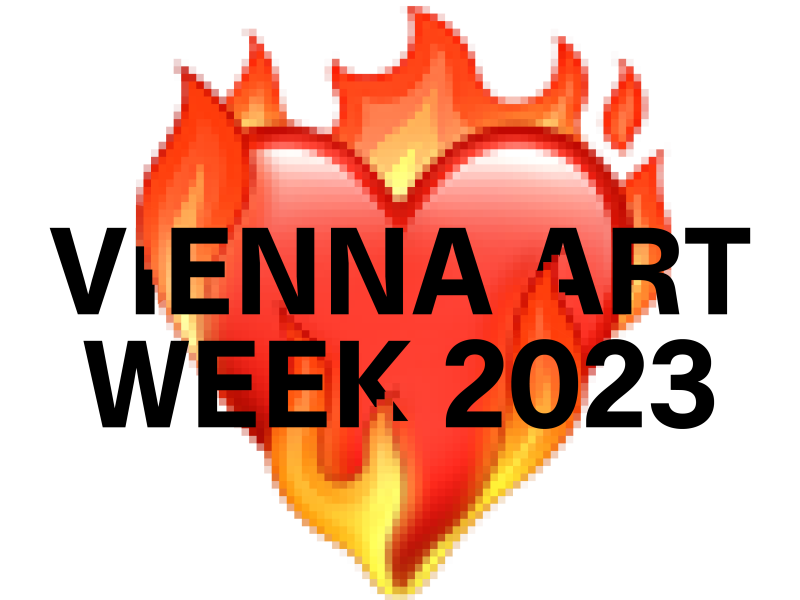 This year's Vienna Art Week aims to capture the potency of passion in all its creative and dangerous dimensions, reflecting "the emotional state of our time". Themed Inciting Passion, expect Vienna to be fully in the grip of contemporary art from 10 to 17 November 2023.
Passion – a rich and multidimensional concept – touches on crucial aspects of existence: from matters of love and war to religion and politics, even extending into the realm of art collecting. Above all, passion stands for wholehearted devotion, an intensity of commitment that encompasses both ardour and anguish, demonstrating its potential to be as constructive as it is destructive.
The 2023 edition of Vienna Art Week has wholeheartedly embraced the concept of igniting passion, as this year's festival logo – the flaming heart emoji – perfectly encapsulates. Held under the motto Inciting Passion, the event will shine a spotlight on contemporary art in Vienna for an entire week, from 10 to 17 November 2023.
Seventy art institutions, galleries and independent art venues will bring the Austrian capital's dynamic art scene to life with special programmes captivating international and local audiences alike. Visitors can experience over 100 events, all free of charge, ranging from the popular Open Studio Days to performances, exhibition premieres, symposia, and interventions in public space.
Continuing its tradition, Vienna Art Week has once again transformed a disused building into its themed exhibition venue and festival hub. This year's main location is Rosinagasse 19 in Vienna's 15th district.
Notably, for the first time, many of the programme partners are prioritizing inclusive measures to ensure an engaging experience for people with visual or hearing impairments, for example, or those affected by dementia. Just as the flames of passion touch us all, Vienna Art Week is for everyone!
PROGRAMME HIGHLIGHTS
EXHIBITION AT THE HOUSE OF INCITING PASSION
10–17 November 2023
Rosina Gasse 19, 1150 Vienna
OPEN STUDIO DAYS
11–12 November 2023, 1–6 p.m.
ART MARKET PANEL AT DOROTHEUM
16 November 2023
ANNIVERSARY CELEBRATION: THE SECESSION TURNS 125