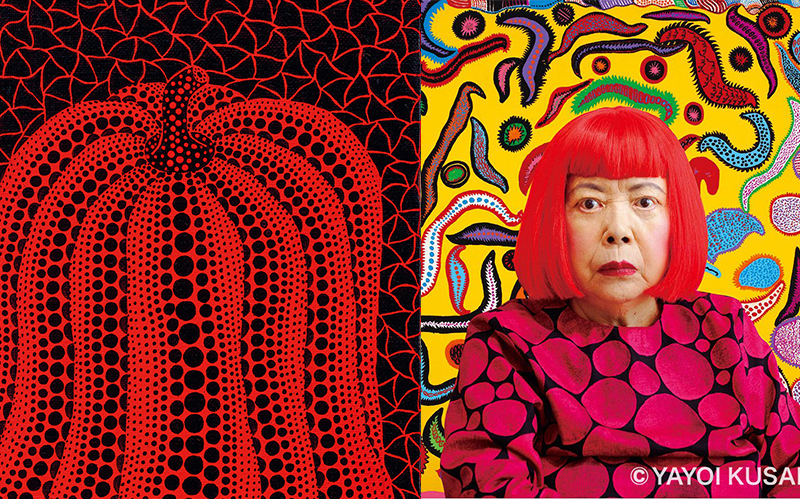 Yayoi Kusama is possibly the best known Japanese artist in the world. Her famous polka dots have become her trademark and her stylised pumpkins are among the most iconic masterpieces of contemporary art.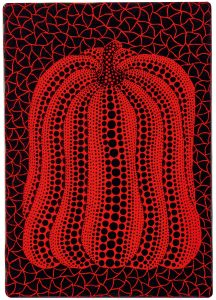 Born in the late 1920s, Yayoi Kusama grew up in the conservative confines of the small town of Matsumoto in Nagano Prefecture in Japan. She attended the Kyoto School of Arts and Crafts, and after staging her first exhibitions, through which she was 'discovered' by the international art world, Kusama was able to emigrate to America, where she lived and worked, primarily in New York, from 1957 to 1973. Kusama celebrated her first major success in New York in 1959 with a solo exhibition at the Brata Gallery, entitled Obsessional Monochrome. The Infinity Net paintings exhibited there were compositions of dense networks executed with white brushstrokes on a black ground and characterised by the theme of repetition.
Grids, flashes of light and, above all, dots that repeat endlessly are the most striking characteristic of Kusama's works and established her fame as the 'Polka Dot Princess'. For the artist, the dots that overgrow everything are not merely a harmless pattern. They have their origins in the hallucinations and panic attacks she has experienced since her youth, which determine her perception of the world. Growing up, she saw dot and net patterns and feared she would dissolve into them. The polka dots and their constant repetition now became an expression of the search for infinity and the desire for self-dissolution. The dots erase the image into which the artist channels her fears. With her polka dots, Kusama covers not only canvases, but also everyday objects such as tea kettles or bookshelves, clothes, giant tentacles, oversized flowers, entire rooms or herself. And pumpkins as well.
Pumpkin KKK (2002) represents another important theme in Yayoi Kusama's work. For Kusama, the pumpkin is associated with memories of childhood and has been a favourite motif with almost mythical status. The artist first saw pumpkins during walks with her grandfather, and they had a calming effect on the hallucination- stricken artist. "I love pumpkins for their humorous shape, their warmth and their human quality," Kusama says. She devoted herself to pumpkins in paintings and sculptures and incorporated them into her Infinity Rooms. Bold colours characterise the pumpkins, as they do the precisely placed polka dots. The colour scheme follows an inner symbolism, according to which the artist categorises unprocessed experiences. The pumpkins stand for triumph over inner struggles, their endless repetition allows the artist to find her mental balance.
Since her return to Japan, Kusama, who has never made a secret of her illness, has voluntarily lived in a psychiatric institution. In 2017, a museum dedicated solely to her opened in Tokyo and numerous international exhibitions testify to considerable on-going interest in her work. With her unconventional works, her extraordinary performances and happenings, Kusama has anticipated many trends in contemporary art.