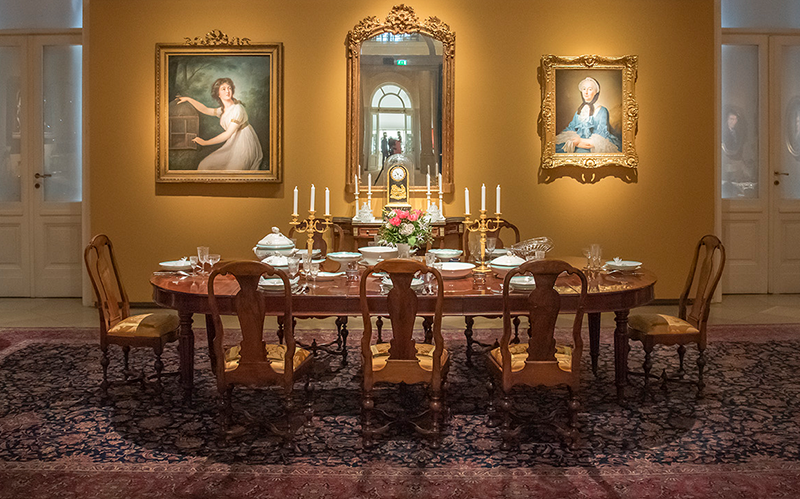 An Aesthete's Savoir-vivre
Louis XV, Louis XVI, Marie Antoinette: his interest focussed on the eighteenth century, the vibrant, pre-photographic 'courtly' age that brought forth such disparate art movements as Neo-Classicism and Romanticism. Alain Gruber (1943–2020) was an art historian, interior decorator, connoisseur, author of books, and curator in one person. The Fribourg home of the versatile Swiss-born art-minded aesthete, decorated from 2002 on in line with his exquisite taste, was the mirror of his personality. Its inventory, comprising approximately 450 objects, is now going to be sold at auction at Dorotheum on 27 April 2021 in a so-called single owner sale. Its telling title: 'L'Art de Vivre'.
Lagerfeld and Givenchy
The Vienna exhibition of these objects, emulating their installation in Alain Gruber's house, will be on view as a temporary museum from the end of the lockdown to 27 April, the day of the auction, bringing to life the spirit of this great connoisseur, who graduated in art history, French literature, and history in Basel.
Gruber, an expert for silver tableware and tapestries, was an ingenious interior decorator who knew how to stage a total work of art. His immense knowledge in the field of historical textiles was appreciated by designers like Karl Lagerfeld, Yves Saint Laurent, and Hubert de Givenchy.
French Eye
In the 1990s, Alain Gruber also served as the 'French eye' of Lord Rothschild during the renovation of Waddesdon Manor in Buckinghamshire, United Kingdom. The imposing palace of the English Rothschild line had been left to the National Trust in 1957. Henri Samuel, popular among New York society for his French taste, had recommended Alain Gruber for the textile restoration of Waddeston Manor. An expert in the decorative arts and the history of ornament, the art historian taught at the University of Fribourg between 1986 and 1990.
Decoration and Ornament
Alain Gruber's wide knowledge across a range of fields also revealed itself in his function, held from 1977 to 1990, as director of the foundation of the Swiss textile tycoon Werner Abegg and his wife Margaret in Riggisberg, Switzerland. Exhibitions curated by him on such themes as chinoiserie, grotesques, hunting motifs, etc. made it possible for visitors to experience textiles and objects from the collection from the perspective of the history of decorative arts. In addition, Gruber acquired ancient textiles from the eighteenth century, his favourite period, for the collection. His fascination for this period went so far that he even followed Marie Antoinette's stops on her journey from Vienna to Paris. Through her marriage to Louis XVI, the daughter of Empress Maria Theresa had become one of the most famous women of her age.
Epochal Feasts
The renowned art historian André Chastel, Alain Gruber's teacher at the Institut d'art et archéologique in Paris, encouraged him to choose 'The Great Feasts and Their Decorations in the Age of Louis XVI' as the theme of his dissertation, which thus also concentrated on the eighteenth century. Alain Gruber shared his preference for this age with the prominent museum curators Mikhail Pietrovsky, director of the Hermitage in St. Petersburg, and Philippe de Montebello, director of the Metropolitan Museum in New York.
Gruber 'to Go'
The Dorotheum auction is an opportunity to acquire appealing art and attractive decorative objects and furniture, such as canopy beds, antique engravings, étagères, wall brackets, occasional tables, lights, etc. Silver objects feature prominently in the collection: from 1973 to 1976, Alain Gruber was curator for silver tableware and clocks at the Schweizerisches Landesmuseum in Zurich, when he also compiled the inventory catalogue 'Weltliches Silber'.  In 1982 one of his most important books, 'Silverware', appeared in English (German edition: 'Gebrauchssilber des 16. bis 19. Jahrhunderts', 1981). What makes this book so special is its innovative scholarly approach, which focuses on the function and use of silver rather than on the history of styles.
Art and Decoration
Marie Antoinette has left frequent traces in the art historian's collection, for example in the form of a bust of biscuit porcelain. A painted Sèvres porcelain plate from a dinner service 'for Queen Marie-Antoinette' was probably a gift from a private collector in recognition of Alain Gruber's services and accomplishments.
Be it a refined bronze of a winged devil, ink wash views of interiors, or Louis XVI armchairs – Alain Gruber's cosmos was diverse and invites you to discover objects having their own histories for your private home at dorotheum.com.