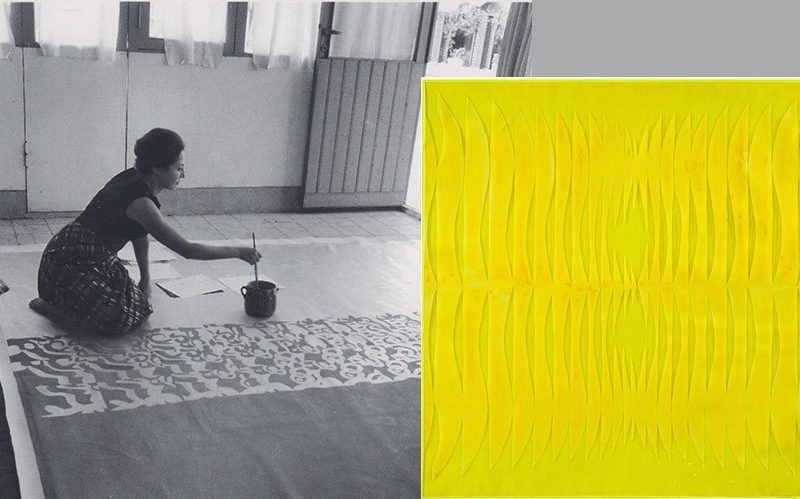 Carla Accardi, a pioneering feminist and leading proponent of abstract art, is now one of the most important representatives of Italian art after the Second World War.
A selection of works sold at Dorotheum shed valuable light on the artist's œuvre.
Born in Trapani, Sicily, on 9 October 1924, Carla Accardi, who died in 2014, showed an early artistic sensibility. After attending courses at the art academies in Palermo and Florence, she moved to Rome in 1946, where she worked out of a studio in Via Margutta. It was there that the painter befriended and collaborated with a number of promising young artists, eventually joining the formalist movement in 1947 and adding her signature to the manifesto of the avant-garde, Marx-inspired artists group Forma 1. Other members of the group included artist friends Pietro Consagra, Ugo Attardi, Piero Dorazio, Mino Guerrini, Achille Perilli, Giulio Turcato and Antonio Sanfilippo, whom she married in 1949.
Accardi participated in a number of group exhibitions both in Italy and abroad. Her first solo show was held at Galleria Numero in Florence, followed by an exhibition curated by Giulio Turcato at Galleria Libreria Age d'Or in Rome in 1950.
The painter discovered a fascination with Cubist decomposition and resolutely set off on her own path; poetic strokes and characters on her canvases made the singular uniqueness of her pictures more and more apparent as time went on. The artist created a universe of her own with mysterious, abstract two-dimensional shapes that merge and intertwine, repel and attract one another, nullifying any distance from the background.
Carla Accardi painted from top to bottom, working first on paper, then on canvas, which she placed on the floor. Photographs of the artist often show her on the floor or working at a table, but never at an easel. The thing she was looking for was freedom: her shapes and strokes had to "feel" free and be able to expand in space infinitely, unhindered by the confines of the room.
Works such as "Integrazione" from 1958 – a painting featuring white, painterly elements against black background – garnered considerable critical attention in the 1950s. Admirers included Michel Tapié, the man who gave the Informel movement its name. The French critic, curator, and collector invited her to show in presentations both within Italy and internationally.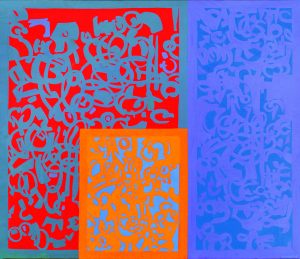 In the 1960s, Accardi enriched the interplay of shapes and characters with luminous hues. She added vibrancy, approaching colour with an eye to striking contrasts and colour combinations that appear as refined in her paintings as they are natural. "A Settori" from 1962 is a lustrous example of this effect.
Carla Accardi radicalised her artistic inquiry with shape and colour combinations in her later works. Rather than paint on traditional canvas or paper, the artist chose transparent Sicofoil to emphasise the nature of the painting as a source of light and life energy. Just as the use of clear plastic sheeting as the support left the artist free to both radically counter the traditional idea of a "substrate material" (liberating her beloved strokes and exposing them to the surrounding space), the fluorescent colours bear witness to a dialogue between craft and artistry, a quality very clearly seen in her 1978 piece "Dieci triangoli", for example.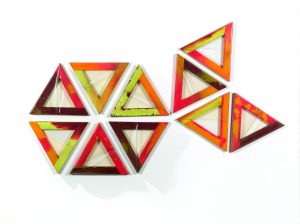 Works such as "Per l'infinito lo Scirocco n. 2" indicate a return to this line of inquiry in the 1980s, with a focus on coarse canvas. The material allowed thick webs of colourful characters to seep through, creating a contrast between the shapes' miscellaneous chromatic edges and colour fields of varying hues and intensities. While the systematic exploration and glorification of the character/colour pairing was a hallmark of Carla Accardi's poetic sensibility for more than half a century, she continued to find and explore new artistic solutions.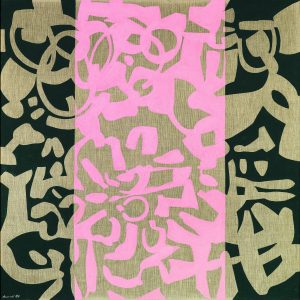 "I love colourschemes and the light they give off even more than the colours themselves …
Even when I put red and green together or pink with light blue, it was always important to me that the two colours had the same force and were more than just complementary colours."
(Carla Accardi)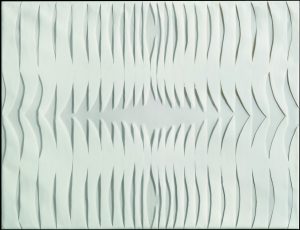 A close kin of "Biancobianco" from 1966 (a picture that fetched the record price for a work by the artist at the June 2016 auction), the 1967 work "Giallo giallo" is another excellent example of the colour mastery, handling of shapes, transparency, manual skill, artistry and personality of an artist who remains one of the most important representatives of abstract art in Italy.
"To me, Carla Accardi's work means a feeling for colour and shape in its purest form. [It is] the visual pleasure of encountering the physical presence of colours that stand first and foremost for themselves – which is to say for their own dynamic characteristics of concentration and expansion – before immediately revealing a wealth of metaphorical allusions: a pleasure that is immediate and complex at the same time."
(Filiberto Menna in "Artificio e Natura")
featured article image:

Carla Accardi
Giallo giallo, 1967
Varnish on Sicofoil and canvas, 96 x 101.3 cm
price realised € 112.500