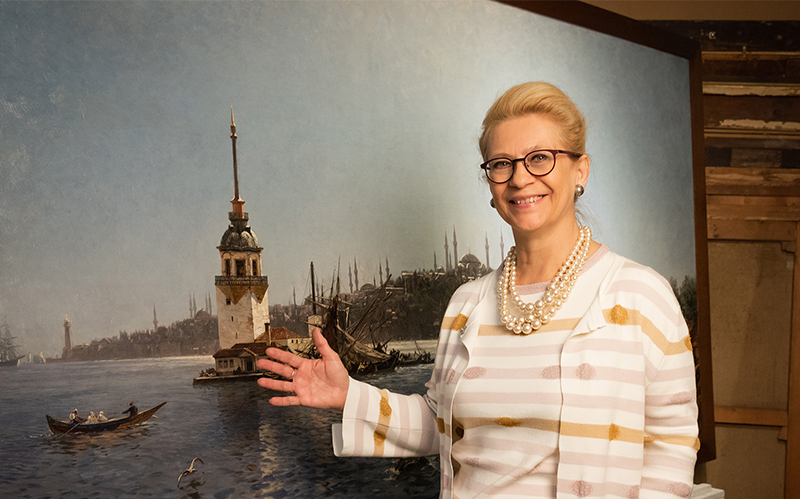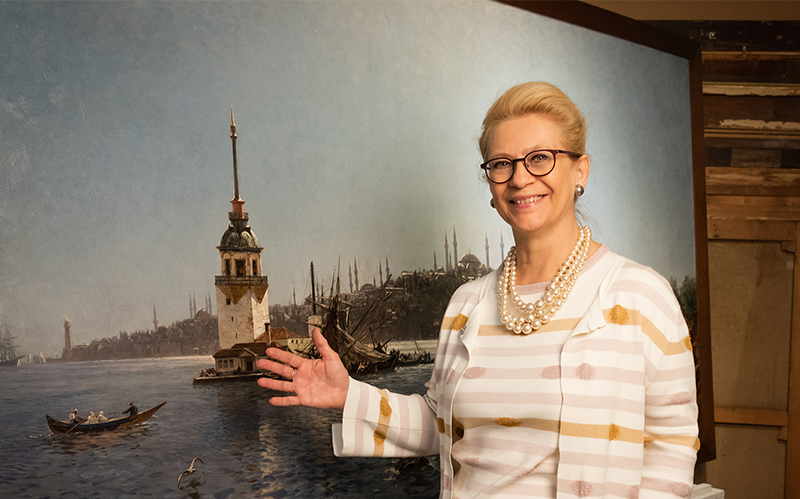 Hidden masterpieces
In conversation with Dimitra Reimüller
Selling paintings at Dorotheum: what does it come down to? What opportunities does an auction house like Dorotheum offer? What are the most memorable moments? Dimitra Reimüller, a specialist for 19th century paintings, has examined and brokered all kinds of exciting pictures. She recounts one of her most memorable experiences in conversation with the Dorotheum Blog.
What information is particularly important to you when you are assessing the value of a painting?
Of course, I take a good look at the picture first, seeing how it looks from the front, what impression the back gives. Sometimes, artists have even noted the title of the painting on the stretcher, which I always find very exciting. Then, I also like to know more about the history of the picture! What is its provenance, what is its exhibition history? Where does it stand in the artist's overall oeuvre? Is it an early piece or a late work? Or is it even a key work?
What opportunities does Dorotheum offer for the sale of a work of art?
As we are a large auction house with a long history, we have a lot of experience with research, and with the strategic positioning of a picture on the market, too. We work with specialists all over the world, but we also benefit from having so many different specialists working in-house. This allows us to use expertise from other departments in our work. For example, our specialist for autographs helps us to decipher old manuscripts that may provide important clues about a painting's history and value. Or by working with the specialists in the jewellery department, we can draw valuable conclusions about the identity and status of the people depicted in the paintings from their jewellery… these are just a few examples.
We guarantee sound academic research, the clarification of the provenance of a painting, the correct classification, etc. We do everything we can to research a work in the best possible way and to sell it at the best possible price.
Is there one piece in particular that sticks out in your mind?
The painting "Eighty and eighteen" by John William Godward, which was auctioned at Dorotheum in April 2013.  It was truly a fairy-tale experience.
The painting came to us on a snowy winter's day in January 2013 during an international consulting day in Munich. When I saw the entry "J. W. Godward" on my list, I was sure it could only be a print. The person bringing the piece had not sent a photograph in advance or otherwise made contact. When the small, delicate old lady, with an acquaintance by her side, then stood in the doorway, I had to ask her to come closer to me several times. She approached me hesitantly and apologised for bothering me with what was surely not a valuable painting. Her friend had talked her into it, she said.
When I finally got to see the picture wrapped in a towel, I was speechless. At first glance, I could see that it was real. It was fantastic. It's worth about 100,000 euros, I told the delicate lady, who immediately began to tremble and stare at me in disbelief. I asked her where the picture came from. She told me that she had inherited it from her grandmother. I asked her if the painting had had a frame, as a frame could often provide information about the history of a work. She said it hadn't.
But that's when her acquaintance interfered again: the lady had, in fact, had a mirror made from the frame, and they could bring the mirror over, she said. When this mismatched couple brought the frame some time (and some snowflakes!) later, the whole story of the painting opened up. The frame contained the artist's label and gallery notes: now, we knew what it was called, where it was exhibited and where it had been sold. The grandmother of the contributor had acquired it from the artist in Liverpool in 1898, and it had been in the family ever since.
When I contacted the American specialist Dr Vern. G. Swanson, he was thrilled: as a researcher, he had been looking for this painting all his life and, as a result of the discovery, was able to include it in the extended edition of the catalogue raisonné.
The modest elderly lady was blindsided when the painting fetched 268,700 euros at auction, and donated half of this to charity.
Dimitra Reimüller is a specialist in 19th century paintings at Dorotheum.