Sisi's engagement gift
Even during her lifetime, numerous myths emerged about Elisabeth of Austria-Hungary (aka. Sisi), and they continue to shape perceptions of her to this day. But "Sisi's" multifaceted personality is reflected most clearly in her passion for the equestrian. What good fortune it is that Dorotheum's auction on 27 April included a painting of Elisabeth on horseback that uniquely captures the Empress's personality! It was Sisi's Christmas present to Franz Joseph the year of their engagement.
By Martina Winkelhofer
Elisabeth: love of the Emperor's life
Emperor Franz Joseph was captivated by his "beloved angelic Sisi" until the day she died. Even after her death, he wanted to rest his eyes on the enchanting woman he had fallen in love with head over heels in the summer of 1853. The painting hung in his bedroom at the Hofburg; it depicts Princess Elisabeth at the age of 15, seated on horseback in Bavaria, in front of Possenhofen Castle, her parents' summer residence at Lake Starnberg.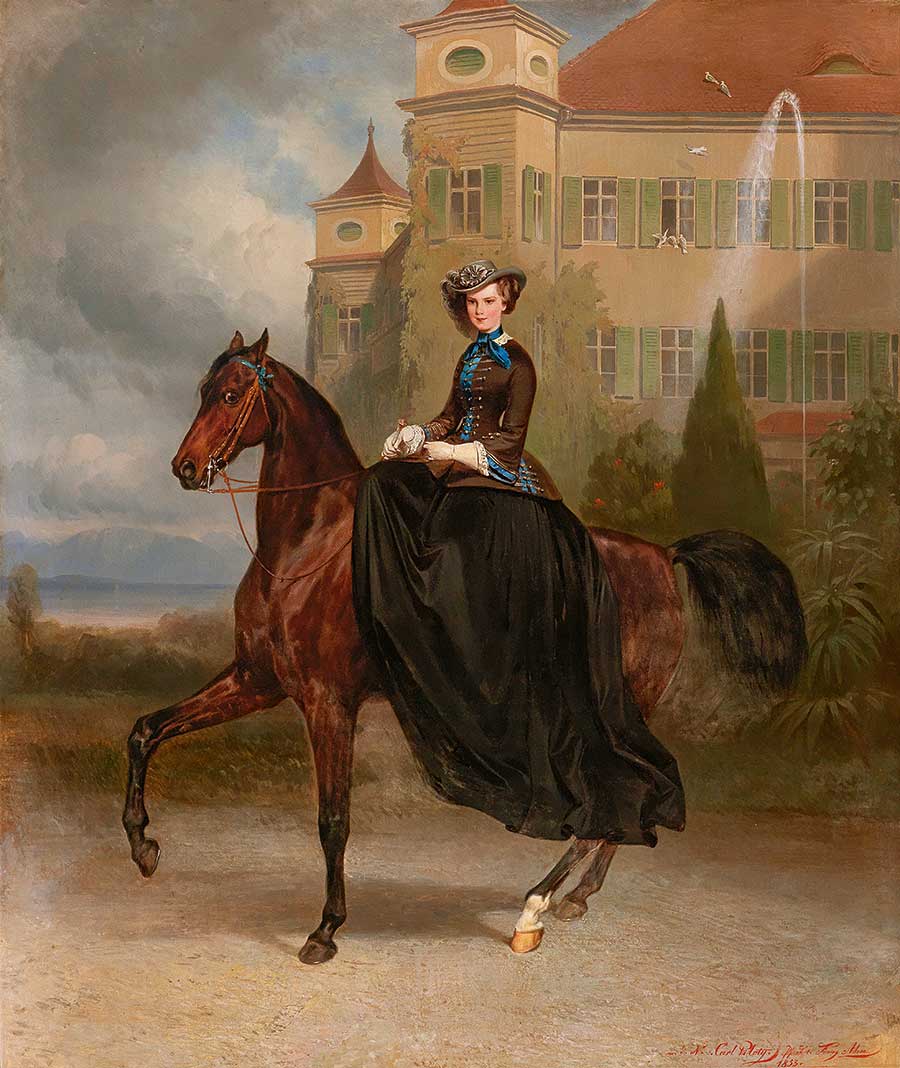 A historical sensation
After Franz Joseph's death on 21 November 1916, ownership of the painting passed to his heirs. Now, a little more than 100 years later, it has caused a minor sensation. Not only had this portrait of the legendary Empress practically been withheld from the public (only a later copy of it was known, which differed from the original in several essential details), it is also the portrait that relates Sisi's personal history more than any other.
Carl Theodor von Piloty and Franz Adam
It was painted by two masters of their craft, both of whom had close ties to Sisi's family: Carl Theodor von Piloty, one of the most eminent representatives of realistic historical painting, and Franz Adam, the most famous horse painter of his age. Piloty was a favourite of Bavarian King Ludwig I, Sisi's uncle, whose son and heir King Maximilian II would later ennoble the Munich painter. Franz Adam, on the other hand, was personally connected to Sisi's family: both her father Maximilian and her brother Carl Theodor, who would later become head of the ducal branch of the Wittelsbachs, collected paintings of horses by the popular artist. Several of these paintings hung at Possenhofen Castle, which forms the backdrop to the portrait, and were presented to visitors of the ducal family with relish and pride.
Elisabeth's painting: an engagement gift on Christmas eve
This artistic co-production, with Franz Adam painting the horse and Carl Theodor von Piloty painting the Emperor's bride and the scenery, was created in the autumn of 1853, immediately after the engagement of Princess Elisabeth and Emperor Franz Joseph in Bad Ischl. The painting was a Christmas gift from Sisi to her fiancé Franz Joseph – though her family also referred to it as an "engagement present". It was presented in the ducal palace in Munich on Christmas Eve in 1853. Sisi's 16th birthday was celebrated that same evening. The proud groom had insisted on travelling to Munich from Vienna for this occasion in spite of urgent government duties. In his luggage was a present for Sisi: a painting showing him on horseback.
An impassioned equestrienne
It was relatively unusual in the mid-19th century for a 15-year-old unmarried princess to be painted on horseback. One can assume, however, that Sisi herself chose the subject of this painting, which she gave to her groom as a Christmas present. She had only been allowed to indulge in her passion for horses and riding for a few months. This passion would not only affect Sisi's remaining life, it would also emerge as one of the few things the bride and groom, so different in temperament and interest, actually had in common. It was not until four months before her engagement that Elisabeth was finally allowed to take her first riding lesson, after much of begging and pleading. By the time of her confirmation in late April 1853, half a year before the painting was created, she wrote excitedly and proudly to her governess, Baroness Luise Wulffen: "Even though I have had only three lessons, I have sat on three horses already, and from now on I will be allowed to ride 'Lady'!" Both her parents and her teachers quickly realised that the girl learning to ride was an exceptional talent with an unusual passion for horses. She was a born rider, and she had everything she needed for future mastery in the saddle. She was slender and strong, daring to the point of recklessness, and had an extraordinary flair for horses.
A highly athletic empress
No portrait better captures Elisabeth's nature while simultaneously providing a more exact look at her future than the painting by Piloty and Adam, which shows Sisi as a youthful amazon. To discover the historic, authentic person behind the Sisi myth one needs to come to grips with Elisabeth as a rider. Riding brought her the greatest personal triumphs and served as an escape from life at Court, which she often found to be hard; it presented freedom and fulfilment, but also consolation in deep personal crises. Hard training and permanent engagement with riding made the passionate adolescent rider the best horsewoman of her time. From the age of 30, the Empress started to live the life of a top athlete. She was in the saddle for more than eight hours a day, did dressage and was one of the few ladies who could not only keep up with the rest of the lot in dangerous hunts in Great Britain and Ireland, but even became known as the "queen behind the pack". Incidentally, many of the myths that have emerged around Sisi's supposedly capricious cult of beauty take on an entirely new character in view of the significance that riding appears to have had for her. Elisabeth's peculiar eating habits in the 1870s and 1880s, for example, when she mainly lived off raw meat and oranges, were not due to dieting, but due to the fact that she was already looking to the diets of professional jockeys.
When Empress Elisabeth entered equestrianism, she entered a domain that was traditionally occupied by men. At her best, she was the best horsewoman in Europe. And she was the only female royal of the 19th century to make her mark not just in genealogical tables, but also in a sporting discipline.
The legendary Sisi at Dorotheum
All this is figuratively anticipated in the painting by Carl Theodor von Piloty and Franz Adams, which Sisi put under the Christmas tree for her fiancé Franz Joseph in 1853. The choice of subject for this portrait for the Emperor could not have been more suitable. The girl in the painting is already the woman that would soon stand by Franz Joseph's side: an amazon who only experienced self-fulfilment and freedom on the backs of her horses. The painting will be auctioned at Dorotheum on 27 April 2017.
19th Century Paintings
April 27, 2017
Palais Dorotheum
Carl Theodor von Piloty und Franz Adam
Empress Elisabeth of Austria as bride on horseback in Possenhofen 1853
—
Martina Winkelhofer-Thyri is a historian, author and specialist for 19th-century history of the Court, nobility and society.