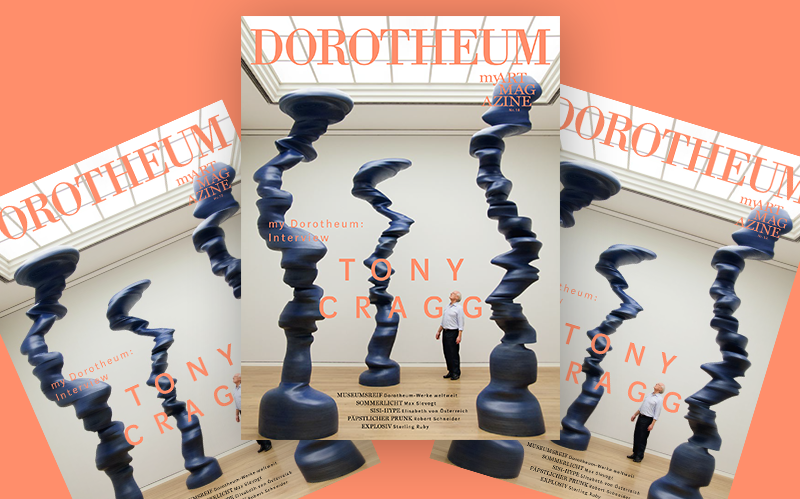 Take a look at the new Dorotheum Magazine!
Tony Cragg is one of the most influential plastic artists of the present day. His spectacular mise-en-scènes of nature and sculpture were staged, among other places, in the Boboli Gardens in Florence in 2019 and in 2021 in a show at the country house of Houghton Hall, Norfolk, which was realised with the support of Dorotheum. In an interview with myART MAGAZINE he talks about inner structures, magic moments, and his approach to nature. The relationship between man and the environment is also an important aspect of Maria Lassnig's monumental painting 'Wild Animals Are Endangered', which reached a dual word record at the auction in June 2021. You are invited to find out more about numerous auction highlights, including an outstanding coastal view by Max Slevogt, one of only a few signed portraits by Frans Pourbus the Younger, court painter to his powerful patron, Vincenzo Gonzaga, or the explosive expressivity of '2 drops', a soft sculpture by Sterling Ruby, who is considered one of the most versatile and groundbreaking contemporary artists. Join the Austrian author Robert Schneider, who will take on a journey into a nineteenth-century Italian painting, and choose from our offering of exquisite bracelets and wrist watches. This and more is what you can expect in the 18th edition of myART MAGAZINE!
Dorotheum myART MAGAZINE online
Browse the magazine ONLINE!
Interesting links about CLASSIC WEEK