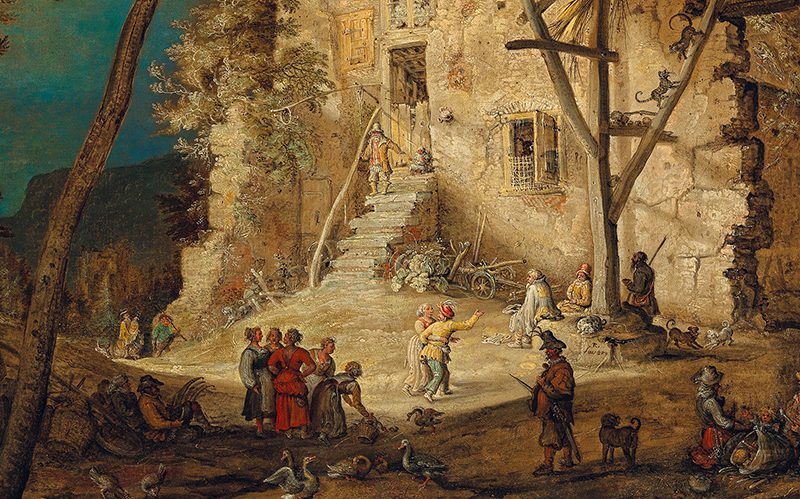 Fiddlers, beggars, and dramatic ruins, all set against a rugged mountain landscape – Roelant Savery's picture both tells a dozen vivid stories, kittens-playing, cocks-crowing, weary travelers lounging, and shows a remote ruler what his realms really looked like. A piece of Emperor Rudolf II's own bucolic brand of fantasy – for Savery was his court painter – is offered at auction in the Old Master Paintings sale in November.
Brueghel of Bohemia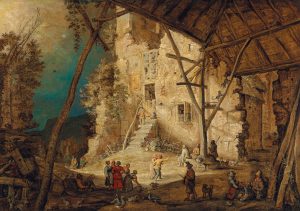 The present scene shows a fiddler in a feathered slouch hat and crimson-skirted maidens milling about a ruined watchtower, all framed by serpentine foliage giving way to a brilliant mountainous blue beyond. You might be forgiven for thinking that these evoke the scenes of peasant life so memorably captured a generation before by Pieter Brueghel the Elder. However, the setting here is not Flanders but likely the Böhmerwald, situated in what is now the Czech Republic, with the rustic, roughly flamboyant dress of the figures indicating them to be subjects of Habsburg Emperor Rudolf II (1552–1612), here captured by court painter Roelant Savery (1576–1639). Savery, a sort of 'Brueghel of Bohemia,' was as adept at portraying emotion through the playful placement of animals in his compositions as he was in painting his typically jovial figures.  A similarly rustic Bohemian peasant scene, showing a bagpiper playing beside a dramatically tumbled-down tower with his pack-animals listening, willingly or not, beside him, and dated to 1606, is conserved in a French private collection. In the present picture, which appears to date from the same time, the kittens toying with each other upon the drooping beam the make-shift shelter distract from the artist's signature placed on the stone below, upon which, poignantly a tramp slouches. This placement of Savery's signature, beneath such a tattered figure, is a characteristically modest gesture from the artist who came from a family of Anabaptist religious refugees.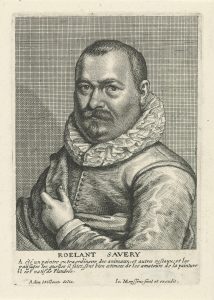 Flemish tradition
Savery was Flemish-born, and he painted in the acutely observed but humorous and lively tradition of his homeland. Yet Savery was sent out into the surrounding fields and forests from Rudolf's sprawling castle above Prague to specifically document the peoples and flora and fauna of his many realms.  Savery created everything for the art-loving Emperor from sketches of peasant costume, to mountain flowers (travelling also to the Tryol for this purpose). In 1616 he returned to the Low Countries, settling in Amsterdam, continuing his refined art – which verges on natural philosophy – to also include the exotica brought to Western Europe from afar, such as the Dodo, and the first tulips gown in the Netherlands. Truly Savery was a versatile and well-traveled master, as can be seen from the present canvas so brimming with human and natural life.
Damian Brenninkmeyer is an expert in Old Master Paintings at Dorotheum in London. Sigmund Oakeshott is an Art Historian also based in London.
View now the auction catalogue and read our new myART MAGAZINE