Experimental but comforting, intense yet humorous: that's what internationally acclaimed German actress Nina Hoss looks for in an artwork. Dorotheum myART MAGAZINE caught up with the co-star of six-time Oscar-nominated Tár to talk Fritz Lang, fugues and freedom of expression.
A motorcade of sleek, black limousines idles on Berlin's Potsdamer Platz, waiting to carry Nina Hoss and Cate Blanchett the few hundred metres to the nearby Berlinale Palast for the premiere of their film Tár. Legions of fans are barely kept at bay by the Ritz-Carlton's bowler-hatted doormen. Nina Hoss, the object of their adulation, sits within the hotel's Neo Art Deco 'Curtain Club', a flute of rosé champagne in hand, her blonde tresses swept up atop her head in a 1930s style quiff, while a clutch of film and music industry bon viveurs mill around both her and Tár's fedora-sporting auteur Todd Field, imbuing the scene with a slight air of Weimar-era cabaret. While Blanchett describes her participation in Tár, with the film's themes of grooming and abuse of power as "potentially career-ending", Hoss explains she has ever been fearless in her choice of roles.
Nina Hoss: "I started this whole thing playing a prostitute, in Das Mädchen Rosemarie, which catapulted me almost to the top in Ger- man film and gave me immense possibilities from a very early age. So, really, when it comes to roles, the only role I would say no to would be a boring one!"
Is Potsdamer Platz, the old centre of Berlin's pre-war nightlife, an apt setting to discuss her favourite all-time German film, the 1931 Fritz Lang-helmed underworld thriller M, about vigilantes hunting down a child murderer? "That speech that Peter Lorre's character gives at the end is the most amazing way of portraying someone who is so guilty, and yet you understand this person. It's very bizarre, frightening, but also fascinating." Pausing to ponder our surroundings, Nina Hoss continues. "But then, as we are in the realms of thinking about art, perhaps Metropolis is Lang's great- est film. The images he created, the political sense of it … but then, it's also so clever – it's about the human condition." Does she think Berlin today is true to the monumental modernity envisioned by Lang in that 1927 expressionist sci-fi masterpiece? "I don't know if they were so successful in remodelling Potsdamer Platz, but at least they're trying. What I truly love is Hans Scharoun's Berliner Philharmonie, and the whole architecture around the Museumsinsel, particularly Mies van der Rohe's Neue Nationalgalerie. Other than that, I find Berlin very unadventurous, timid even. It felt like there was a moment when the Wall came down where they could have been more experimental, but they missed it! Berlin is full of these glass buildings, which pretend to be transparent, but I have the slight feeling that it's the contrary."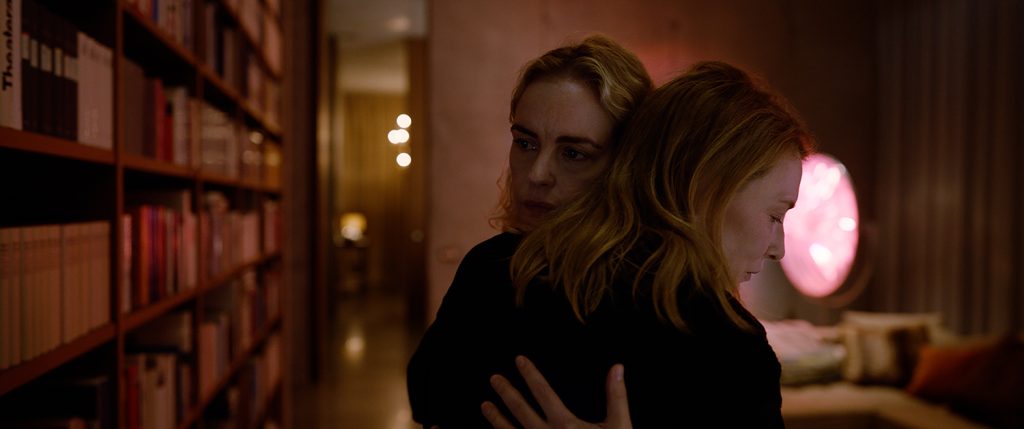 In Tár, Nina Hoss and Cate Blanchett portray a lesbian classical music power couple, luxuriating in their crypto-van-der-Rohe-style penthouse, atop a repurposed Third Reich bastion, surrounded by an outstanding contemporary art collection called "Boros Bunker" in real life. Nina gushes that among her favourite objects therein were a pair of 1960s tables with "distinctive white legs, which were from the set of the James Bond film Goldfinger," while the film's crew mention that millions of euros of art had been rehung for certain scenes. And yet, says Nina: "Film- ing there, the apartment, the way it was created by Todd – it just felt so right for our characters. You wouldn't question anything, because even though it was eclectic it all made sense. It was experimental, but also comforting, and that's what I love in art."
Before moving to Berlin to study theatre, Nina grew up in a cultured Stuttgart household. "My mother was an actress and director, while my father was a worker before co-founding the Green Party and then serving in the Bundestag for many years. It was an incredibly lively household, with lots of artists, politicians, debate with good food, fine wine. From the age of 13 I travelled to the Amazon rainforest every year, up the rivers, where my father, among other things, worked together with the local tribes." And yet even in the Brazilian jungle there is an opera house, as alluded to in Werner Herzog's film … "Fitzcarraldo!", she interrupts. "To be honest, I suppose I lived some of that: tarantulas, other surprises, proper adventures … that whole childhood is what made me so interested in character, in people, which is why I do what I do today."
What art did she love growing up? "Otto Dix, George Grosz and those kinds of artists, going into Francis Picabia. The people who had a strange 'look' on Germany, and from there to Gerhard Richter. For my acting I also find Goya incredibly inspiring, and when we were shooting Tár in Dresden, I got up very early in the morning to go to the Vermeer exhibition. The way he portrays his characters is so refined, you have a feeling you really know the persons that he puts into those paintings, because they are glowing! And you feel that Vermeer really loves the people he portrays. To be able to put that feeling onto a canvas is incredible!"
Nina Hoss is famed for being able to portray a whole range of drama with the most subtle of expressions or gestures, not unlike Vermeer, and indeed does she seek to exude that sense of enigma when she acts? "You sense that you shouldn't be doing too much, that the camera will catch what it needs. That was my fun that I had with Sharon [Nina Hoss's character in Tár]. I had lots of opportunities to observe, where I can put everything into just a gaze. Is that something I know already? Is there a history there? Or is it something new to me, something shocking?"
What other art moves her? "I have worked with Christian Jankowski, and through him I have learned about video art. Also William Kentridge, for example – those are artists that fascinate me immensely because they have huge depth, but with a lot of humour. I have some wonderful photographs taken by Jankowski of the studio of Nam June Paik, the creator of video art; three drawings by George Grosz, which my mother amazingly found in a market in Southern Germany and which I really cherish; and two paintings by Horst Antes. From my father, I have two Amazonian headdresses that used to be worn by heads of tribes and were then given to him – those are absolutely stunning."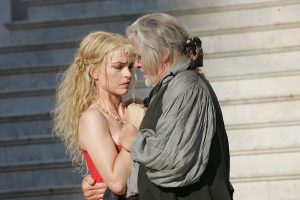 Some of our readers may remember Nina Hoss from her performance in von Hofmannsthal's Jedermann at the Salzburger Festspiele, and indeed Nina Hoss admits to missing the stage: "After a five-year break from theatre I am rehearsing again, and I feel how much I need the adrenalin of being on stage, because if I don't do it I just have too much energy, which it is slightly problematic for my filming! When you are filming, it shouldn't feel like acting, you are just there in this moment, you don't have to show what you mean. You just 'are'. But to get there, you have to get rid of so much of this fun, of experimenting, and I am just such a lively person!" How would she compare working in Austria to Germany? "I think the appreciation for dramatic arts is higher in Austria. They have a different tradition of theatre, and a love for everyone within it. Actors there are cherished in a way one can only dream of in Berlin, which is a much harsh- er environment! The two years I spent in Salzburg were special. You'd finish acting and then go and jump in the Fuschlsee, or the Wallersee. By the theatre was a restaurant, Triangel, where you could have a glass of wine with Christina Schaffer, René Pape or Anna Netrebko, along with just ordinary festival goers. The mix of people was very joyful – as was being able to climb the hill to the museum to look at art between rehearsals."
Tár is, in a way, a film about cancel culture. Does Nina Hoss feel the identity of the person making the art is important? "Art is something that is bigger than we are, and I don't want to reduce it to the person that does that art, be it in a film, be it in acting, singing. For me, it's not so easy to say, 'someone misbehaved and now I won't ever look at their art again.' I do understand that some people feel that that's how they need to proceed. I don't judge them, but I think you must look at least at the circumstances in which the artists lived – in a certain era and culture, with different social practices."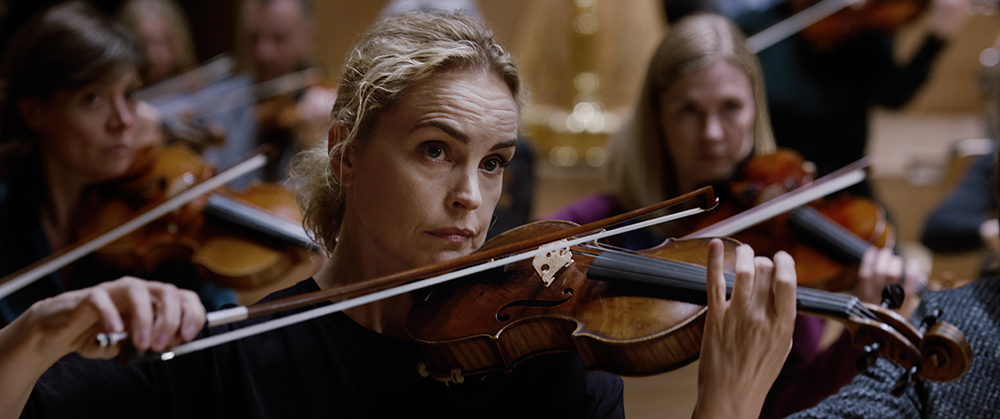 As Universal Pictures' press officer approaches to signal our time is up, we are drawn neatly to how convincingly Nina Hoss's character in Tár as First Violinist of the Berlin Philharmonic Orchestra follows the gestures, and the marking of time of Tár's eponymous domineering conductor. "It was difficult. I had to learn how to count in a rhytmically correct way and couldn't just go with my feeling when playing the violin. It is mystifying, because the beat is never with you, it's always slightly ahead of you, and that is so confusing. If you look at conductors, they anticipate the whole time, the 'da-da' sound doesn't come with their actual gestures." We lastly reflect that the real-life Berlin Philharmonic actually made fiction become fact the same week as the German premiere of Tár, finally appointing a woman to the position of First Violinist. Did Nina Hoss's own portrayal shame them into action? "I think I have something to do with it! Deep down I really hope so. I am going to work with the Berlin Philharmonic very soon when they perform a piece by Stravinsky. I will be the narrator, so I will ask them. But that is beautiful, I could not believe my eyes when I read the news of the appointment yesterday. Life finally imitates art. I am so happy about that!"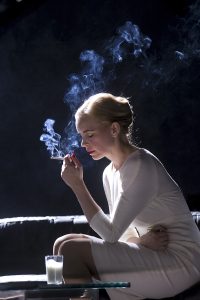 NINA HOSS
is one of German-language cinema and theatre's most acclaimed actors, starring in countless productions before captivating Hollywood with her roles in A Most Wanted Man, Homeland and now Tár. Born in 1975, she grew up in Stuttgart, taking to the stage in 1995 when she studied at the Ernst Busch Schau-spielschule in Berlin. Famed auteur Bernd Eichinger cast her, straight out of drama school, for his major feature Das Mädchen Rosemarie. She was then directed by the likes of Volker Schlöndorff, Christian Petzold and Anton Corbijn, working alongside such on-screen greats as Stellan Skarsgård and Philip Seymour Hoffman. Long an ensemble member of Deutsches Theater Berlin, she there trod the boards in Emilia Galotti, Minna von Barnhelm, Medea and Hedda Gabler. In 2007 she received the Silver Bear for her leading role in Yella. Born into a political
family, she has twice served as a delegate for the Green Party to the Bundesversammlung, which elects the president of Germany. Married to Welsh music producer Alex Silva, she now lives in Berlin.