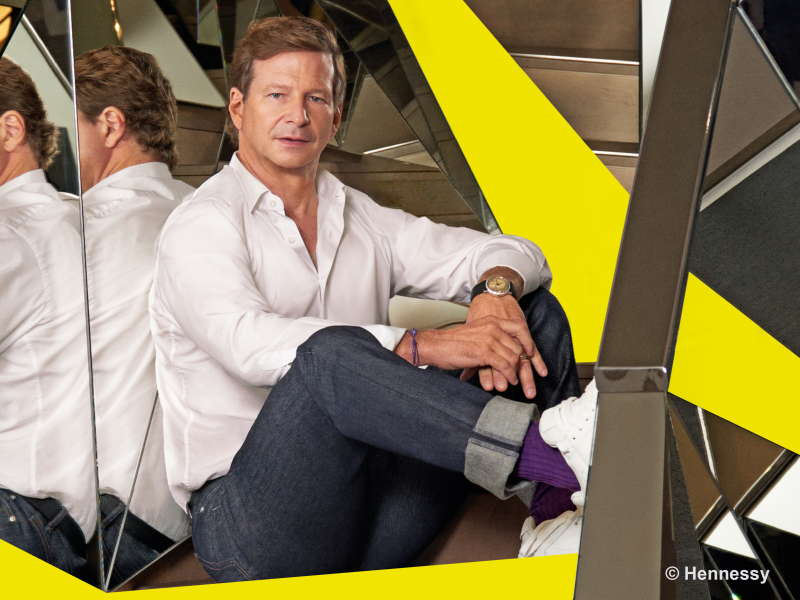 He has designed meteorites, tattooed diamonds and has been a collector par excellence for 30 years; the prestigious address of his boutique is Place Vendôme 19 in Paris: French-German fine jeweller Lorenz Bäumer on jewellery speed dating, his collections, and his first-ever jewel.
The legendary Place Vendôme in Paris boasts the highest density of haute joailliers in the world. Limousines chauffeur the haute volée to the boutiques, or to Hôtel Ritz, and this rainy summer afternoon is no exception.
For thirty years, Lorenz Bäumer has been one of the most exquisite jewellers on Place Vendôme. The square is cited within his business premises in the form of a collection of around 150 photos of its characteristic landmark, the Vendôme Column. The boutique itself resembles a crystal, as fragmented mirrors and steps enhance the luminance of the space and expand into multiple facets. Fauteuils are arranged around a cocktail table made from an enor- mous amethyst druse on which Lorenz Bäumer has kindly chosen to serve Hennessy Cognac – in a bottle designed by none other than himself. His guests are Astrid Fialka-Herics, Head of Dorotheum's watch and jewellery department, and Katharina zu Sayn-Wittgenstein, Head of Dorotheum Germany, who has been acquainted with Bäumer since childhood.
Dorotheum myART MAGAZINE: In the mid-seventies we first met in Ottawa, as both our fathers were German diplomats. Were you already passionate about art back then?
Lorenz Bäumer: At the time, my mother used to paint on china. She had a studio where we lived. Sometimes I painted her. My mother was very artistic. She taught us that if you have a dream, if you want to do something, do it! That idea has always held true for me.
I gather you began collecting as a child with a focus on wine labels, followed by stamps. How did your passion for collecting develop?
I have always collected, all my life. A lot of collectibles cost nothing, like – at that time – wine labels, or stamps. Today, I collect sand from the beaches I have surfed on. Collecting is not about money, it is about the joy of engaging with something at a very high level.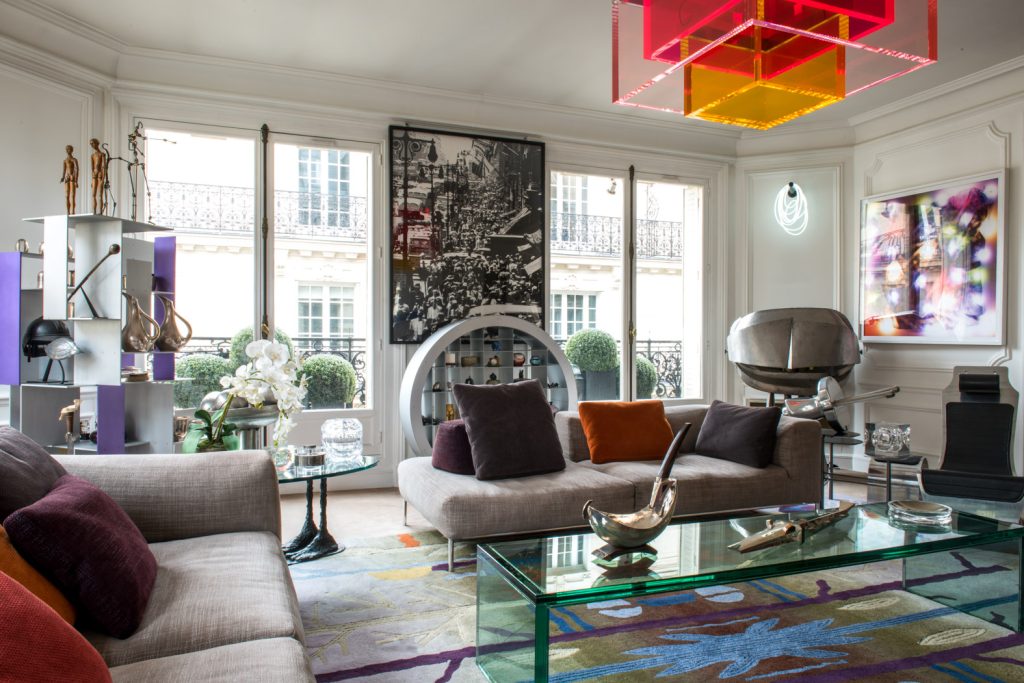 Your home boasts collections of contemporary art, design furniture, photographs, and other items. What was the first piece of art you bought, and which artists and designers pique your interest the most?
As a collector you are usually only interested in the next piece (laughs). I really love the works of Hubert Le Gall, Hervé Van Der Straeten and René Lalique. I am also very much inspired by Jean Puiforcat. I think one of my first items was a piece of Parisian wrought-iron furniture from the 40s, which wasn't exactly the rage at the time. I bought things like that at the flea market and at auction too; that's how it started. In the meantime, I have also acquired objects from the 30s, 70s, and contemporary pieces too. I like to mix things. If an object doesn't have a soul, I am not interested. It has to speak to me.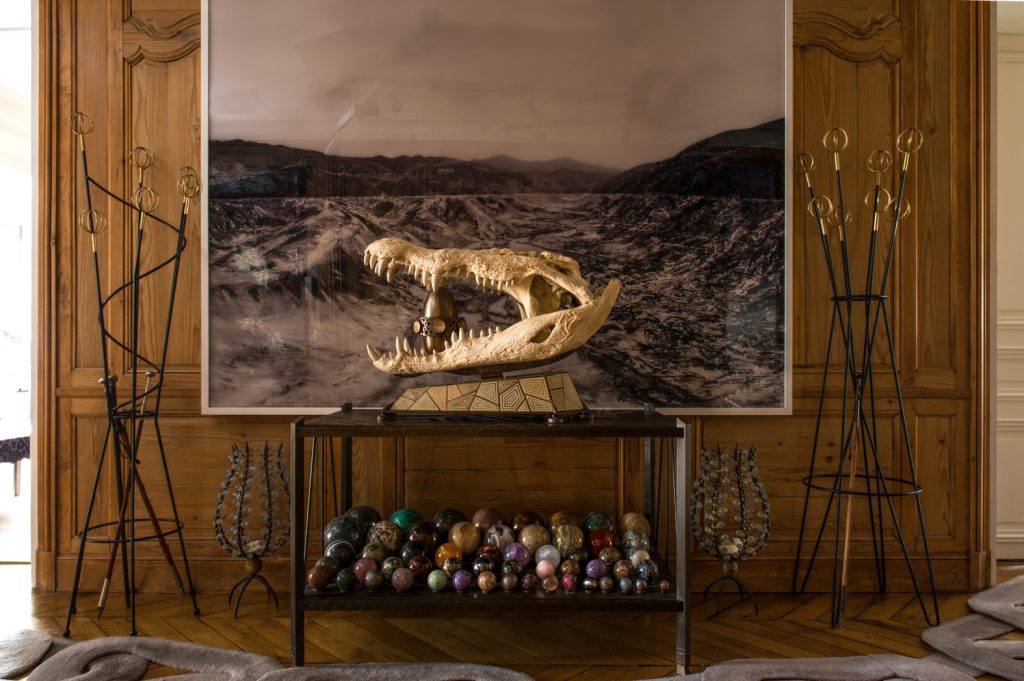 A soul in what sense?
It's the emotion and inspiration I get from it. I usually don't buy on the spot. I allow time for the image to sink in. It's the same if you buy a piece of jewellery here: sleep on it – if you remember it the next day, it means it's good. I also like to find out more about the history of the object I buy.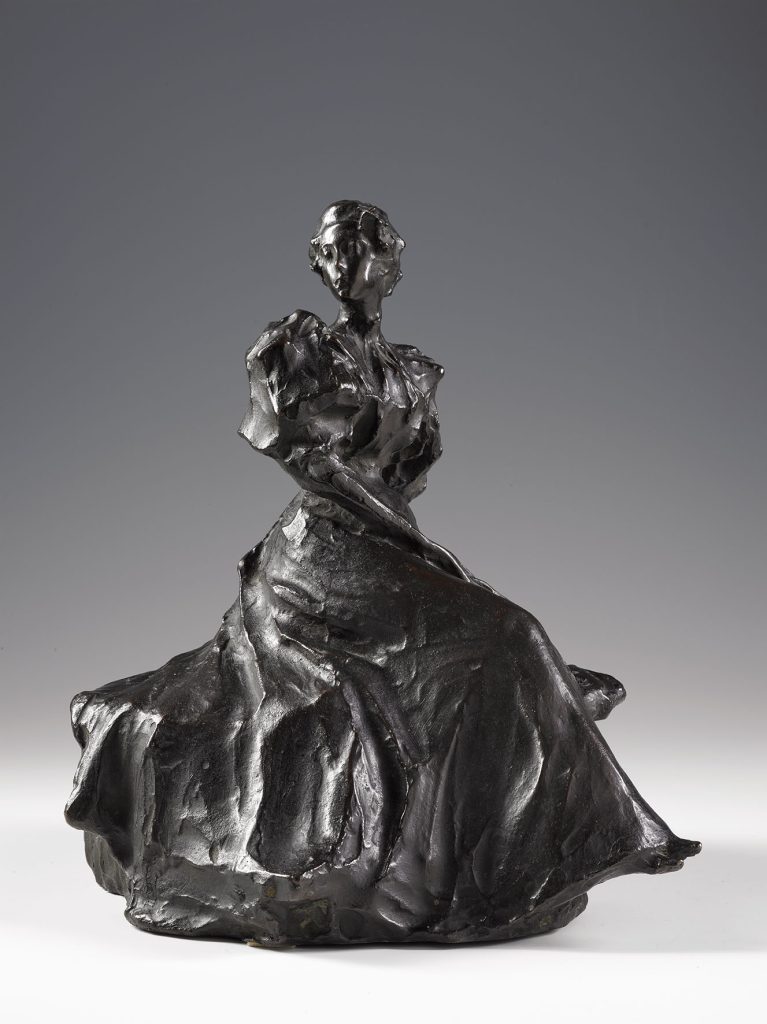 Was that the case when you purchased a 1893 bronze sculpture by Paul Troubetzkoy at Dorotheum?
I had been looking for an extravagant Troubetzkoy sculpture for a long time, one that would remind me of Giovanni Boldini's paintings. There was a sculpture at Musée d'Orsay that I loved very much. When I saw "Carla Erba sitting on a bench" at Dorotheum, I immediately knew that that was the sculpture I was looking for. There was something spontaneous, light, and very glamorous about it. I don't usually buy from catalogues, but Dorotheum did such a wonderful job describing it and making me see it, that I just decided to go for it.
Where do you keep it?
I live with all the things that I love, and I use them – like the incredible Puiforcat tea silverware. Troubetzkoy's bronze sculpture is in my room. I see it every day when I wake up, among a gazillion of other things that I love.
Where do you buy mostly?
I buy everywhere, at auction, in galleries, on flea markets … A lot of my contemporary pieces were made by friends. I buy from them or swap with them, because sometimes they might like my jewellery. For example, the portraits of all the kids in the entrance of our home are by painter Philippe Pasqua.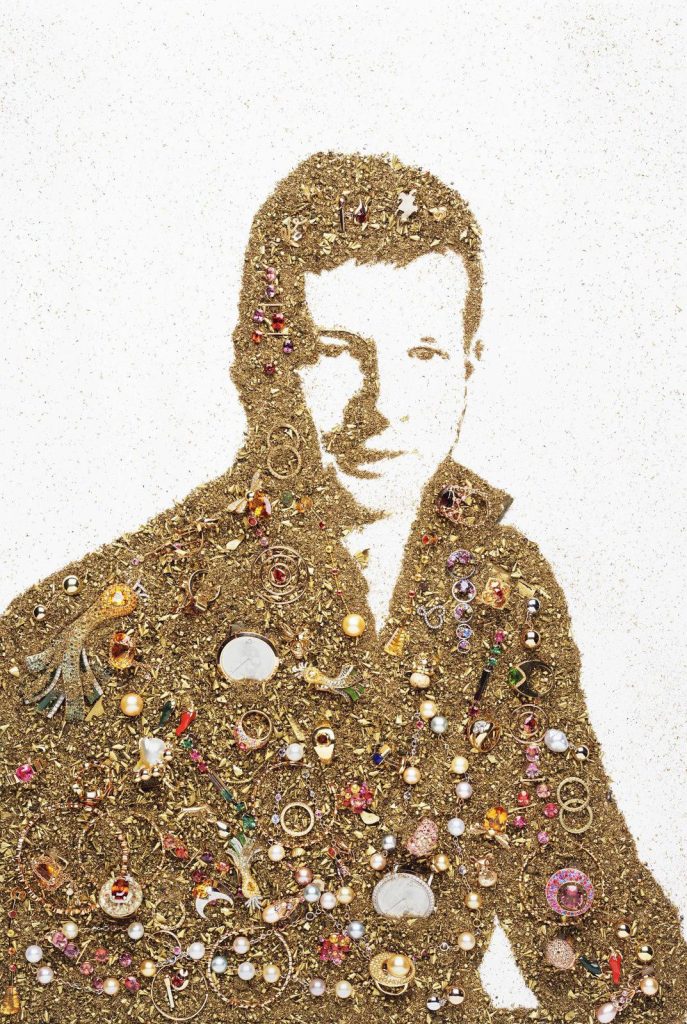 Is this also how Vik Muniz came to portrait you?
Definitely! Vik is a very good friend, and he has been very smart to choose women that love jewellery, so that has been very useful in my collecting his works. It is an old tradition between artists to exchange things, which I do with a lot of artists I know. When we did this portrait with Vik, I brought some gold dust over. He sprinkled the portrait with it and I studded my body with jewellery. There is always a little something that's part of my story.
Is your jewellery inspired by the art you buy?
Marcel Proust, who I love, said that when you read somebody, you have a conversation with them, for example with Tolstoy, or Bal- zac. I'm having this conversation with the beautiful objects I live with, and that is very inspiring for my work. For instance, I would have bought your earrings (points to Astrid Fialka), because I think they are really interesting. I wouldn't have made them like that, but they could be a great starting point from which to move on. Like the console designed by my good friend Hervé van der Straeten inspired my design of the staircase in the shop. I love its mineral pyrite feeling …
What comes first in your creative process, the stone or the design idea?
In the case of some very special stones like meteorite, I would start with the stone. In other cases, I might just start with the design and fit in the stone, since it is more readily available.
When a client commissions a piece of jewellery, how important is it to you to emphasize your signature style?
Some artists will say, "This is my work, I don't care if you don't like it, get out". Other artists will do exactly what you want. To me, it's a mixture of both. Making a piece of jewellery for someone is like a wedding. You take the best of both, you build on it and thus create more than the sum of its parts. A good example is the tiara I designed for Princess Charlène. The ocean is our common passion: I love surfing, she used to be an Olympic swimmer, and Monaco has a strong relation to the sea. So, we took that element and cre-ated around it.
How many meetings do you have with your clients until the item is finished and ready to go?
There is no rule. Usually, we meet for one or two hours. I'll do the sketch, and later a precise drawing. It is like speed-dating a piece of jewellery! I let them try two or three things, we decide on the colour of gold, and of course on factors like timing and budget, which are also part of the creative process.
Do you remember the first item you made, and did you keep it?
Before designing jewellery, I made furniture and all sorts of things. But in terms of jewellery, the first piece I made was a ring for my mother. Our parents were diplomats, and when they went out, they dressed up elegantly and put on jewels. Wow! They were not our parents anymore; my mom was a princess. So, you are always going to have that magic wand that turns women into princesses.
Do you still work as a goldsmith yourself?
No, I would be bankrupt by now. Because I don't have the skills. I used to do costume jewellery when I started, but not fine jewellery. For a piece of fine jewellery you need someone to cast it, someone for the metal, a polisher, a stone-setter and so on. That is a large array of skills. My part is more on the creative side; I am the conductor of an orchestra. I make sure I have the best audience – my clients –, the best place and the best artisans.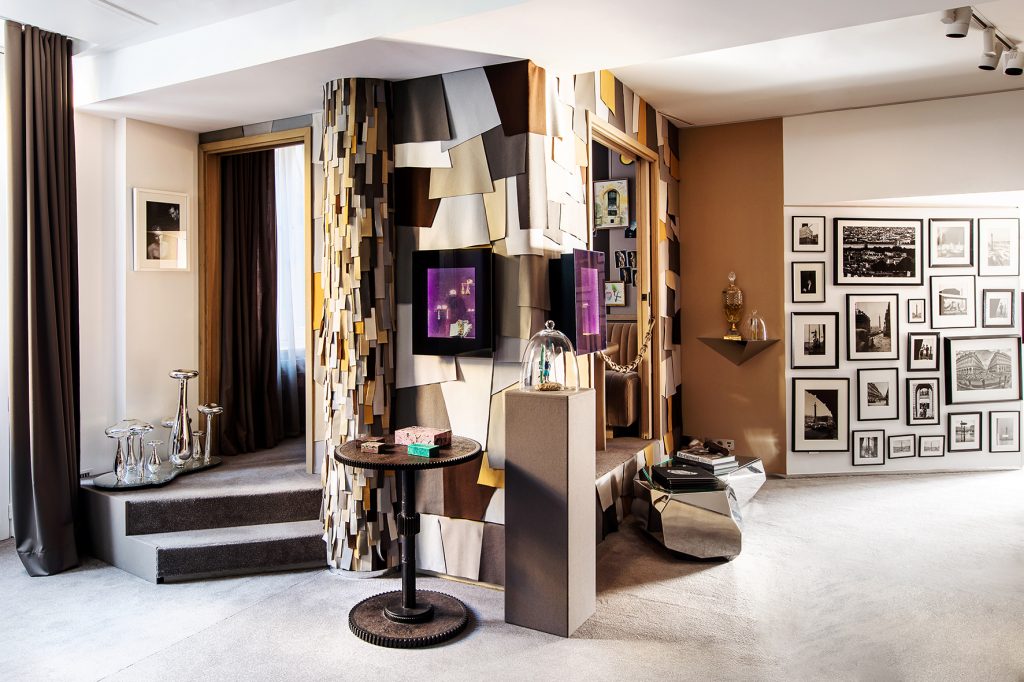 Innenansicht des Shops am Place Vendôme: Interior Design trifft auf Lorenz Bäumers Sammlung zur Colonne Vendôme. © Virginie Garnier
Do all the works on paper in your collection revolve around Place Vendôme?
I have a collection of collections. One of them focusses on works on paper, because they remind me of my art, when I sketch out things. What I like about paper is its spontaneous, fun side. The theme of this collection is masterpieces by unknown artists, mostly 19th cen- tury. Some of the artists already did things associated with the 20th century, like Picabia's layers. I also like to get drawings framed. In Paris we have some of the best framers, so I have a collection of old frames, too. And then there is my collection of photographs of Colonne Vendôme. Right here, I have about 150 of them on display; it took me forever to collect them. They have to show the Colonne Vendôme, be vintage, and there has to be something really fun or interesting happening.
You are a relatively young jeweller on Place Vendôme, where you have been based since 2013. What significance does this historical place have to you?
It was always my dream. I knew Place Vendôme was the place to be if you were successful in fine jewellery. Place Vendôme is like Dorotheum. It's the place to be.
Katharina zu Sayn-Wittgenstein is an art historian, Head of Dorotheum Germany and Director of its Hamburg office. Astrid Fialka-Herics is Head of Dorotheum's watch and jewellery department, a jewel specialist, lawyer and trained goldsmith.
LORENZ  BÄUMER
is one of the most eminent and innovative designers of haute joaillerie and an art collector. Born in 1965 to a German diplomat father and a French mother, he lived in Jordan, Austria, Germany and Canada before studying Engineering Science at the École Centrale Paris. He was Chanel's creative director for fine jewellery for two decades and was commissioned by LVMH in 2007 to create all the fine jewellery for Louis Vuitton between 2007 and 2015; his designs for Guerlain include a bee-shaped perfume flacon and the G lipstick. To mark the 75th anniversary of the NBA, Lorenz Bäumer designed a basketball-shaped cognac decanter for Hennessy Paradis. In 2010, he was commissioned to create a wedding tiara for Charlène, Princess of Monaco. In 2013, he opened a boutique on Place Vendôme, Paris, which bears his name. In February 2023, he unveiled the Maison Bäumer Vendôme store in the Doha Oasis centre in the capital of Qatar. January 2024 saw the release of the English-language coffee-table book "Lorenz Bäumer – 30 Years of Exceptional Creations", with articles by famed chef Alain Ducasse, Princess Charlène of Monaco and author Philippe Labro. A passionate surfer, Lorenz Bäumer lives with his family in Paris and is an eclectic collector of – mainly – all kinds of art, design and antiques.