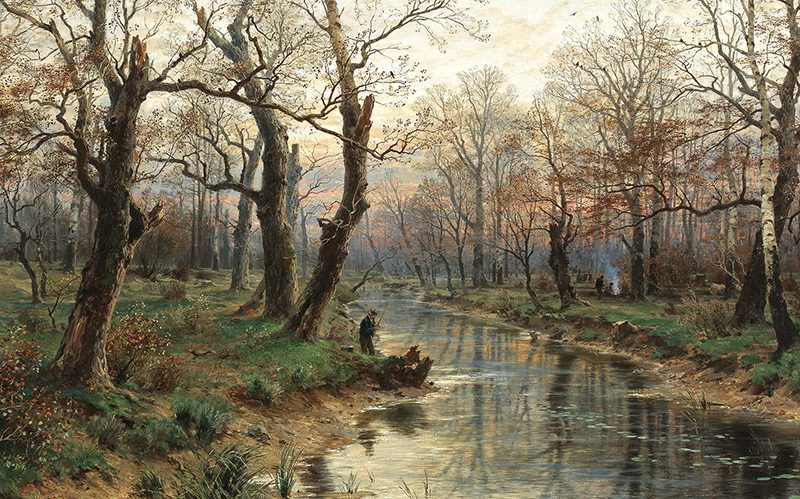 Hugo Darnaut's atmospheric paintings were inspired by Schloss Plankenberg. The castle and its picturesque gardens were a melting pot of Austrian plein-air art in the late 19th century.
The village of Plankenberg and its castle are situated just outside Vienna, in the foothills of the Wienerwald, near Neulengbach, where, incidentally Egon Schiele was later briefly imprisoned. The estate is as majestic as it is enchanting: nestled in a picturesque park with ancient trees, it was owned by the renowned art collector and banker, Moritz von Fries, before being bought by the Prince of Liechtenstein who owned it for many decades. Schloss Plankenberg is best known however for the small, yet important artists community which produced masterpieces of landscape painting there at the end of the 19th century.
Schloss Plankenberg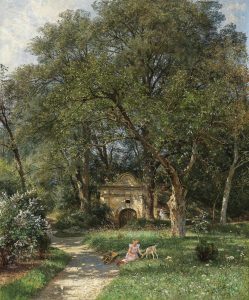 Emil Jakob Schindler, a doyen of Austrian landscape art, discovered and rented the castle as a residence from 1885 onwards. His tenure there turned Plankenberg into an important hub for pupils and artist friends including Carl Moll, Marie Egner and Robert Russ. And what a sight they must have been: the gentlemen painters with their long beards, all dressed up in suits; ladies in long, corseted dresses, sometimes with large hats – all labouring over their outdoor easels for hours on end, diligently capturing some small slice of nature on canvas. They were nature lovers, today, they might be regarded as "treehuggers", individuals keen to turn a blind eye to encroaching technology and its disruptions, instead using their art to showcase beauty and draw focus to the landscape they so fervently wished to preserve. It is thanks to them that Plankenberg found its way into the art history books – becoming something akin to the Barbizon School in France.
Hugo Darnaut as artistic successor and new tenant
When Schindler suddenly died in 1892, the painter Hugo Darnaut stepped in as his artistic successor and the new tenant of Schloss Plankenberg. Born in Dessau to an actor and theatre director in 1851, he was somewhat younger than the top-tier landscapists. Financial support from his uncle, who was an associate of the Vienna furniture business Portois & Fix, enabled him to study at the Academy of Fine Arts Vienna after 1872. In contrast to his fellow student Theodor von Hörmann and his early idol Emil Jakob Schindler, Darnaut took his cue from the public taste and the rules of the newly founded Vienna Künstlerhaus Association of Visual Artists of Austria, where he also served as jury member and president. Success found him early; his paintings often sold straight from the easel. 
Atmospheric landscapes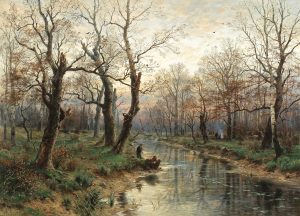 Yet early on, Darnaut also sought a proximity to and advice from Schindler and visited him in Schloss Plankenberg. It was there – far away from the squabbles, tiresome competitiveness and strategic games of the art market – that Darnaut found the inspiration for a number of wonderful, sophisticated compositions; it is there that the artist delved headlong into a painting that harnessed poetry as a way to transform nature into a timeless, new reality. With his pointed brush deftly and confidently wielded, the painter savoured the many nuances of a hue, filing a picture's atmospheric, in-between spaces with air and sun, with the warmth and sounds of the forest and meadows. 
Each facet of Austrian-style plein-air painting resounds in this 1893 painting of the Schloss park, where a young girl's delightful interaction with a young goat and a rhythmic play of shadows and sunlight enter into an atmospheric symbiosis with the old trees. Similarly entrancing is another, somewhat earlier scene of twilight by the river, an image showing fishermen and charcoal workers going about their business surrounded by a defoliated, autumnal forest. Both paintings captivate all the senses; both were "grand cinema" for viewers at the time. Even today, they call for a flight of fancy, ask us to look at a scene and spin a story, to breathe in the fragrant summer air or autumnal evening chill. This new reality, a reality in poetry, endures to this day.  
Marianne Hussl-Hörmann is a specialist in 19th-century paintings at Dorotheum.
View now the auction catalogue and read our new myART MAGAZINE