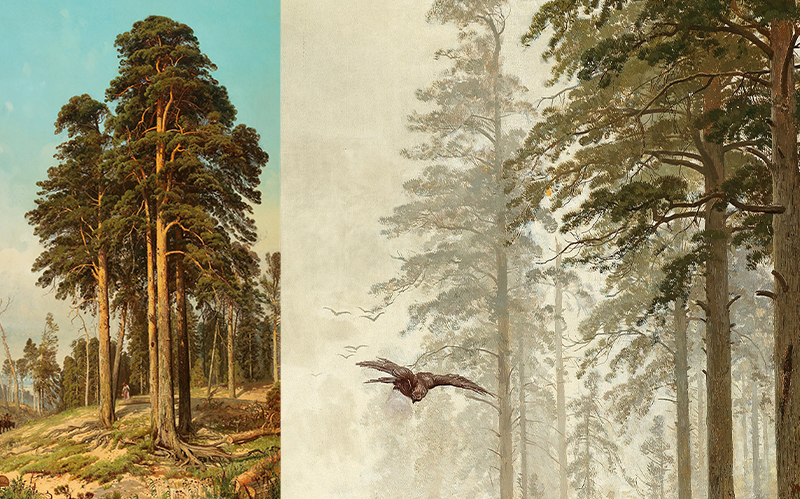 Large, realistic landscape paintings, rendered with great attention to detail and imbued with a poetic spirit: the paintings of the Russian artist Andrei Nikolaevich Schilder are reminiscent of the imposing works of literature by Russian writers. Two pictures coming up for auction resonate in the perfection of their composition and lyricism. They are probably, according to Russian experts, the artist's earliest known works.
Two large pictures – counterparts, depicting a sunny summer day and a foggy autumn morning – portraying the surroundings of Saint Petersburg. They are by Andrei Nikolaevich Schilder (1861–1919), whose works can be found in many museums in Russia, including the Tretyakov Gallery in Moscow and the Russian Museum in St. Petersburg. Andrei's father was the celebrated painter Nikolai Schilder, whose best-known works include the portraits of Tsar Alexander III and his wife Maria Feodorovna now held in the Musée d'Orsay in Paris. He successfully presented his 14-year-old son's drawings to the greatest Russian landscape painter of his age, Ivan Shishkin and the boy was invited to study in Shishkin's studio.
Ivan Shishkin: Great Influencer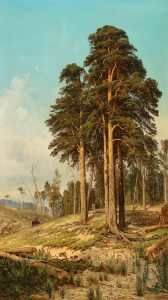 A close relationship developed between teacher and student: Schilder accompanied Shishkin on his travels and worked with him for weeks on the island of Valaam in Lake Ladoga. It was Shishkin who introduced Schilder to sketching outdoors in summertime. In 1903, Schilder became a member of the Imperial Academy of Arts in Saint Petersburg without even ever having studied there.
A true Landscape Painter
While contemporary landscape painters in Moscow generally made a study of their subject before working it into a picture, their St. Petersburg colleagues tended to take a more preconceived idea as a starting point for their paintings, thereby taking the risk of distancing their work from reality. Despite his background in St. Petersburg, and thanks to his wide-ranging holistic approach to the depiction of nature, Ivan Shishkin was able to achieve perfection of composition in his paintings coupled with a close observation of the real world. He passed this ability on to his gifted student, who went on to develop the style, imbuing his own paintings with an even greater poetic gentleness.
The Wanderers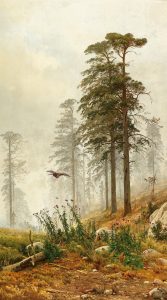 Until his death, Schilder exhibited his art most frequently amongst the influential association of Russian artists, named Peredvizhniki. Its members were realist artists whose aim was to create an unvarnished portrayal of contemporary life in Russia and to make painting accessible to the public not only in St. Petersburg and Moscow, but in many cities across the vast Russian empire – hence the name of the group, which translates as "The Wanderers". Between 1871 and 1923 they organised 48 travelling exhibitions. A member of this artists' association, Jakov Mintshenkov, wrote an account of the Peredvizhniki, and from over a hundred members he selected twenty artists for particular mention in his book, amongst them, Andrei Schilder. The book paints a picture of a kind-hearted artist whose circle of friends included not only fellow artists but also chess players, Schilder being an excellent player himself. His house was also frequented by writers and progressive politicians.
The Artist's Earliest Known Works
The distinctly Shishkin-esque character of these two landscapes, with their large portrait format, and their subject matter, portraying the times of the day and the seasons, suggest that they were made in 1880s. They are thought by Russian paintings experts to be the earliest known works by Andrei Schilder.
Olga Sugrobova-Roth is a specialist in Russian art.
AUCTION
19th Century Paintings
7  June 2021