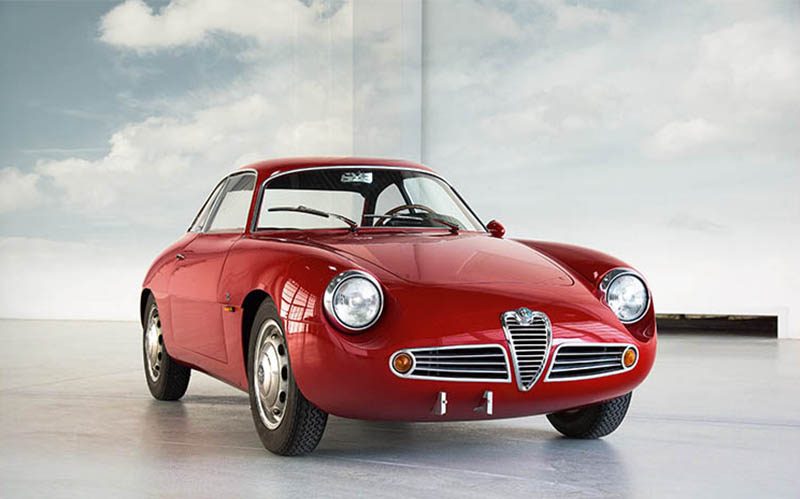 Giulietta's many guises
Giulietta Sprint Zagato: the name of a true winner. Alfa Romeo's beauty queen of the 1960s, the Giulietta, will once again grace the runway at Dorotheum's classic cars auction in fall 2017. A Dorotheum expert in love recounts the historical genesis of an unbridled success story.
Two world championships. The fastest race cars. The most expensive and luxurious gas guzzlers and money from the state to boot. Milan was the Cockaigne of automotive excellence and Alfa Romeo the very quintessence of prestige and glamor in the 1930s. But the pages of history kept on turning; war came and went, changing the world along with it. The early 1950s saw the start of a burgeoning new reality. It wasn't just the upper 10,000 demanding their own sets of wheels anymore. The fascist regime was history and so were the hefty state subsidies. Rome demanded that pennies spent had to be earned as well. That's no viable business proposition in motorsport racing.
Soon, Alfa Romeo's factory team was history as well. But rather than yield to new times, Italians set their sights on another kind of trophy: the middle-class car market. The Alfa Romeo 1900 was launched in an attempt to capture a healthy chunk of the new and growing market, and for the first time, the factory was producing enough cars to resemble an actual serial production. Alfa Romeo continued to cater to its exclusive clientele of old by also offering extravagant and tailormade coupes and cabriolets. In branching out, the car maker managed to keep its head above water, but only just. What they desperately needed was a model with across-the-board appeal, and …
… so the Giulietta was born.
Now, what was it that made her so attractive? Well, for starters, the new Alfa Romeo didn't flaunt its potency with tacky letters or numbers, but merely had a girl's name inscribed on its tail end. This aroused emotions such as lust … a different kind of lust, mind you – it was marketing Italian style! Giulietta also turned out to be a ravishing beauty, and as an Alfa Romeo, her smart sheet metal garments hid all the technical features of a full-blood race car. 1300cc, an all-aluminum engine block, two camshafts, hemispheric combustion chambers – hardware the everyday Fiat- or Volkswagen driver could only dream of. But two problems emerged before Giulietta could roll down the runway and claim her place in automotive history: money ran out again, and the car's self-supporting chassis lacked the necessary tension. Presentation was delayed. The situation called for creativity in more ways than one. But Italians were never shortchanged in the financial creativity department, and Alfa Romeo eventually pulled through its financial crisis by staging a lottery for certificates of eligibility to the first 1,000 Giuliettas. Solution to problem no. 2: in 1954, Alfa Romeo first launched a Coupé version of Giulietta instead of the original model. Called Sprint, it was designed by legendary car design firm Bertone and had the required chassis stiffness. Alfa Romeo also entrusted Bertone with assembly, to avoid having to invest in further production capacity.
A year later, in 1955, a small armada of Giulietta Sprints was enrolled to compete in the race of all races, the Mille Miglia. The results? Sobering! The car came in 32nd place overall. Most of the Sprints exited early. 1300cc engine class drivers caught little more than a glimpse of taillights as the punchier Porsches sped away. Giulietta's engine was brilliant to be sure, but it may also have been somewhat heavy, lack firepower, or both. Either way, Alfa mechanics went to work and actually managed to boost performance  from 65HP to 90HP while reducing its weight from 880 kilograms to 770. The latter was achieved by replacing some parts with acrylic glass, others with aluminum parts, and by stripping the cockpit to its bare bones. Sounds speedier now, right? It was indeed. That's why they called it Giulietta Sprint Veloce – the addition means "rapid" in Italian.
Giulietta, a sprinter
Alfa Romeo secured all three podium places at Mille Miglia the following year – even the Porsche bevel models were forced to eat dust. But of the Giuliettas, no. 127 didn't even make it across the finish line. The brand new Sprint Veloce crashed after an involuntary 360-degree spin, and the drivers, brothers Salvatore and Carlo Leto di Priolo, felt lucky to escape with only minor injuries. The Giulietta was in rough shape. Still, the brothers weren't prepared to retire her to the junkyard just yet. They brought her back to Milan to have her fixed up. But instead of taking the car to Bertone, they entrusted Elio Zagato with the delicate makeover. Zagato was a meticulous race car magician with a fastidious focus on aerodynamics and weight. He came up with a tight-fitting, streamlined new dress for Giulietta, one with no sharp edges or corners – haute couture rather than prêt-à-porter. The makeover only accentuated her beauty, and suddenly she was closing in on the magical 200 km/h mark. Giulietta Sprint Veloce Zagato, or SVZ, soon became a hot topic of conversation, and it wasn't long before other Alfa Romeo buffs were showing up on Zagato's doorstep with their accidentally damaged Giuliettas in tow.
Bertone's countermove, the Giulietta Sprint Speciale, was thought to be the Veloce's natural replacement, but proved tame in comparison. It looked faster than it really was and was no match for Zagato's flashy speedster. Alfa Romeo put the Sprint Speciale into serial production, but it was never a success.
Alfa Romeo was adamant about continuing its winning streak on the race track and commissioned Zagato to produce a small and competitive series. After manufacturing some 20 SVZs, none exactly identical, Zagato refined its design, cut the car's length, smoothed the chassis further and successfully boosted Giulietta's speed. She now reached a top speed of more than 200 km/h and officially carried the name Giulietta Sprint Zagato. And she was a born winner. She won in the mountains, she won rallies and on race tracks, she won everything, everywhere – Targa Florio, Tour de France, Nürburgring, Coupe des Alpes and many more. Entire books are filled with stories of Giulietta's many great wins.
When total production reached 170 Sprint Zagatos, Zagato decided to give Giulietta one final makeover. He extended the overhangs, trimmed the tail in accordance with Wunibald Kamm's aerodynamics theory, and managed yet again to make her a tad faster. By that time, Alfa Romeo had already started developing Giulietta's 1600cc replacement, the Giulia, and only 40 cars of Zagato's final version made it through production before it was retired.
Our Giulietta Sprint Zagato
Our Giulietta Sprint Zagato, No. 93 of 210, was initially exported to Switzerland straight from the factory in 1961. Unlike many of her sisters, this particular Giulietta was spared the race track. In the 1960s she was relocated to Stuttgart, Germany, where her owner worked on the 917 engine in Porsche's race department. After many unsuccessful attempts, an Austrian colleague from the engine department eventually made a convincing bid to buy the Giulietta off him. When the new owner left Porsche, he brought the car back to Austria for a stint before relocating it once again to Aachen, Germany, where he was hired to help develop race cars for the Willi Kauhsen Racing Team. The Giulietta changed hands again in 1979, this time to an owner whose heart and soul belonged to Alfa Romeo. It has made only rare public appearances since and was considered lost until recently. A few years back, the owner refurbished the Giulietta meticulously, gently and with much dedication. The result is a true work of art.
She is fast. She is rare. Some like her, some don't. Haute couture isn't for everyone. But she never fails to fascinate – this author probably more than most. He has fallen head over heels for Giulietta.
AUCTION
Classic Cars
21 October 2017, 4 pm
Classic Expo Salzburg
am Messezentrum 1
5020 Salzburg
Take me to the catalogue