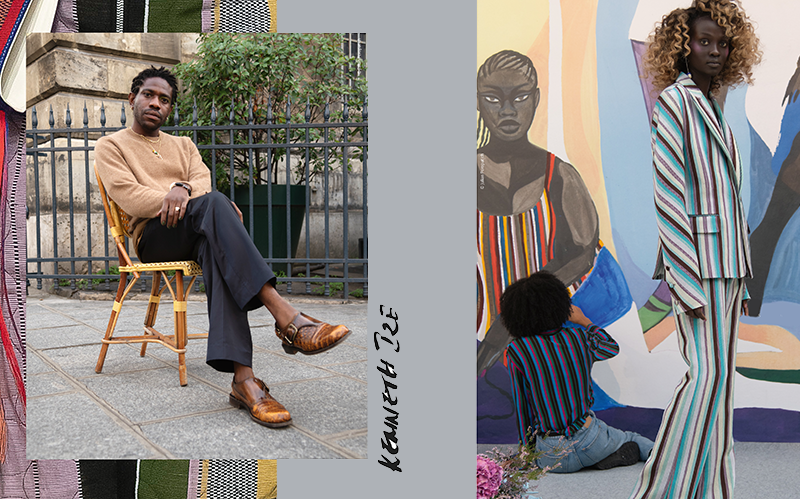 Not many can claim that supermodel Naomi Campbell has volunteered, out of the goodness of her heart, to promote their fashion. Nigerian-born Austrian designer Kenneth Ize can. His mix of Nigerian craftsmanship and Austrian tailoring and a modern silhouette has paved the way for a meteoric rise in the international world of fashion. This year, the designer is also creating Lagerfeld's Capsule Collection. A portrait.
Foreign Home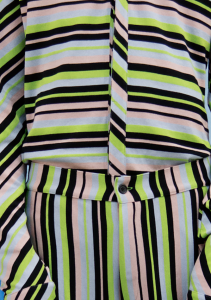 Once again it all started in Linz. But first things first. Kenneth Izedonmwen was born in Lagos, the capital city of Nigeria. When he was five years old, his parents fled the country and brought him to the city of Linz. "I was a stay-at-home child," says Kenneth Ize, (the artist's name he goes by) of his early years in Austria. He subsequently studied fashion with Bernhard Willhelm at the University of Applied Arts in Vienna. His traineeship was completed in New York at sustainable fashion label Edun, which was founded by U2 lead vocalist Bono and his wife Ali Hewson. Here, Kenneth Ize focused on African craftsmanship and realised how little he actually knew about the traditions of his home country. "After graduating from Hussein Chalayan, I decided to dedicate time to do some research in Nigeria," he says, describing the starting point of a career which soon after, would take off in leaps and bounds.
Aso Oke with Viennese lace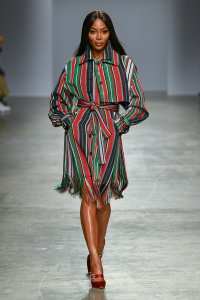 His first fashion collection was created with the help of a small group of weavers, who create a traditional African fabric. The fabric is called "Aso Oke" ("outer fabric" in the West African language, Yoruba) and is usually worn on special occasions. It is characterised by beautiful colours and rich patterns and carries a resemblance to fine lace. The project led to another important realisation: "To make sure that my people would understand and trust me, I decided to put on my first big show in Africa, at Arise Fashion Week in Lagos." That was in April 2018. The solo project got off to great start with a startling surprise: "Naomi Campbell, who had seen some of my work before, approached me the night before the presentation and said: 'I'm going to run for you!" And so she did. When Kenneth Ize was due to show his latest collection at the Paris Fashion Week in February 2019, Naomi Campbell got on the first plane, at her own expense, and showed up to the fitting unannounced.
It was wonderful to see on that occasion how well the collection mixed Nigerian craftsmanship with Austrian tailoring and modern silhouettes! Aso-Oke fabrics were transformed into double-breasted men's suits. Jackets with funnel collars were attuned to accompany miniskirts, and carpenters' pants spun from silk were embellished with fringes at the hem. Even the dress presented by Naomi Campbell to end the show had fringes. Kenneth Ize explains: "I love to mix and match what normally doesn't fit." For his spring/summer 2020 collection, Ize collaborated with Tanja Bradaric and Taro Ohmae and their young bag label SAGAN Vienna. Again, African styles were mixed with European craft, Aso Oke with Viennese lace. Kenneth Ize's work for Edun brought him onto the radar of Louis Vuitton and onto the list of the ten most promising rising stars to be nominated for the LVMH Prize, which is second to none in terms of prestige in the fashion world. In the end, the South African designer, Theme Magugu, won the prize, but even making the shortlist had a huge impact on Ize's career. "80 per cent of the important people I know, I know because of this competition." They include not least Lagerfeld Style Advisor, Carine Roitfeld, who invited Ize e to design a Capsule Collection for the House of Lagerfeld in 2021.  "My contribution is a letter to Karl with images from Africa," says Kenneth Ize. "I have tried to combine Karl's Parisian chic aesthetics with elements of traditional African art." Of course, the Kenneth Ize trademark will also be represented: Aso-Oke fabrics with dense colourful stripes.
Art and Fashion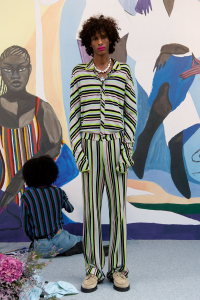 The special Ize touch also radiates from his beautiful spring/summer 2021 collection. As the season's fashion shows had all been cancelled due to the corona pandemic, Ize instead asked 22-year old Namibian artist Maty Bianyenda to paint a large mural as the background for a digital presentation of his striped unisex outfits. The collection also included organza shirts with print and painted artwork by Nigerian artist Fadekemi Ogunsanya. Ize named his autumn 2021 collection "The Circle of Birth and Death". Instead of cheerful colours, this time he went for muted combinations of grey, brown, mustard yellow, green and black. For the first time he also incorporated merino wool as material, which earned him a shortlisting for the Woolmark Prize as one of just six nominees. With his first self-earned money, Ize purchased a plot of land in Nigeria and had an architect, a fellow student from the University of Applied Sciences design a production facility for it. He is also particularly pleased with another recent investment he made though: "Last year I invited my mother, Florence, who lives in Linz, to the Dorotheum to look for jewellery. We talk on the phone almost every day, but it was the first time I have bought something for her."
Brigitte R. Winkler ist Kunsthistorikerin und Modejournalistin aus Wien. Sie hat seit über 40 Jahren keine internationale Modeschau verpasst.