On 27 November 2019, a work of particular interest from the series "Teatrini", titled "Concetto Spaziale" by Lucio Fontanta will be offered at the Dorotheum Post-War and Contemporary Art auction.
Created in 1964, the "Teatrini" series derives its name from the figurative structure, characterised by frames similar to architectural "wings" in lacquered, uniformly coloured wood. A generally monochrome background, furrowed with holes, is presented as a sort of "sky" that acts as a backdrop to a square characterised by varied profiles. The relationship between frame and canvas is accentuated by the chromatic choices, which range from tone on tone to the most marked bichromatism, while the shapes reference the organic and natural world, taking the form of trees, clouds and landscapes.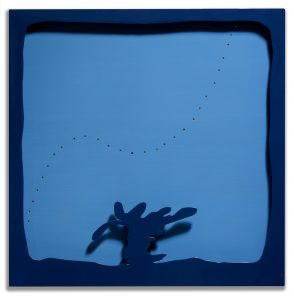 Fontana considered this series the culmination of his Concetti Spaziali, works conceived to influence the viewer's perception of space. He defined this late development of his theoretical approach as Realisic Spatialism.
As Enrico Crispolti stated, between the 1950s and 1960s Fontana worked through "a progressive widening of the range of possible formulations in terms of language. This was firstly through participation based on the 'Informel' problem (of which the French critic Michel Tapié was the main European representative), at the end of the Forties and throughout the Fifties. Then, in the Sixties, this was expressed through the further formation of the new European avant-garde movements, in the context of consciously "post- Informel" research (from monochromaticism, to the obliteration of gesture – as in the works of central European groups Zero and Nul – to an essentiality of figuration similar to Pop Art, ending up with the construction of sculptures with a 'missile' accent, of cosmic imaginative projection)." (Crispolti, 2006, Tome I, p. 16)
The "Teatrini" are well suited to express the sensitivity and interest of the artist towards visual art, theatre and design developed in Italy throughout the Sixties. The colours chosen for this Concetto Spaziale, blue and deep blue, are in fact evidence of Fontana's growing curiosity towards the development of Pop Art in England and the U.S. He stated: "The 'Teatrini' were a kind of 'realistic Spatialism', even a little in the style of Pop Art … but always on my terms. They were forms that man imagines in space." And the allusion to space is evident precisely in the choice of the holes that run along the canvas to evoke human impressions on the sky.
While adopting the brilliant consumer aesthetics of the 1960s, in his works of this period, Fontana maintains controlled elegance and the weight of his distinctive style.
INFORMATION about the AUCTION
Auction date: Post-War and Contemporary Art auction, 27th November 2019, 6 p.m.
Location: Palais Dorotheum, Dorotheergasse 17, 1010 Vienna
Exhibition: 16th November 2019 –27th November 2019
Information: Allessandro Rizzi, expert for Modern Art and  Contemporary Art at Dorotheum
View now the auction catalogue and read our new myARTMAGAZINE!