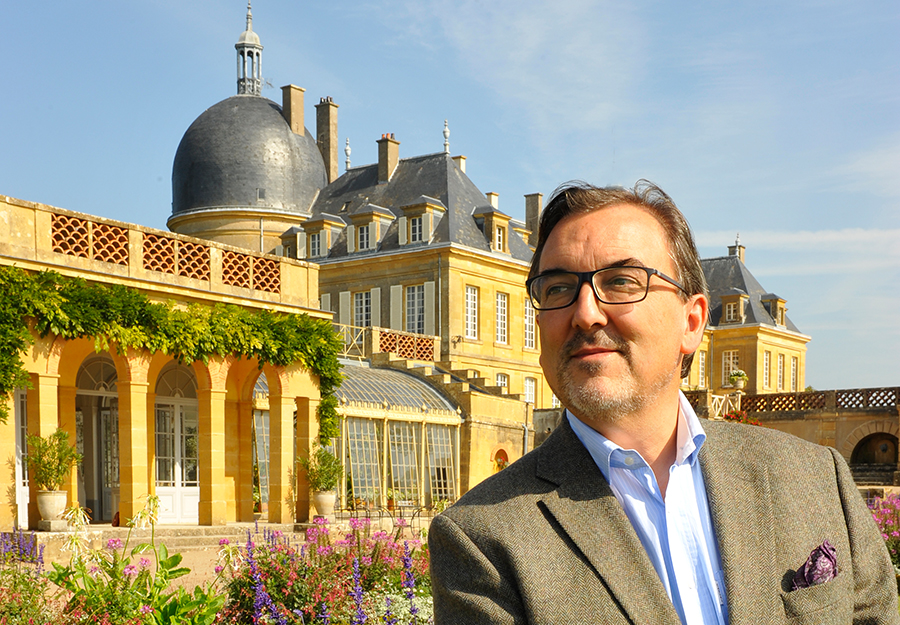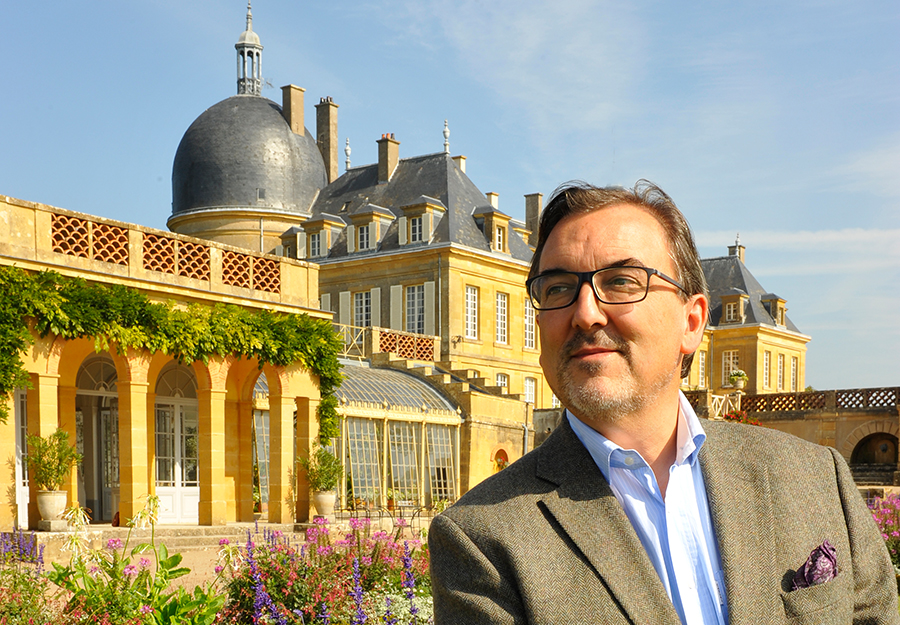 Jean-Louis Remilleux – media personality, lord of the manor and collector – took myART MAGAZINE on a guided tour of his imposing Château de Digoine near Paris. He spoke about his love of historic buildings and his quest for the past, which he conducts by way of collecting, research and refurnishing.
Jean-Louis Remilleux, who used to be well-known for his shows featuring high-profile interviews, now dedicates his time to historical subjects. He has produced a documentary series entitled "Secrets d'histoire" ("Secrets of History"), which deals, among other things, with the often unfamiliar life stories of exceptional historical figures. Remilleux also maintains a close relationship with the past in the way he lives – his current residence is the Château de Digoine. Built in the 18th century, partly by architect Edme Verniquet, the chateau contains plenty of treasures, including its own little theatre. It saw the performance of "Valse triomphale du châteu de Digoine", composed by Jacques Offenbach for the Comtesse de Chabrillan, then the owner of the chateau; it was also the place where Sarah Bernhardt practiced "L'Aiglon", a piece written specially for her. When Jean-Lois Remilleux purchased the chateau in 2012, it was completely unfurnished. By attending auctions and visiting antiques dealers, he succeeded in returning historic furniture to the place. The rooms are now furnished with the four-poster beds typical for the era of Louis XV, and there is even a canapé with Beauvais tapestry that is identical to one exhibited at the Louvre. The imposing entrance hall features frescoes specially created by Clodion, and a large portrait of Queen Christina of Sweden from the studio of Ferdinand Voet, which Jean-Louis Remilleux purchased from the Dorotheum.
 myART MAGAZINE: Monsieur Remilleux, you are a film producer, lord of the manor and collector. You used to be a journalist and writer. Who are you really?
Jean-Louis Remilleux: I am curious. I was a journalist, and a journalist has the duty to be curious. I am interested in everything, but my particular passion is history. That led me to become interested in castles, to become absorbed in their historic atmosphere, to renovate and furnish them to be true to the original. My curiosity was also crucial to my interest in rarities from 17th-, 18th- and 19th-century France and Portugal; the more unusual and desirable they are, the better. All the rooms at the chateau contain such objects. I have a similar approach to people: I love strong and deep personalities. I cannot change the world, so I love theatre, spectacle, artists, the world of games and illusions. Of course, I am still aware that life is a very serious matter.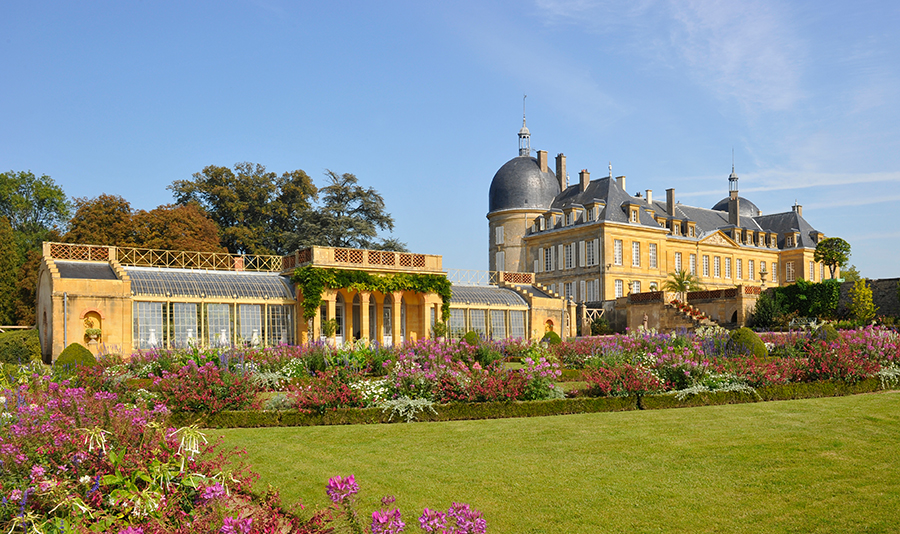 This estate is your main residence. Do you feel like the lord of the manor in the traditional sense?
Yes. I sold the Château de Groussay in Montfort-l'Amaury in order to settle down here, in the small village of Palinges in southern Burgundy. I love the life here, I am no sophisticate and I believe my status as lord of the manor represents an obligation to others. The chateau, the associated buildings and the interior must be accessible to as many people as possible, that is why the estate is open to the public. I turn it into a lively place.
 What does this openness to the public look like?
During the "Nuit Blanche" last October, for example, I offered a guided tour around the grounds and interior while they were lit only with torches and candles. The visitors' excitement is my reward for the time and energy I invest in the chateau. The worry that sometimes creeps over me when I view this huge colossus vanishes in the face of the sympathy and positive reactions shown by visitors.
Are there two souls dwelling in your heart, the one who loves Paris and travel, and the other who prefers the quiet life here at the chateau? Are both connected by a passion for art, which led you to create your own personal "Abbaye de Thélème", the name François Rabelais used in his novel "Gargantua" for the utopian monastery with the motto "Fais ce que voudras" – "Do what you will"?
No, I do not have two different personalities, I am just passionate about history, art and beauty. I see myself as an heir to Talleyrand, who felt responsible for maintaining his cultural heritage. That is a virus I picked up as a very young man. Before I bought Digoine, I lived for twelve years at the Château de Groussay, which I also restored and furnished completely. I feel responsible, but I do not feel that I am the owner of these cultural treasures. To me, Digoine and my seat in Noto in Sicily will always be houses that let you feel the spirit of history and a hint of beauty. These houses are testimony to the true art of living, of celebration – but I know that I could lose everything, which is why I am so impatient.
Did you fall so inescapably under the Château de Digoine's spell that you had to turn away from your estate in Groussay?
I bought the Château de Groussay in 1999 for the same love of history that made me buy the Château de Digoine. When restoration of the chateau was complete and it was once again open to the public, I started to get excited about Digoine. I now live between Digoine and Noto in Sicily. I do not like the idea of settling down for good in one place.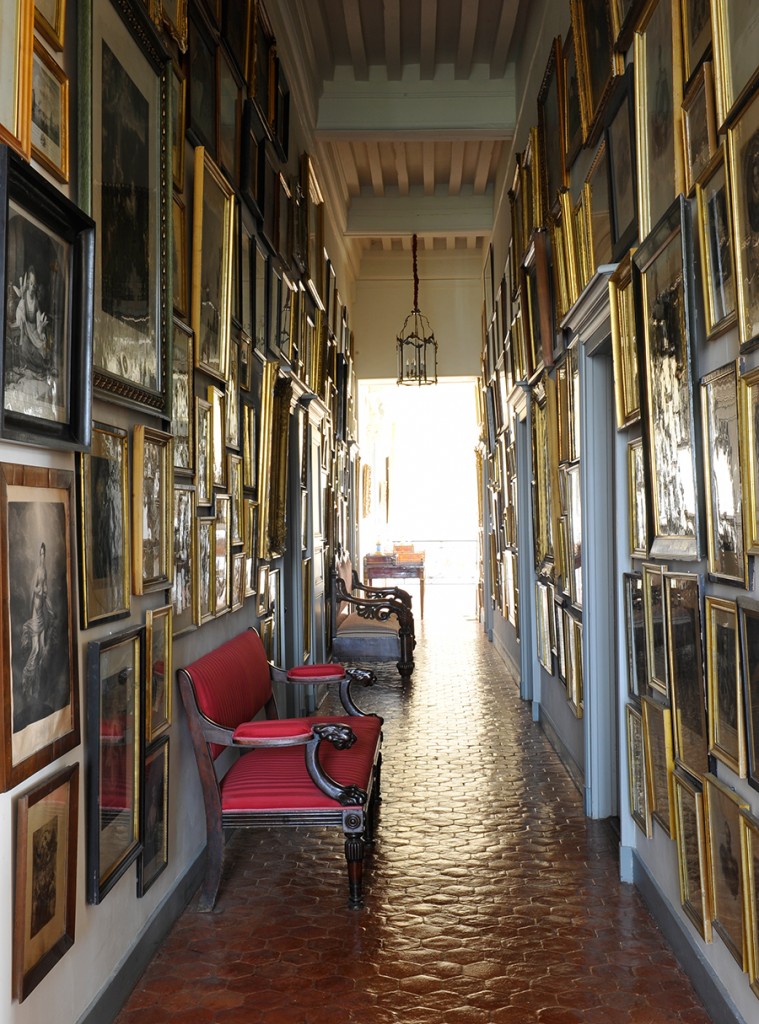 What led you to start collecting art? Did you always know you would be the collector you are today?
It began at the age of twenty, when I bought a terra-cotta work of art depicting two baboons. Don't ask me why I wanted those baboons, I just liked them. As time went on, I bought more and more objects, always works from the 17th, 18th or 19th centuries. I do not like modern art.
I spend a lot of time studying auction catalogues, because I am always looking for pieces that complement the furnishings in the rooms of the chateau or simply awaken feelings in me. I am not interested in investing money. I do not have a rational explanation for my collecting. I buy what I like.
What did you like at Dorotheum?
I bought several paintings and objects for Digoine and Noto at Dorotheum. I have hung a picture in Noto that I love very much: a painting of Vesuvius, viewed from Naples harbour and painted by Gennaro Mascacotta Greco. I constantly visit auction houses. Buying an object at auction is like a drug, you are possessed and excited by one single wish: to take the object of desire home with you.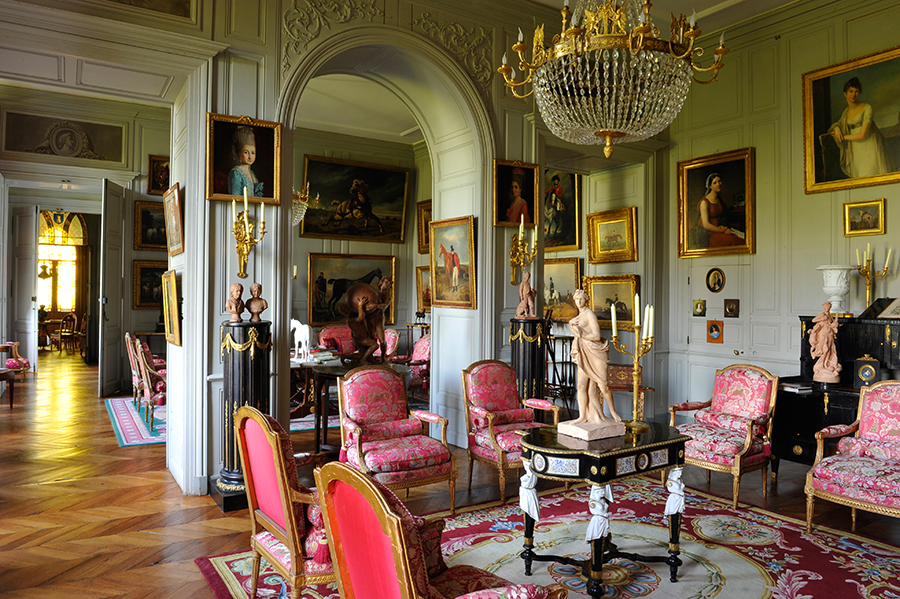 Unlike many collectors, you do not surround yourself with experts to guide your choice of pictures and objects. Why?
I could never leave my search for art treasures to someone else. As I mentioned before, I am passionate about history, and every object is the starting point for a new adventure. I study exhibition catalogues almost daily, and I love looking at a picture for a long time, studying it, looking at it from a fresh perspective to identify what is hidden. Nobody can do that for me.
Have you disclosed any secrets?
As a historian, I believe it is about having an eye for the works I have purchased. At Dorotheum, for example, I bought "Lady in Black", a painting ascribed to François-Pascal Simon. This portrait awakened my interest immediately, as it reminded me of the face of Countess Walewska, Napoleon's mistress. I did some research. An expert report is in the works that should confirm my hypothesis, but I am convinced that the lady is Maria Countess Walewska.
As you could see during our tour, the walls of one room of the chateau are adorned with paintings of horses – I am very interested in this genre. I have found out that a painting by Philips Wouwerman was actually painted by Adam Frans van der Meulen.
 Has your preoccupation with art changed you?
Not at all.
Jöelle Thomas is the representative of Dorotheum in Paris.
(myART MAGAZINE Nr. 05/2015)