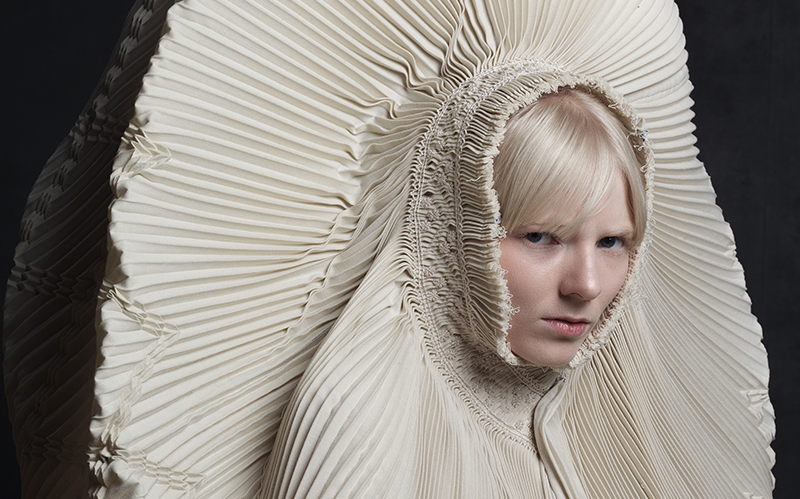 Susanne Bisovsky's œuvre is at once completely Viennese and entirely independent, rooted in the Austrian imperial tradition and utterly modern at the same time. She is one of the few Vienna-based fashion designers to take the world by storm. With what? A new book, "Viennese Chic", reveals all.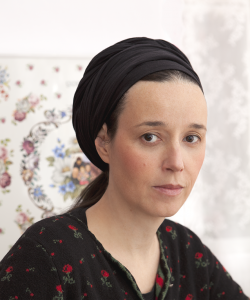 Bisovsky's oldest and most famous admirer and client hails from the United States: Iris Apfel. Last August, the redoubtable New York businesswoman and fashion icon – who has recently become a sought-after model again – celebrated her centenary, a hundred years young. Apfel travelled to Vienna in 2013 for a jewellery summit organised by Swarovski. She visited Susanne Bisovsky in her "Viennese Salon", was thrilled by what she saw there and has been a devotee of "Viennese chic" ever since. Apfel shared her discovery with Susie Menkes, the doyen of fashion journalism, and she soon paid her own visit to the salon, spending an entire afternoon looking around.
Bisovsky describes the essence of her work as "Viennese chic" and her atelier in Vienna's 7th district which she has shared with her partner in life and work, since 2000, is named "Viennese Salon".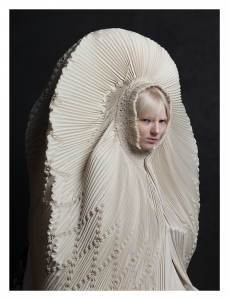 And what is there to know about this elective Viennese designer? Born in Linz in 1968, Bisovsky started out as a fashion student at the University of Applied Arts in Vienna, where she studied under the Moroccan French designer, Jean-Charles de Castelbajac who hired her on the spot to work in Paris. Further landmarks on her educational journey included stints with Marc Bohan and Vivienne Westwood. Bisovsky went on to complete her degree with an award-winning thesis project entitled "Be tracht ung", examining Austrian traditional costume, or Tracht as it is called, under the guidance of fashion designer, Helmut Lang with whom she had previously worked. One of the resulting pieces, a latex-coated lace dress, which was modelled by Naomi Campbell in Paris, was acclaimed as the Dress of the Year in 1995.
Bisovsky chose Vienna as her base in which to launch her own label in 1990 while also designing for the Austrian brands Gössl and Sportalm and collaborating with companies including Swarovski, Lobmeyr, Backhausen, the Porcelain Manufactory Augarten, Herend and Koo. Though her effervescent talent certainly played a role in her success, it is above all her perseverance which catapulted the designer to international renown and ultimately paved the way for numerous exhibitions and awards. Consider, for instance, her contribution to the exhibition "Veiled, Unveiled! The Headscarf" (2018) at the Weltmuseum in Vienna, and her work in "SHOW OFF: Austrian Fashion Design" (2020) at the Viennese design museum, MAK. She was also awarded the Outstanding Artist Award 2020 by the Austrian Ministry of Arts and Culture, Civil Service and Sport, which was presented to her personally by the Minister for the Arts, Andrea Mayer. It is no wonder that she received this great honour – it is thoroughly deserved.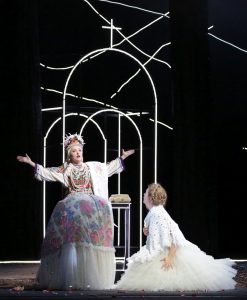 Bisovsky has also designed a number of costumes for the stage. Her creations graced the 2013 Salzburg Festival for example, and could also be seen at La Scala in Milan in 2017, where she designed the costumes for the opera "Der Freischütz". Most recently she created the stage and costumes for the ballet production entitled "Im siebten Himmel" at the Vienna State Opera.
What are all these Vienna references about? As Bisovsky puts it: "They say you have to leave the country to return in glory. That is a typical Viennese complex. I think you have to work with a Viennese instinct – that's when things get interesting for people looking at it from the outside. Leaving the city and coming back with a big career is not the be-all and end-all. The substance, the content, has to be right if it is to continue. And the necessary perseverance is in my genes somehow – something about the city really grips me, fascinates me and keeps me going, and keeps me researching things". "We try" she continues, "to offer a style of dress that appeals to the Viennese lady, the Viennese girl". Viennese chic, in other words. The sobriquet also appears in the title of a new book published by Verlag Anton Pustet, which was launched recently at Lobmeyr, entitled "Wiener Chic. Susanne Bisovsky – Mode für eine große Stadt" (Viennese chic: Susanne Bisovsky – fashion for a great city). The volume, which features countless lavish photos of her work over the past 30 years, also boasts texts by such luminaries and experts as Suzy Menkes, Barbara Vinken, Elisabeth Längle and Hubert Achleitner.
The normally reclusive Helmut Lang did not miss the opportunity to write the foreword for the book. For that alone, it is essential reading. Two quotes in particular stand ou, the first about his student: "She had a fragility about her, but she could be quite strong if required and was always ready to defend both her work and her personal space. She was armed with a vision rooted in the old Austrian imperial tradition, which she embraced but also wanted to judge and assess in all sorts of ways to serve her notion of transformation and modernity". He goes on to say "30 years later, the result is a body of work possessed of the most singular of visions – one that can only be compared to the world's best. Innovative. Provocative. Infused with humour where necessary. Beautifully and seriously made to the highest possible standards of quality. Always modern and far enough removed from its original inspiration, her work is incomparably revolutionary and ground-breaking in its field".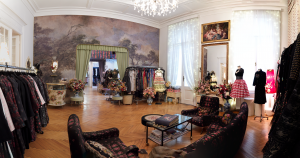 Bisovsky discusses her closeness to traditional Viennese companies such as Lobmeyr, for whom she designed a series of glasses, explaining "By not being a real Viennese, I have become a euphoric Viennese. I'm telling you, there is no such thing as a real Viennese. The great manufactories in Vienna were founded by fantastic craftsmen and women who came to Vienna from the Crown Lands of the Austro-Hungarian Empire. They are the reason we have such fertile ground for craftsmanship and design. The Viennese is a street dog that has become very stable because it was fed from all possible directions and got the best things. You can still really benefit from that." And in another bon mot: "Vienna is an old lady who goes to bed early and sleeps late."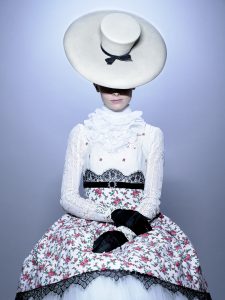 The widespread appreciation of Bisovsky's œuvre is clear for all to see and on view for all to enjoy, particularly in the form of three exhibitions. The first, entitled "Dirndl: Tradition Goes Fashion", featured wonderful Bisovsky creations at Marmorschlössl in Bad Ischl was held last year, and her splendid designs will be shown again this year, in slightly modified form, again at the Marmorschlössl, in an exhibition entitled "Dirndl. Tracht. Identity", to held from May to October 2022. The exhibition will show Bisovsky pieces alongside Vivienne Westwood's dirndls and other work. Another, all-new, exhibition of her work will be held at the (CON)TEMPORARY FASHION SHOWCASE, an initiative planned by the Director of the Museum of Applied Arts, Lilli Hollein, at the Geymüllerschlössl on the outskirts of Vienna, in Pötzleinsdorf. Bisovsky's Viennese chic, including the book, will play a prominent role. And then there's New York, where Michael Haider, Head of the Austrian Cultural Forum on 52nd Street, is in the process of bringing these Viennese chic creations to American fashion enthusiasts as well.
Author: Brigitte R. Winkler is an art historian and fashion journalist from Vienna. She has not missed one major fashion show in over 40 years.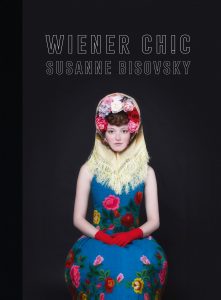 Out now:
WIENER CHIC
Susanne Bisovsky –
Fashion for a great city.
Verlag Anton Pustet,
304 pages, € 45.-