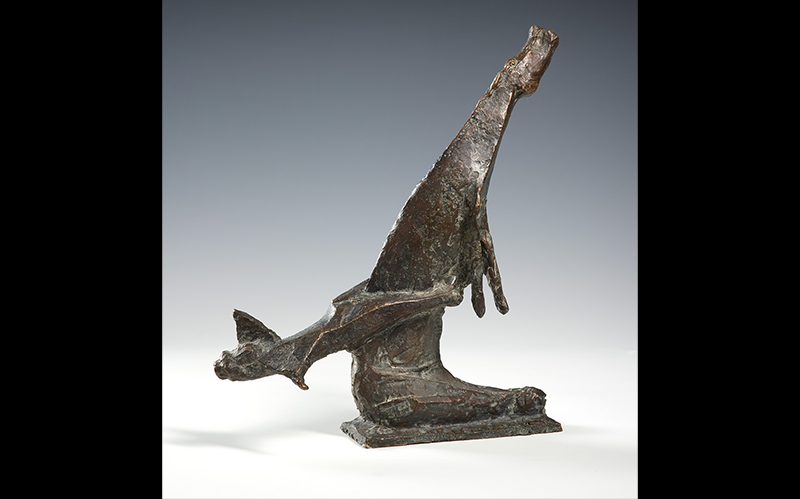 'Marino Marini gives back to the image of the horse and rider its mythical meaning while endowing it with the contemporary expressiveness of existential experience. Both in his sculpture and in his painted representations of the theme, Marini is consistently interested in the tension between dynamic and static forms.'1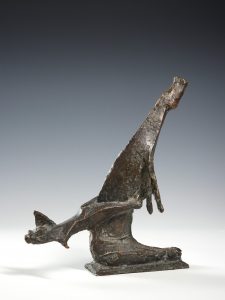 In his work, Marino Marini concentrates on a few ancient motifs – horse and rider, acrobats, the female figure, and portrait – which he varies vigorously time and again. Holding on to an artistic approach rooted in the classical ideal and inspired by Cubism and Etruscan art, the artist developed his characteristically archaising and abstracting simplification of form. In his particularly striking equestrian portraits, he deals with both the inner and outer relationship between horse and rider, presenting them as a symbol of man's tragic existence and his loss of control over nature. This also holds true for 'Piccolo Miracolo', a 44-centimetre-tall bronze by Marino Marini depicting a rearing horse and falling rider, which is to be offered for sale in the Modern Art auction in May. In the face of his painful war experiences, Marini's renderings develop into ever more expressive and abstract embodiments of a fight against despair and downfall. Marini is thus considered one of the most outstanding sculptors of the twentieth century, next to Alberto Giacometti and Henry Moore. Gaining international recognition, he participated in the Kassel documenta exhibitions three times; in 1973, the Museo Marino Marini in the Milan-based Galleria Civica d'Arte was opened in his honour, followed by the Museo Marino Marini in Florence in 1988.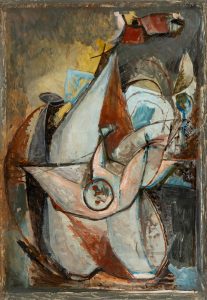 From the late 1940s on, in addition to his sculptural oeuvre Marini also devoted himself to painting and the graphic arts as autonomous means of artistic expression. In the painting 'Miracolo di Colore' from 1955, he realised the motif of Miracolo, the falling horseman, viewed from behind. Its legs wide apart and arms thrown up, the figure of the rider virtually falls towards the spectator, with its head, supported on a painfully hyperextended neck, raised into the air and the horse's heavy body underneath. By pairing an expressive manner of painting with a bold, yet balanced composition, the artist achieves an impressive dynamism conveying the rider's instability. Starting out from the centre of the body, the angular, cuboid surfaces and the colours are arranged contrapuntally. Having been thus divided, the bodies of man and beast practically dissolve as they melt into a single emotional whole: beauty and decline, self-assertion and disempowerment, vigour and catastrophe are made to collide here.
1Introduction by Konstanze Crüwll-Doertenbach in: Marino Marini. Malerei/Painture, Bad Homburg: Edition Scheffel, 1987, p. XXII.
Information: Patricia Pálffy is Specialist in Modern and Contemporary Art at Dorotheum.