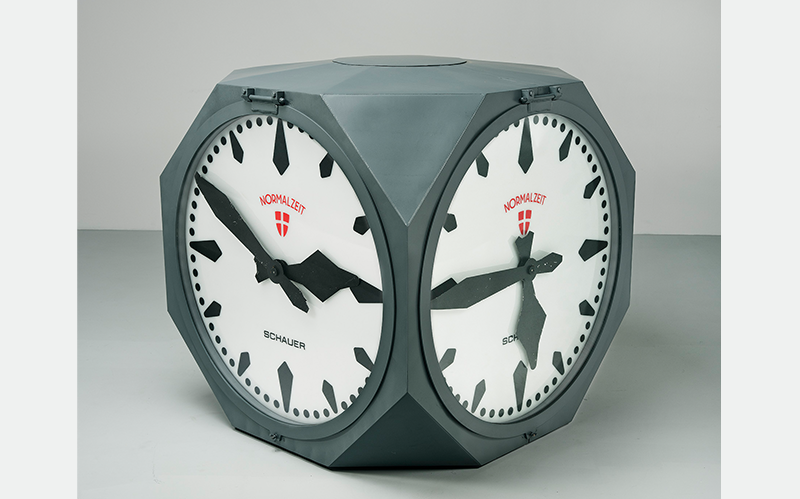 We are all yearning for "standard time" at the moment, and the good news is…… it is up for sale! A rare Viennese Cube Clock will be offered at the Design sale at Dorotheum 17 June, 2022.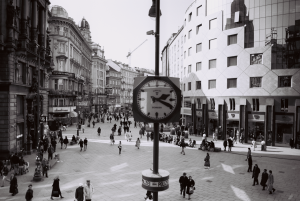 The Viennese Cube Clock was designed for the City of Vienna at the beginning of the 20th century. Designed and manufactured by the Vienna City Planning Department, with the Ing. Emil Schauer company, the first Cube Clock was installed in 1907, attached to a streetlight, at the crossing of Opernring and Kärntner Strasse in the centre of Vienna. The innovative design of the clock attracted widespread attention. The clock case was octagonal with bevelling at the corners and instead of the usual numerals, the clock face, which is now patented by entrepreneur Christoph Stein, featured dots and dashes in the place of numbers.
Over time, the Cube Clock became an icon of urban design and a popular meeting place wherever it was situated. A classic piece of street furniture, it presented standard time – or "normal time", as it was officially called – at 73 locations in the city for more than 100 years, including Vienna's Stephansplatz.
In 2007, Vienna's Cube Clocks were replaced with a new design. The dismantled clocks were bought by the Lichterloh company, which went on to restore a number of them. Twelve Austrian artists (including Brigitte Kowanz, Gelitin, and Judith Fegerl) were commissioned to work on a project involving the Cube Clocks for an exhibition to mark the company's 20th anniversary.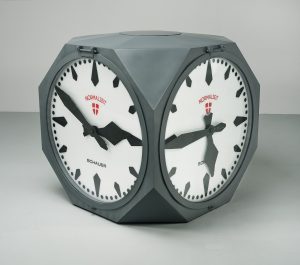 Design aficionados and those nostalgic about standard time can bid on a historic example of the Cube Clock, (converted into a floor clock, equipped with LED lighting), at Dorotheum's Design auction on 17th June 2022. The clock being offered for sale is a 1920s model with a domed top which allowed rainwater to run off more effectively. The more flattened topped models appeared only after 1926. The construction, which is more than one cubic metre in size, consists of sheet iron and acrylic glass, as well as other materials. The clock sits on hard rubber rollers to facilitate moving around. Its weight is around 100 kilograms.
Mathias Harnisch is a Design Specialist at Dorotheum.