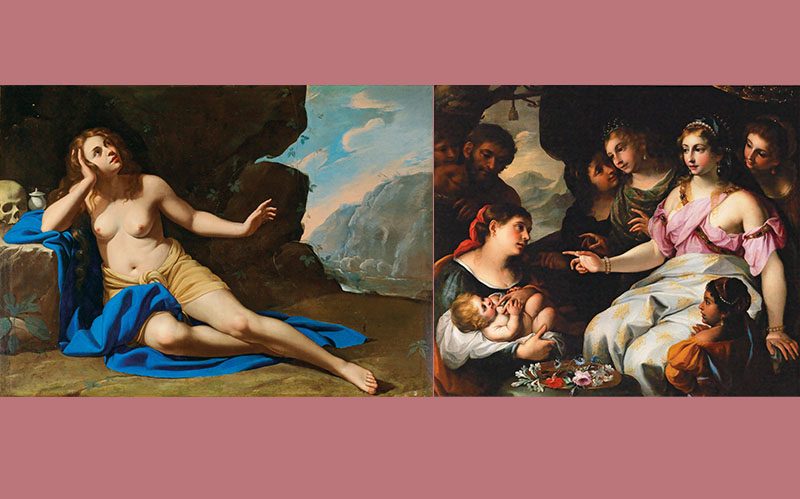 Female artists, especially those who made a name for themselves and enjoyed the same recognition as their male counterparts before the 19th century, were few and far between. A striking fact about the female artists who managed to rise to prominence is that they were almost exclusively related to well-known male painters The evidence suggests that a woman without a male champion in their field would have found it almost impossible to have entered the male dominated world of art and patronage before the 1800s. When they did, by and large they created work more conservative and less experimental or revolutionary than their male relations, usually restricted to still life or portrait painting.
There were of course exceptions, and these extraordinary women painters have become highly acclaimed in their own right, as indeed they were in their own day. Two highly significant works by exceptional woman painters, Artemisia Gentileschi and Elizabetta Sirani, will be offered in the sale of Old Master Paintings at Dorotheum on 30th April 2019.
Elisabetta Sirani was daughter of the successful Bolognese artist, Giovanni Andrea Sirani, the primary assistant to the formative painter, Guido Reni. By her early twenties, by which time her father was no longer able to paint due to ill health, Elisabetta had become a professional painter and was recognized as a master in the Sirani workshop. She was to become a Professor at the prestigious Accademia di San Luca, Rome, and she was one of the first woman artists in Europe to establish a school of art and design,  in which her two sisters Barbara and Anna Maria were also involved. Elisabetta became Bologna's most celebrated and marketable female artist, and her work was represented in major European collections even during her own short lifetime.
Elisabetta was instrumental in the development of the Bolognese School of painting in the mid-Seicento, a pivotal transitional figure in transmitting the popular elegant Baroque Classicism of Guido Reni, dominant in the first half of the century, to subsequent generations of artists. She was, furthermore, one of the most erudite, successful and prolific artists of the Bolognese Seicento, gaining many public commissions, critical acclaim and respect in a male dominated profession.
An 'ultrafashionable' High Baroque artist, Elisabetta Sirani was extremely popular and highly talented, admired for her technical bravura and artistic virtuosity: in her elegant and erudite painting she developed an expressive painterly style with broad brushwork and fluid impasto coupled with intense exquisite colouring and deep shadows.
This is evident in the present painting The Finding of Moses. Its colour palette ranges from light pinks and blue-greys to deep greens, ochres and reds. Contrasting with the intense light that falls on the Egyptian princess and the baby Moses whom she has found hidden amongst the reeds, are dark shadows that envelop the scene and figures in the background.. Moses had been placed on the reedy banks of the Nile by his Hebrew mother, to save him from the slaughter of the innocents ordered by the Pharaoh to reduce the Israelite population. Adopted by the Pharaoh's daughter, represented here beautifully adorned and bejeweled with pearls and precious stones, Moses became the prophet leader of the Israelites, whom he led to safety out of Egypt where they had been enslaved.
It appears that Elisabetta had some assistance in the production of this work. The two figures in the left background are by her father Giovanni Andrea Sirani. The two artists, father and daughter, often collaborated on works that were produced in the Sirani workshop, which was one of the most successful and productive workshops in mid-seicento Bologna.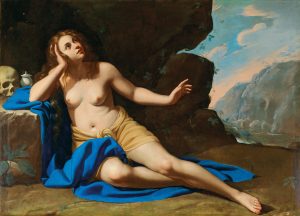 Born in Rome, Artemisia Gentileschi was the eldest child and only daughter of Orazio Gentileschi (1563-1639), and like Elisabetta Sirani she also trained as an artist in her father´s workshop. Orazio was aware of Artemisia's extraordinary talent and showed evident pride in her accomplishments. In fact, in a letter to the Grand Duchess of Tuscany, Maria Magdalena of Austria, dated 1612 – when Artemisia was eighteen years-old – Orazio boasted of his daughter's ability: to produce works of art that even the most important masters could not achieve.
Infact, Artemisia's paintings display a highly precocious artistic ability, due to her technical skill, her creative genius and also to her artistic education in Rome. At the beginning of the seventeenth century, the city enjoyed a period of great vitality and transformation, with an architectural expansion followed by an explosion of painted decorations for palaces and churches, such as the Carracci frescoes in the Palazzo Farnese, the Guido Reni and Domenichino frescoes in the Oratorio of Sant'Andrea al Celio, as well as the paintings by Caravaggio in San Luigi dei Francesi and Santa Maria del Popolo.
Artemisia's production was significantly shaped by the art of Caravaggio, a colleague of her father, but mediated by Orazio's response to the Lombard painter's language. Artemisia's palette, the physiognomy of her figures, the sensitive modelling of skin tones and the details of the costumes all show Orazio's influence. Like her father, she was skilled in rendering surface textures and light reflections. She demonstrated a firm grasp of dramatic narrative and her first paintings illustrate both her debt to her father and her independent artistic personality.
The dramatic rape of Artemisia by the painter Agostino Tassi took place in 1611, and led to the infamous trial of 1612, which was brought by Orazio Gentileschi against his colleague and friend. In that year Artemisia married and at the beginning of 1613 moved to Florence, where she gained notable success. She was supported by the Medici family and in 1616 she became the first female artist to join the Accademia del Disegno. In 1620, she settled with her family in Rome, where she strengthened her career and met some of the most celebrated artists of the period, such as Simon Vouet.
Artemisia then moved to Venice and by 1630 she was in Naples. Here she remained for the rest of her life, with the exception of a trip to London to visit her father Orazio, who had become court painter to Queen Henrietta Maria in 1626. In the early seventeenth century, Naples was the largest city in southern Europe and a major art capital which became a magnet for artists seeking opportunity and success. The Spanish viceroys, religious orders and merchants from port cities all over Europe were active patrons of the arts.
When Artemisia arrived in Naples she worked under the protection of Massimo Stanzione, who helped her to obtain prestigious patrons at the Spanish court. In his cycle of Stories from the life of Saint John the Baptist, executed for the chapel of Buen Retiro in Madrid, Stanzione supplied the majority of the paintings, but he entrusted to Artemisia the execution of one work, representing the Birth of the Baptist (see R. Lattuada, Unknown Paintings by Artemisia in Naples and New Points Regarding her Daily Life and Bottega, in: Artemisia Gentileschi in a Changing Light, Turnhout 2017, pp. 187-216, in part. pp. 187-191).
In the following years Artemisia continued to be known as a painter of nudes, such as the present painting. Her paintings were celebrated and highly sought after and in the late period of her career she collaborated with well-known Neapolitan painters in order to meet these demands.
INFORMATION about the AUCTION
Auction Date: 30 April 2019, 5 p.m.
Location: Palais Dorotheum, Dorotheergasse 17, 1010 Vienna
Exhibiton: 20 April – 30 April 2019
View now the auction catalogue and read our new myARTMAGAZINE!
Read about our past auction and Strong Women in the world of Old Masters, like Artemisia Gentileschi!