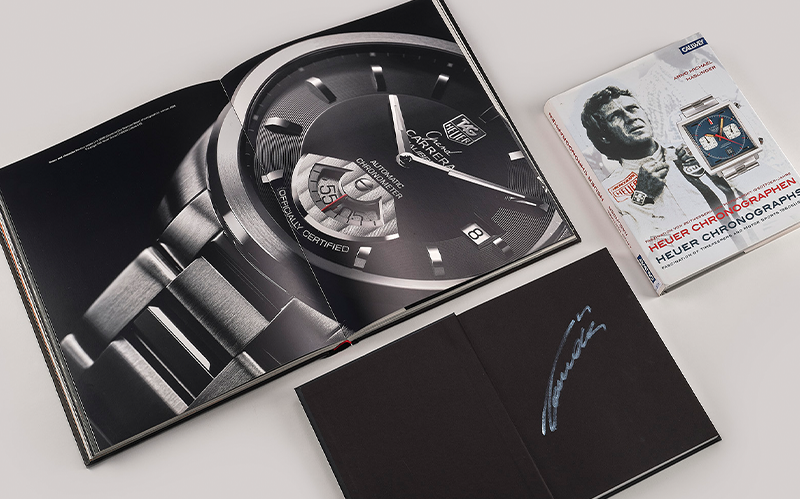 Wrist Watches and Motorsports
The two go hand in hand: the Swiss luxury watchmaker Tag Heuer, and motorsports. A private collection of wristwatches including a selection of literature signed by Niki Lauda will be sold in December at Dorotheum.
Thanks to its size, reliability and the legibility of its display, the Autavia by Heuer (which became "TAG Heuer" after merging with TAG in 1985) was the preferred timepiece of racing drivers and pilots from the 1960s onwards. It was Heuer's first watch to be given a name. That name, Autavia, was a portmanteau of two buzzwords from the year it was introduced, 1962: "AUTo" (German for "car") and "AVIAtion". A year later, Heuer went on to launch a new model, the Carrera, and shortly after the Camaro, which was inspired by the popular, high performance "muscle car" of the same name, following them up with a yachting watch named the Skipper.
Its technical refinements, among them a rotating bezel, made the Autavia an especially useful instrument for racing and aviation. It also had an innovative dial design: colour contrasts and oversize white subdials made it extremely easy to read. More than 80 versions of the Autavia were released over more than two decades, each with its own innovative features. Many models were given collector names, such as "Jo Siffert", after the Swiss Formula 1 racing driver, or "Orange Boy". 
Heuer's Monza watch has a special connection to Niki Lauda and motorsports in general. In the 1970s, Heuer was the internal timekeeper for the Ferrari team. Niki Lauda won the world championship for Ferrari in 1975, and his victory inspired Heuer to create a new model they named the Monza. The world champion was one of the first to receive the new watch, which went on to become one of the most popular collectors' models for motor racing fans.
The collection to be sold at Dorotheum in December was born of an enthusiasm for motorsports which sparked the collector's passion for Tag Heuer watches. The 24-piece collection was built with great attention to detail and includes books on the subject, some of which are autographed by Niki Lauda, and collectors' boxes and wristwatches by Omega. The focus of the collection is a selection of very rare Tag Heuer models from the Autavia series.