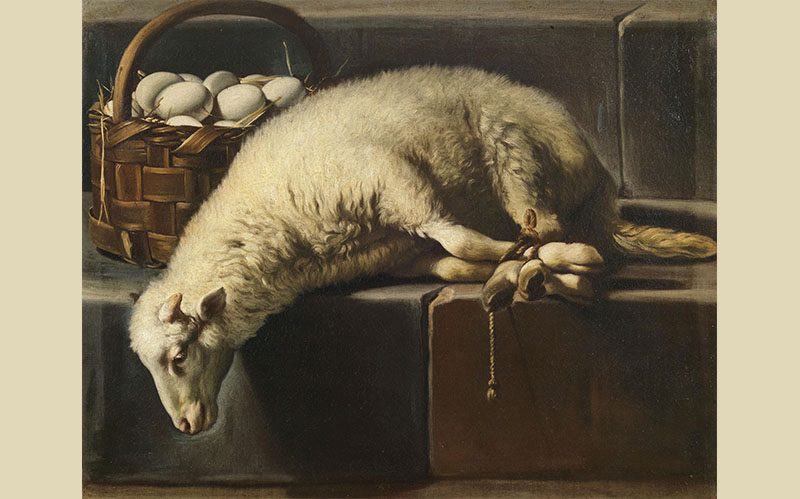 This painting is an allegory of Easter, depicting the central message of the celebration through the season's traditional symbols: a trussed lamb, and a basket of white eggs. The plain grey-brown and white tones used are striking for their simplicity, creating a focus on the deep significance of the great Christian feast of Easter.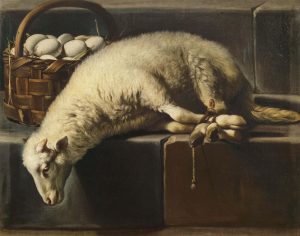 In this beautiful painting by Giovan Battista Recco, there is a sacrificial lamb, bathed in light, a soft, vulnerable innocent, lying on a hard and unforgiving stone step, patiently accepting of its inevitable fate. This theme stems from the Feast of the Passover and is also frequently used to illustrate the Passion and Death of Jesus Christ. John The Baptist hailed Jesus as "The Lamb of God who destroys the sins of the world" and therefore this lamb is a reminder that through the death of Jesus on the cross, mankind would be redeemed. In the carefully depicted basket of pure white eggs, the artist has included the ancient pre-Christian symbol of rebirth and fresh beginning, a widely recognised symbol of the central message of Easter – the Resurrection of Jesus.
This naturalistic composition, once part of a princely collection, is clearly inspired by the work of Caravaggio, the confident use of light we see here in Giovan Battista Recco's painting so clearly acknowledging the master´s deeply influential method of capturing a moment in time by the use of strong directed light. The pathos of the subject is emphasised and given great significance by the drama of the lighting.
This extremely well conserved painting is an important new addition to the oeuvre of Giovan Battista Recco, and it is a significant example of Neapolitan still-life painting in the seventeenth century.
INFORMATION about the AUCTION
Auction Date: 30 April 2019, 5 p.m.
Location: Palais Dorotheum, Dorotheergasse 17, 1010 Vienna
Exhibiton: 20 April – 30 April 2019
View now the auction catalogue!