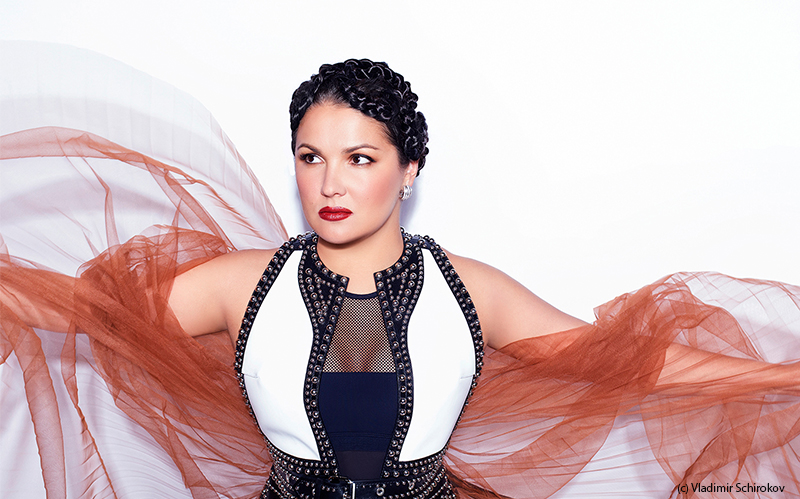 She is an opera phenomenon. The pandemic is forcing her to do things "just for fun" for the first time in her life. In a conversation with Dorotheum myART MAGAZINE, star soprano Anna Netrebko reveals her views on art and collecting, on fashion and Instagram.
Apparently even opera stars are dependent on a working WiFi connection. Ahead of our interview in Dorotheum's giant, wood-panelled conference hall, Anna Netrebko casts an inquisitive, pleading look at her mobile phone, along with a rolling "r" to coax the Interrrrnet into working.
Dorotheum myART MAGAZINE:
Welcome to Dorotheum! You've sung on all the world's major stages, you're a regular at the Vienna State Opera, how is it that you only discovered our auction house last year?
Anna Netrebko: I thought it was some sort of museum, or art venue. Last December, when I was looking for a very special gift for my husband, my assistant advised me to go to Dorotheum. I was pleasantly surprised, to say the least. Actually, I was deeply impressed with the beautiful building and Dorotheum's way of presenting things, which is very much like in a museum.
So, what did you end up buying?
I started out looking for an Old Master painting but ended up with two silver candelabra. My husband was over the moon.
The collecting type?
Would you say you're the collecting type?
I love art and beautiful things, but I don't want to spend too much money on them. The golden picture [see cover photo] in my New York apartment, for example, is something I bought off a street artist in Soho. I like to prowl flea markets, for instance, looking for beautiful things. I love beauty. Hanging paintings at home isn't a must for me, but I love to look at them, and I'm also trying to pique my son's interest. We visit exhibitions together a lot. He has already developed his own taste; he likes modern and contemporary art. Picasso is a hero of his.
You've just returned from a long stay in Russia, where you performed in "Turandot" at the Mariinsky Theatre in Saint Petersburg. In the odd situation we're in right now, with jet-setting at a minimum, do you find you have more time for non-opera-related passions?
Actually, this is the first time I have plenty of time on my hands. I go out all the time when I'm not performing. Life is short, and there's so much to see. Once the lockdown lifted, we took the opportunity to visit a number of exhibitions and museums in different cities. We also found lots of beautiful spots across Vienna including monasteries, for example, and the Ernst Fuchs Museum.
So, this is an unfamiliar situation for you as well?
Sure, and I hope it will be over soon. I have been lucky to have had the opportunity to work in Russia in recent months, and also in Spain, and at the Hofreitschule in Vienna. I hope things get better in the summer.
about art …
You are fascinated with modern art, Symbolism, Art Nouveau and Russian painting. What draws you to these genres?
I have many preferences. I like classical art, modern art, 19-century art … though I'm not so keen on postmodern art, because it tends to be disturbing and obscure, and also because I don't understand much of it. I do love sculptures, porcelain, ceramics. I always wanted to create something with my own hands. I thought, well, maybe someday … But the only thing my hands have produced so far is a Yoda lamp that I painted myself.
It seems your choice of artists and museums is intuitive. Do you consult with other people or do you prefer to do your own research?
I pick everything myself. On a recent stay in Saint Petersburg, we visited the Russian Museum four times! I was particularly impressed with the Symbolist, Mikhail Vrubel, who painted Russian tales and heroic epics, and with the painter and costume designer Nicholas Roerich, who designed the set and costumes for Igor Stravinsky's "The Rite of Spring" in 1913 and emigrated to the United States after the Russian Revolution in 1917.
Do you have a favourite museum?
The Hermitage in Saint Petersburg! But I have never been to the Louvre. Every time I've been there for a visit, there were so many people queuing up that I headed over to Chanel instead. I love big museums as much as I love small ones, like the Fuchs Villa; they have a very special atmosphere.
… like a Gesamtkunstwerk. Where does your love of art come from?
In Krasnodar, where I grew up, there were only two museums. As a child, I only ever went to see these two places, where exhibitions never changed. My parents took me there to give me some idea of art.
So your love of art was nurtured early on …
Yes, but that was more through my uncle, who was a painter. I loved to watch him painting, and he explained a lot to me. He also has a collection of antique books with unique editions. He gave me a 20-kilogram chivalric poem from the 19th century; it is illustrated with lithography by Gustave Doré.
on Instagram …
Many of your Instagram posts show beautiful interiors. Is interior design a preoccupation of yours at the moment?
Not anymore. We refurbished our Vienna apartment with an Italian designer. I chose the fabrics and colours, and I designed two sofas to keep myself busy. I also renovated the terrace and painted the walls during the pandemic last year. Next, I'm going to paint some Sacher cake boxes. I also design bags, just for fun.
But you also radiate joy, and ease, and versatility in "normal" times. How do you square that with the discipline it takes to rehearse and practice eight hours a day?
I am very self-organised, like all Virgos, if you believe in astrology …
Star of the Opera!
According to the Vienna State Opera website, you redefine the very idea of an operatic star. Part of that is the fact that you are very active on Instagram, for example. Was it your own decision to share your private and professional life with so many people?
Absolutely! All posts are my own. I've been on Instagram since 2014, when I first met my husband. Before that, I only ever used two buttons on my mobile phone – the red one and the green one; no computer, no emails … I was a proper dinosaur. But I never get too personal, I just observe and describe what I see. My posts are snapshots, that's why they're interesting. It's not about perfection.
And yet you also reveal something about yourself, wouldn't you agree?
I describe what I see, where I go, and some stylish gear sometimes. But who wants to look dressy at the moment? I wore my tracksuit all winter, with no make-up – actually I've only put on some make-up now, for you! And just to be clear: I do answer questions from my 660,000-plus followers.
Speaking of style: your many personalities are strongly reflected in your experimental and playful approach to fashion. Do stylists pick your clothes?
No, I do that myself. I dress crazy because I am crazy.
So, you're crazy, but organised?
Well, perhaps more artsy and flamboyant than crazy. I always add a fancy touch to my clothes, I like them much better that way. Of course, packing suitcases is a problem, so here's what I do: I spread out my outfits on the floor and I go through all the possible combinations – that does the trick! I can't be expected to wear the same outfit all the time, can I? I also come up with special outfits for my Instagram posts.
That's some effort! Making choices in shops, buying outfits …
I'm a shopaholic, so that's not an issue.
But above all, you are an opera star. What is it like to make opera history?
I don't know, that's for others to decide. I just want to continue working and rehearsing new parts.
You once said in an interview that you're finding it hard to speak German on the stage.
German is a beautiful language. I love it, but it's hard for me to memorise. My German is accent-free, but I'm still finding it hard to put sentences together. I'm currently recording Wagner and Strauss for the Deutsche Grammophon – in German. I guess the paint on my Sacher boxes will be dry by the time we're done …
The interview was conducted by Doris Krumpl, Dorotheum's press spokeswoman and Wanda Richter, Dorotheum Client Advisory Services.