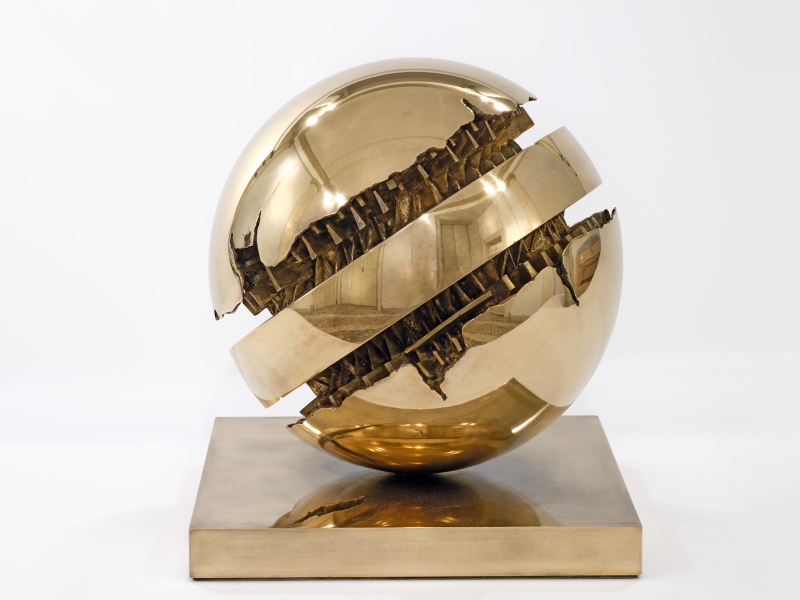 Arnaldo Pomodoro's works are distinguished by their ability to impose themselves on the surrounding space, whether they are monumental sculptures for public places or pieces of smaller dimensions.
Pomodoro's sculptures, although diverse in form, follow a common path that branches throughout his artistic production, making them immediately recognisable. Clean, linear geometric forms, whose surface opens up, as if hollowed out, to reveal what lies within: an original weave of incisions, pointed reliefs and wedge-shaped elements that render Arnaldo Pomodoro's bronzes unmistakable.
The choice of bronze as a material lends itself well to the rendering of these signs, and demonstrates continuity with Pomodoro's work as a goldsmith, which is how he and his brother Giò began. This influence is found in his attention to the smallest details that adorn his works.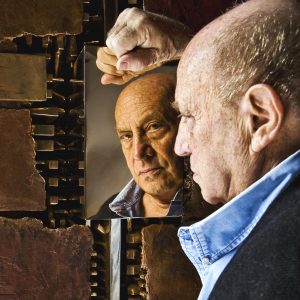 Pomodoro is an artist firmly embedded in his time. From the mid-1950s he lived in Milan, where he met and frequented artists such as Lucio Fontana and Fausto Melotti and the photographer Ugo Mulas. His first trip to Paris took place around this time, where he viewed Alberto Giacometti and Constantin Brancusi's sculptures; and he also travelled overseas to New York for the first time, where he came into contact with the artistic trends of Action Painting and Abstract Expressionism.
He was exposed to many and very different stimuli, yet there is no direct bearing of these external influences to be found on his works. The two sculptures presented here show how the artist has followed his own path, the originality of which can be clearly seen in both, even though they were created years apart.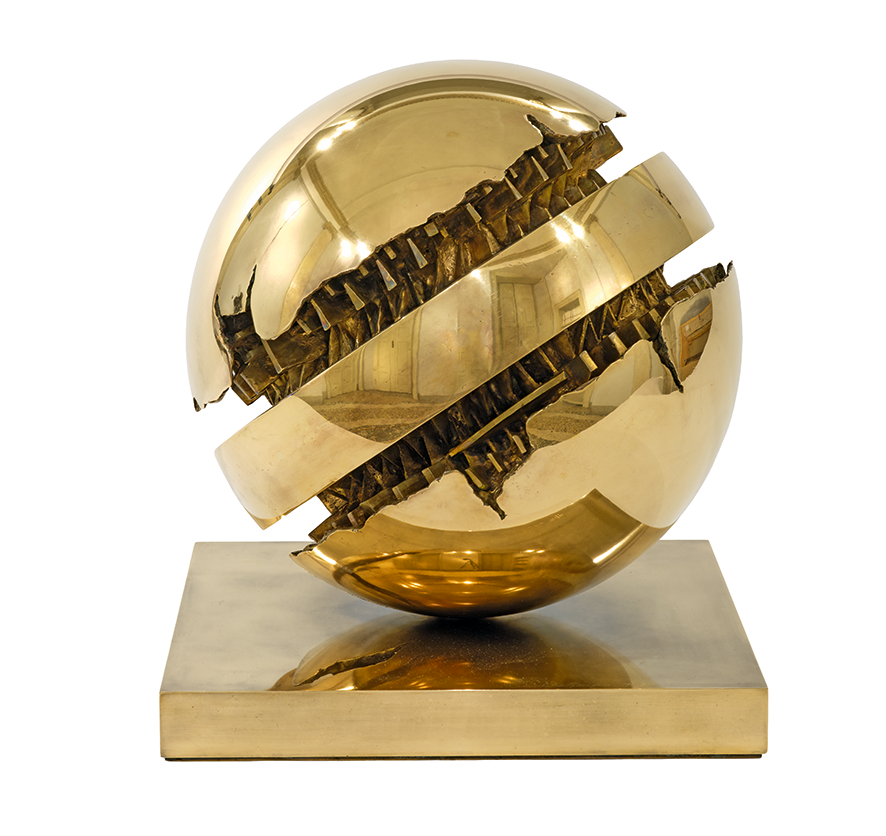 Rotante primo sezionale n. 4 (dated 1966–1990) is a sphere, the fifth in a series of nine, resting on a square base, both in bronze. The sphere is one of the forms long investigated by the artist, in this case rendered in a variant vaguely reminiscent of outer space, both in the title and in its sculptural rendering: the form is cut in half diagonally by a thick layer, as if the ring of a satellite had carved a space for itself within its own planet.
Soglia: a Eduardo Chillida is a later work from 2003, and is a homage to the Basque sculptor known for his monumental forged metal works. Three bronze blocks rest on a thin base and are placed in such a way as to create a gap, a threshold, which seems to introduce us to a new space, should we allow ourselves to be guided through it. This work, although not monumental in size, is imposing, dominating the space. The artist shows us a hint of the supporting structure of the two vertical elements on the inner sides, as if they had been eroded by the wind. They in turn become pillars supporting a central block that pierces them from side to side, while preserving the surface in all its precious lustre.
AUCTION
Contemporary Art, 29 and 30 November 2023, 6pm
Palais Dorotheum, Dorotheergasse 17, 1010 Vienna
+43-1-515 60-358, 386, 765
Browse the auction catalogue now and read our new myART MAGAZINE