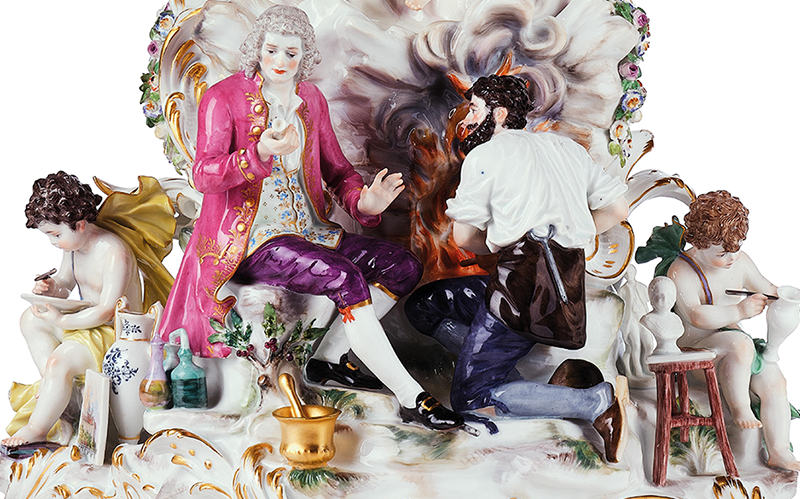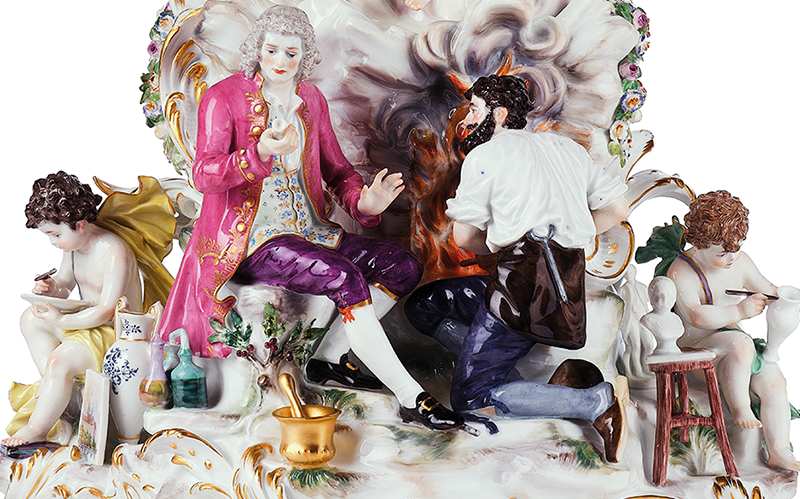 In 1697 Augustus the Strong (1670-1733 Warsaw), Elector of Saxony, was crowned King of Poland and Lithuania as Augustus II. He had his residences in Dresden and Warsaw extended, based on the model of Versailles and held court in the style of Louis XIV.
At this time, there was already great interest in East Asian porcelain in Europe and the desire to produce the "white gold" themselves. On 7 March 1710, the king issued a decree stipulating that a porcelain manufactory was to be set up at his Albrechtsburg Castle in Meissen, the first in Europe. He entrusted the management of the project to the inventor Johann Friedrich Böttger (1682-1719).
Although the German alchemist had not succeeded in producing gold, together with the mathematician and physicist Ehrenfried Walther von Tschirnhaus, he discovered a method of producing red Böttger stoneware in 1707. Later, the production of white porcelain was also successful.
The depiction of Augustus the Strong in conversation with Böttger after a model by Paul Helmig, created 1889-1890, is a very rare and historically significant group of figures from the Meissen manufactory.
The king holds a porcelain vase in his right hand and looks at the fired piece, Böttger kneels at the side of the fireplace and lights the flames with the bellows. Flanking the protagonists are allegories: "The Modelling", depicted as a small genius, who models a jug with a graver, and "The Painting", also a small genius, who paints a plate with flowers. In front, is a porcelain painting with Albrechtsburg Castle in Meissen. For glorification, a genius hovers on clouds above the scene, lifting a cloth with golden stars, while a kneeling putto raises a laurel wreath and a garland of flowers. Another putto blows a golden trombone to praise the fame of porcelain manufacturing.