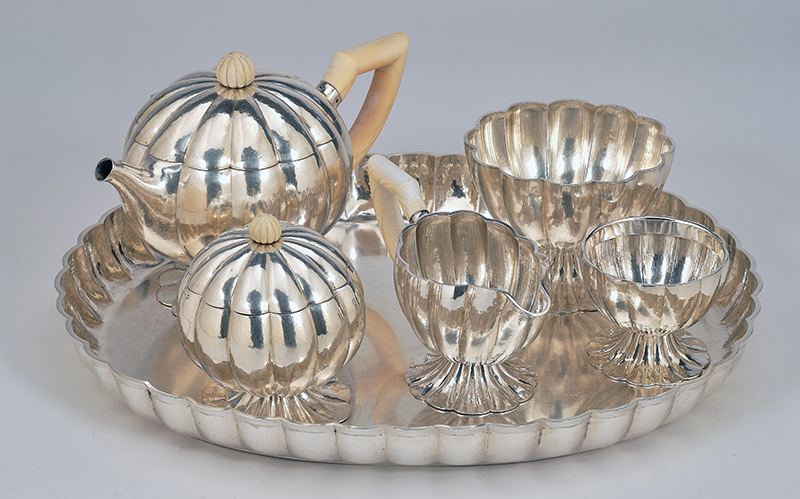 Drinking tea with Josef Hoffmann
Josef Hoffmann is regarded as an important pioneer of Austrian modernism, who designed furniture, jewellery, cutlery, writing sets and toiletries sets, etc. for the Wiener Werkstätte. One highlight is his elegant tea service from 1919. It consists of a tray, a teapot, a sugar bowl with cover, a creamer, a finger bowl and a bowl for a rum flacon. The silver service is worked in a stylised baroque style and radiates an exquisite elegance. It was produced in 1919, which was also a special year for the Wiener Werkstätte. This body set itself the goal of revolutionising the concept of art within the field of decorative arts.
In 1919, Otto Primavesi decided to reform the WW. The industrialist and banker, a patron of Gustav Klimt and Josef Hoffmann, took over the Wiener Werkstätte, which entered into liquidation after the departure of its first financier, Fritz Wärndorfer. Its latest works were shown at a special exhibition at the Austrian Museum of Art and Industry (today MAK) in the same year. The Wiener Journal wrote the following on the exhibition: 'In the Museum on Stubenring, the Wiener Werkstätte now has ten showcases of its world-renowned products in metal, textile, leather, glass, ceramics, etc. on permanent display. The tasteful exhibition has attracted the keen interest of every visitor to the museum.' 1919 is also the year in which Walter Gropius, Lyonel Feiniger, Johannes Itten and Gerhard Marcks founded the 'Staatliche Bauhaus' in Weimar.
Josef Hoffmann is one of the most important architects and designers of Art Nouveau. As the co-founder and one of the artistic directors of the Wiener Werkstätte, he had a decisive influence on Austrian craftsmanship. In the workshops of the 'Productivgenossenschaft von Kunsthandwerkern', the exuberant opulence of historicism was replaced by a new style, one marked by clarity. Now, an object's functionality was the focal point, with the highest quality in design and execution, as well as manual individual production, considered to be the fundamental features of manufacturing. Artistic designs made their way into every area of daily life, from architecture through to even the smallest objects for day-to-day use. Josef Hoffmann's major architectural works include the Purkersdorf Sanatorium (1904/05) and the Stoclet Palace in Brussels (from 1905), which are considered to be jewels of Art Nouveau. These two holistic projects were created in collaboration with Koloman Moser and the WW. Hoffmann built the Villa Primavesi in Vienna's Hitzing district for Otto's cousin Robert Primavesi (from 1913).
JUGENDSTIL and 20th CENTURY
ARTS AND CRAFTS
Online Auction
until 7 December 2020, 15:00 CET
PREVIEW
7 Dezember 2020, 10:00 – 15:00 CET