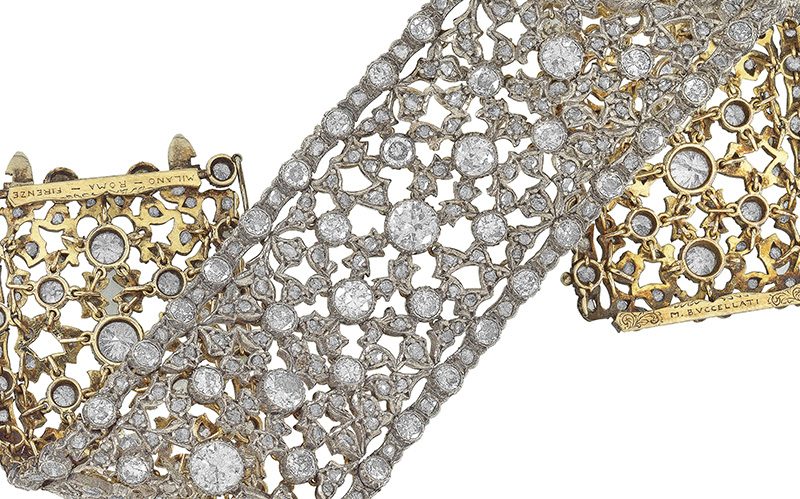 Established in Milan in 1919, the jewellery maker still stands for luxury and desire, quality and tradition today. Luca Buccellati says, with true Italian passion:
"You have to smell it!"
To hear the family members Luca, Andrea and Lucrezia Buccellati talk about the company's jewellery is to be swept along by their deep passion and reverence.
Pieces created in the third and fourth generations of this established family firm reflect both the Italian zest for life and traditional craftsmanship in elegant perfection.
Whether a piece of jewellery is created around a fascinating and rare gemstone or from an extraordinary design, founder Mario's pronounced admiration for the Renaissance always resonates. A typical Buccellati piece calls to mind delicate, transparent lace, fluffy tulle, fine linen or precious damask. The female family member, co-creative designer Lucrezia Buccellati believes it is her duty to keep this spirit alive and adapt it through innovation. One result of this attitude is to be found in ethereal ear clips reminiscent of the dainty perforated wings of a horse inspired by an impressionist painting. The company welcomes customer requests when creating individual pieces on commission and gently reinterprets traditional designs.
It's all about the basics
For the family, it's all about the basics. Each family member has their sphere of tasks and every single piece that leaves the workshop meets the company's high standards of quality. Which is to say that the company's master artisans need to demonstrate excellent craftsmanship at all times. For almost a century, around 250 goldsmiths, engravers, setters and precision workers have created valuable artworks at the highest level in the company's workshops, all of which are based in Italy. Many of the young specialists joined the company as apprentices or learned their technical skills from their fathers and are now the third or fourth generation to work for the company.
Traditional techniques
Traditional techniques such as cutting, engraving and stonesetting are always performed by hand at the company's workshops. Every stage of the process must be completed with the greatest precision, and if any imperfection is found by the meticulous, frequent quality inspections the pieces must be started again. Engraving is a very important part of the production process. Different patterns are applied to the surface with different gravers, giving them a highly textile and unmistakable character. Polygonal, individually cut elements are strung together in a honeycomb structure, creating an effect of finest tulle or translucent lace. Every item of jewellery is made by hand, so none of them are 100 percent identical.
Many skilled jobs are involved in turning an initial design into a completed piece of jewellery, so high-priced items can take nine to twelve months to complete. But Luca Buccellati believes that, next to quality, the education and loyalty of goldsmiths are essential for the company's success.
"When someone shows me a piece of jewellery, I always examine its back first. The workmanship says everything! My father used to say:
'You can smell if a piece is Buccellati!'"
Even though a majority stake in the company was sold to an Asian investor, family members continue to number among the company's management. As a result, passion remains coloured by the unmistakable verve of family tradition and emanates from every piece of Buccellati jewellery.
Buccellati at Dorotheum – a small selection
AUCTION
Jewellery
19 October 2017, 2 pm
Palais Dorotheum Vienna
Take me to the catalogue