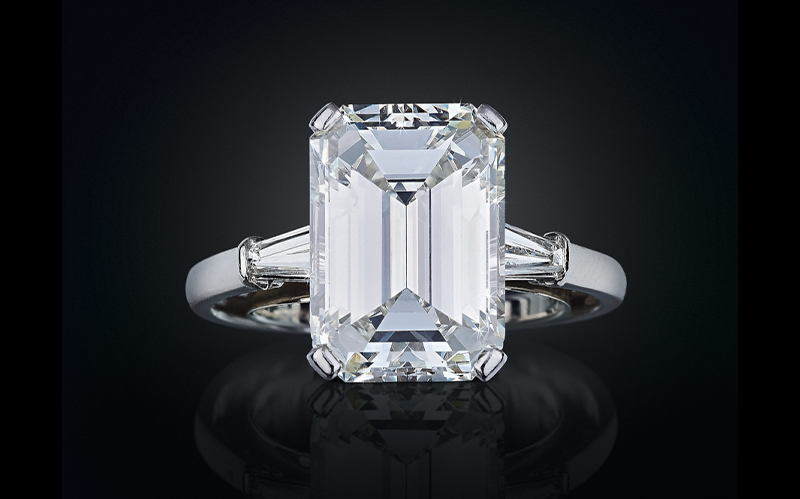 It is nature's hardest natural substance; cutting reveals unique glimpses of lustre, brilliance and fire, wealth and value are locked in minimum form.
It is a subject of fascination: What is it about diamonds that makes them in such high a demand? Why are they so good as a form of investment? Customers who sell their gems at Dorotheum are frequently delighted by the outcome of the sale of their diamonds. What is the reason they are so coveted? The reasons are legion: diamonds are versatile, variable and timeless. Mostly neutral in colour, the gemstones conform to all colour trends without a problem, and, thanks to their hardness, diamonds can be removed from their setting and fashioned into new jewellery creations – whether in combination with gemstones of other colours or as sparkling solitaires. The rarity of carbon crystallised for billions of years under extremes of heat and pressure – for that is what a diamond is – is explained firstly by the ratio to the surrounding host rock in the kimberlite pipes that transport the diamonds upwards, at a rate of one to a million. Secondly, by the extremely complex and costly mining and extraction processes. Additionally, the proportion of mined diamonds of suitable quality to be worked into jewellery, is well below half of the yield mined across the world. The major part is used as industrial diamonds in the technology sector.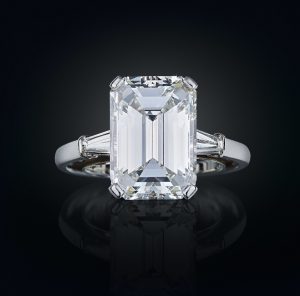 Although the exact age of a stone cannot be determined, specific cutting styles which developed over time, and also the proportions of the cut stones inform us about the timeframe in which the stone was worked.
As early as the 15th century, the octahedral rough diamonds were cut in two through the middle, producing two stones with sloping edges inclined towards each other. The surfaces were polished with crushed diamond and the stones worked with the apex pointing upwards. The first historically documented engagement ring with a diamond of this kind was worn by Mary of Burgundy for her betrothal to Maximilian of Austria in 1477.
As technology progressed, mainly advanced by Flemish diamond cutters, more and more cutting styles were developed. These included the rose cut, in which the gemstone is level on its underside and rises up with dome-like faceting and also prototypes of the emerald cut. Increasing perfection in the art of stone-cutting meant that gemstones became ever more richly faceted in a great diversity of cut forms. They all had one aim: to elicit from the diamond the maximum of fire and colour. Today, extremely popular cuts include not only the classic brilliant cut, but also, and especially, emerald-, navette- and marquise-cut diamonds.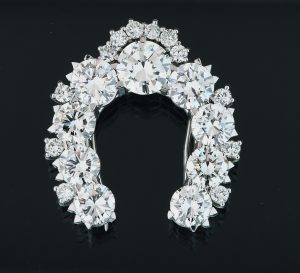 The cutting method and eventual form of a rough diamond greatly depend on the expertise of the cutter: the latter not only recognises how the raw material can be shaped, but also how to attain the optimal size and highest level of purity and brilliance. Besides quality characteristics – known as the "4 Cs" (for clarity, carat, colour and cut) – further evaluation factors are gaining in significance for diamonds today. For instance, fluorescence is also a factor in larger stones. It occurs in diamonds owing to the inclusion of specific mineral impurities – especially boron – and under UV light usually makes such gemstones light up with a blue fire. This effect in lower colour grades can make the stone show up in a higher colour grade. Fluorescence is found only in about a third of all stones. It is not regarded as a typical quality characteristic but as an identifying feature, and therefore adds a further individual attribute to a stone.
With regard to larger stones, type I diamonds are distinguished by their chemical composition from the very rare type II stones, which show no or hardly ascertainable amounts of nitrogen. Counted among this group are historic diamonds such as the Cullinan, with a gross weight of 3,106 ct, found near Pretoria, South Africa, in 1905. The nine largest diamonds cut from it still grace the British crown jewels.
Also, the legendary blue Hope Diamond weighing 45.52 ct, named after its owner, the British banker Henry Philip Hope, belongs to the type IIb group of diamonds. The last private owner of the stone, the jeweller Harry Winston, bequeathed it in 1958 to the Smith- sonian Institution in Washington DC, which comprises numerous research and educational institutions, as well as museums.
The interest in diamonds fashioned into jewellery remains undimmed. Jewellery made by renowned international jewellers or objects with a notable provenance attain top prices at international Dorotheum auctions. Exquisite, diamond-set pieces from the Cartier house or Bulgari – to name only two representatives – achieve prices that enhance their purely material worth many times over. Justifiably so, because every one of these individual pieces reflects the experience and craftsmanship of haute joaillerie in combination with the expertly worked quality of the stones and the creativity of the designers.
Astrid Fialka-Herics is Head of Dorotheum's Watch and Jewellery department, a jewel specialist, lawyer and trained goldsmith.
Explore the auction catalogue now and read our new myART MAGAZINE!