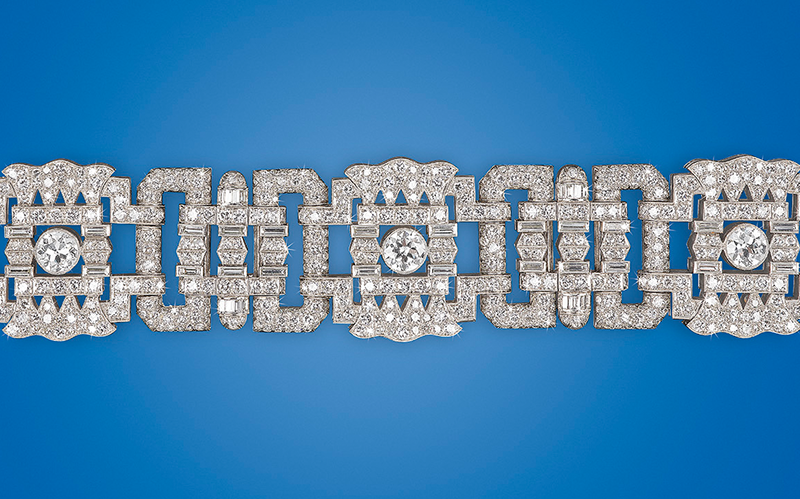 The history and significance of the bracelet
Ornament for the arm, the bracelet, is one of the most ancient forms of jewellery in the history of humanity. Archaeological discoveries from the Euphrates to the Tigris, in China and in Egypt, provide impressive evidence of the significance of the bracelet throughout the ages, reflecting the wealth and social status of the wearer. Ornament of the arm has historically primarily been regarded as decoration or as a talisman for women.
The choice of leather, wood, stone or metal as material for arm jewellery was originally based on more than just their technical processability: the pieces represented power,
social influence, status and religious symbolism. Arm jewellery design was, and still is, as diverse as the materials. Bracelets and arm jewellery were initially strings of beads made of bone, stone, glass or ceramic, eventually developing into strikingly crafted bangles and wrist cuffs of various metals such as gold, silver and bronze.
Ornaments, flowers and animal motifs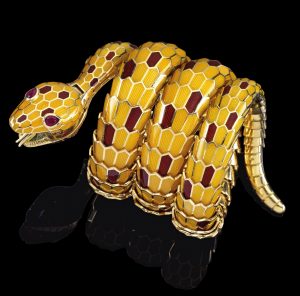 They feature ornamental patterns, floral embellishments, and animal motifs – and particularly depictions of serpents, due to their mythological and symbolic significance. A recent example, from the late 1960s, is the wristwatch produced by Italian star jewellery designer Bulgari, from his "Serpenti" collection, in which design and functionality are united to magnificent effect. The piece was to become an absolute must-have. Its extraordinary quality derives not only from the exquisite goldsmithery but also from the cooperation with watch manufacturers such as Jaeger-LeCoultre and Omega who provided the finest mechanism and technology in the smallest possible space.
In the Middle Ages, bracelets and arm jewellery fell to some considerable extent, into oblivion. Arms and wrists were covered with long sleeves and fine lace, leaving no room for jewellery as European society was forced to conform to the strict moral ideas of Christian values associated with poverty and humility.
Precious stones from foreign countries
From the Renaissance onwards however, bracelets and bangles came back into fashion, and they have never ceased to catch the eye ever since. With the discovery and exploration of new continents, more and more precious stones such as emeralds, rubies and sapphires arrived in Europe. The craft of lapidary and gem carving spread; it was recorded in Vienna as early as the beginning of the 16th century. Craftsmanship developed over time, and jewellery-making techniques were honed to allow the colour and brilliance of the stone to became more and more remarkable while material loss was constantly reduced. Arm jewellery was now worn exclusively by women, often adorning both wrists with twin bracelets set with gemstones. 
Inspiration from antiquity

From the second half of the 18th century, archaeological excavations in Pompeii and Egypt fanned widespread interest in travel and antiquity, a trend which was reflected in the design of jewellery. This theme is still popular in the design of bracelets to this day, with micro-mosaic inlays, historical and stylised serpentine motifs and historical techniques of ornamentation.
Jewellery with emotional meaning
Ladies' fashions in the Empire era, which featured high waisted dresses, soft flowing fabrics and usually short sleeves, granted a free view of arms adorned with bracelets or bangles. In the mid-19th century, women began to wear opulent bracelets of gold, preferably on both wrists. Belying their visual effect, they were very light and fragile, thanks to the technical improvements of pressing and casting processes.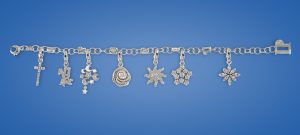 Other increasingly favoured jewellery styles include bracelets designed to express the wearers' emotions. Mourning jewellery, made of natural materials such as real hair, tortoiseshell and jet (impregnated fossilised wood) became hugely popular throughout the whole of Europe, often containing locks of hair or photos of the wearer's loved ones. Friendship jewellery, for example charm-bracelets, with their many jingling charms attached, is enduringly popular to this day.
Art Deco: abstract design, many functions
In the first quarter of the 20th century, Art Deco influenced not only architecture and fashion but also design, which naturally included jewellery. Diamonds and coloured stones were cut in different ways, even within the same piece, with clear, symmetrical patterns. The cool brilliance of diamonds was accentuated by pairing them with platinum, and the refulgent, multicoloured glory of greatly diverse gems was enhanced through the contrast with yellow and rose gold. The main attraction lay not the value of the finished gems but solely the aesthetic ingenuity of the design. The abstract, geometrical design of the individual links endows a delicacy and lightness to the bracelets despite their width.
Another very popular characteristic of the Art Deco epoch was the multi-functionality of jewellery. A few simple touches and jewellery such as diadems could be transformed into dazzling bracelets or brooches, thus making it possible to use them for many different occasions. Bracelets no longer had to be merely decorative but could be of practical use as well – for instance through the addition of a cleverly concealed watch within the design.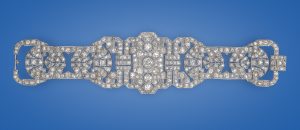 Arm jewellery, in whatever shape or form, in its multitude of mater-ials and designs, is to this day, enormously popular. From Rivière bracelets, studded with diamonds or friendship armbands given as a token of emotional attachment – bracelets are worn on every occasion. As far as subject matter and craftsmanship are concerned, the imagination has no limits, as we see in the rich selection on offer in Dorotheum's Jewellery auctions. 
Astrid Fialka-Herics is Head of the Clocks and Jewels Department
at Dorotheum, an expert in jewels and a trained goldsmith.  
JEWELLERY AUCTION
29 November 2021, 16:00
Saleroom Auction with Live Bidding