Benvenuto Cellini was more than the maker of the world's most expensive saltshaker, the Cellini salt cellar. A  goldsmith, draftsman, author, musician, soldier, and one of the most important sculptors of Italian Mannerism, Cellini was also a ruffian who was jailed several times and confessed to three murders.
Had he lived today, he might have been a genius tech entrepreneur. Yet he was born at the height of the Renaissance, and is very much a product of his world. How much do you know about this legend's life and work? These 13 facts will surprise (and maybe shock) you.
1. His fame came not from his art, but his autobiography.
Cellini's posthumous memoirs are a classic of Renaissance literature.  Filled with racy slang, their vibrant picture of a boastful, yet sincere craftsman who sees himself as a disciple of Michelangelo made Cellini far more famous than his art alone would have.
2. He inspired lots of literature.
The French historical novelist Alexandre Dumas published a novel based on Cellini's years in France, L'Orfèvre du roi, ou Ascanio in 1843. In it, Ascanio, a fictional apprentice of Cellini who is passionate about his craft, yet plagued by subjection to a corrupt court, weathers one plot twist and intrigue after another. Dumas's book inspired Paul Meurice's 1852 play Benvenuto Cellini, which later inspired the libretto for Camille Saint-Saëns' 1890 opera "Ascanio."
Other authors who reference Cellini in their writing include Balzac, Victor Hugo, Herman Melville, Mark Twain (in The Adventures of Huckleberry Finn,  The Prince and the Pauper, and A Connecticut Yankee in King Arthur's Court), Agatha Christie, Nathaniel Hawthorne, and Ian Fleming.
3. There's an opera about him.
Hector Berlioz's "Benvenuto Cellini, Opera in Two Acts" is the composer's first and one of his most technically challenging. The libretto, written by Léon de Wailly and Henri Auguste Barbier, is mostly fictional, but draws on Cellini's memoirs.
The opera has been called a car crash and is rarely performed, but some symphony orchestra programs include its overture. It also provided the raw material for Berlioz's popular overture Le carnaval romain.
4. There's a musical about him.
Ira Gershwin and Kurt Weill wrote a Broadway musical about Cellini, The Firebrand of Florence. It flopped and was dropped after a mere 43 performances, but its song "Sing Me Not a Ballad" lives on in the Gershwin/Weill catalog.
5. He was a smooth criminal.
Not just an artist, but also a convict, Cellini broke out of the Castel Sant'Angelo in Rome by climbing down a homemade rope of knotted bedsheets. He was famously hot-tempered and was often involved in brawls, wounding rivals and enemies – ostensibly without remorse – on several occasions.
6. Scandals, scandals, scandals!
Cellini's personal relationships were colourful to say the least. A repeat sex offender whose CV reads like an excerpt from the Marquis de Sade's prison diaries, Cellini took many of his female models as mistresses and even fathered a child with one. Despite marrying his servant in 1562, who he claims bore him five children, he was frequently at heads with the law in matters of sex. He was charged and convicted of sodomy multiple times, both with men, women and children. The Medicis even intervened once on his behalf to remit a four-year prison sentence to four years of house arrest.
7. He was Salvador Dalí's hero.
Cellini greatly influenced the Surrealist artist Salvador Dalí, who created many sketches and etchings inspired by his work. Dalí also illustrated a 1946 edition of Cellini's autobiography. To paraphrase Mike Wallace's famous 1969 interview with Dalí: 'Dalí and Cellini … almost crazy.'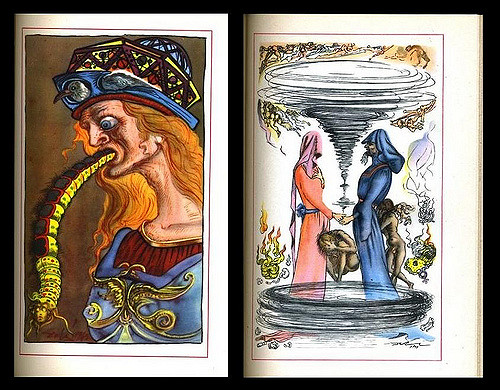 8. He saved Rome.
Or so he claims. Cellini proved his service to the pontiff during Charles III., the Duke of Bourbon's sack of Rome, when he shot and injured Philibert of Chalon, the Prince of Orange and allegedly also killed Charles III.
9. He played flute for the pope.
His father pushed him to pursue a career in music from an early age. At fifteen, Cellini rebelled by entering an apprenticeship to a goldsmith. He nonetheless became an accomplished flute player, and was even appointed one of the pope's musicians during his period in Rome.
10. His work comes in all shapes and sizes.
Cellini's salt cellar measures a mere 26 cm × 33.5 cm.  But he also sculpted larger works, such as the massive Golden Gate for the unfinished Palace of Fontainebleau.
11. Nothing says Renaissance like his salt cellar.
Often called the Mona Lisa of sculpture, the only work of gold that can be reliably attributed to Cellini was not cast, but hand-formed into its exquisite shape. Cellini first offered the salt cellar (called the saliera in Austria after the Italian word for salt cellar) as a wax model to Cardinal Ippolito d'Este of Ferrara, who declined. Cellini finally made it in 1543 for Francis I of France. To the extent that everything about this creation was meant to inspire awe, it embodies its era's excesses, transcending its purpose as a mundane object to express the essence of its maker. This powerful little homage to the Habsburg salt monopoly was also the subject of the most famous art heist in modern Austria.
12. It should be called the Cellini salt-and-pepper cellar.
Adjacent to its carved personifications of the times of the day and four winds, the salt cellar contains two receptacles: a boat to carry Neptune's salt and a miniature temple to house earth's peppercorns. So its name only tells half the story.
13. You can take a selfie in his masterpiece.
Well, in a larger-than-life replica of it, at least. The Kunsthistorisches Museum of Vienna has put a model of the saliera at the public's disposal as a photo point for selfies all summer long to celebrate its 125th anniversary. Post your photo along with the hashtag #saliera while summer spirits are high for a chance to win a fantastic prize*.
Those are just a few of the surprises in Cellini's biography. Read his memoirs for a more detailed, if less factual, account of his life and times. Meanwhile, please pass the salt (and pepper)!
*Details to be announced by the KHM Vienna.