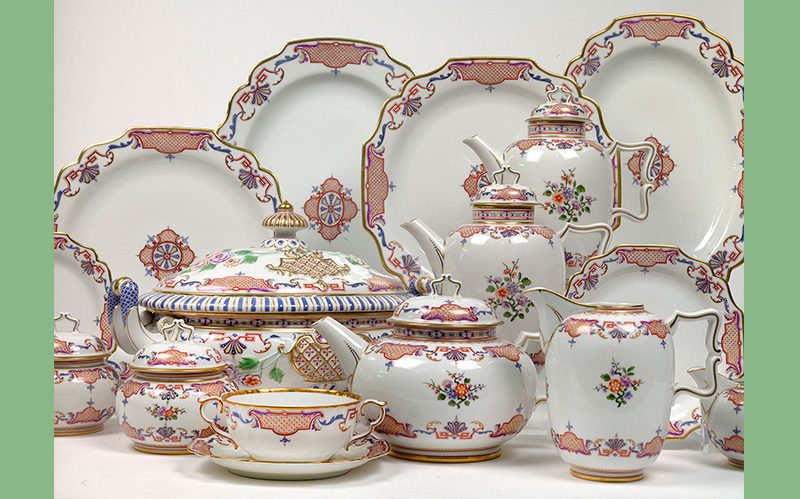 The unique Baroque-style table service is one of the highlights of the upcoming porcelain sale on the 24th of October at Palais Dorotheum.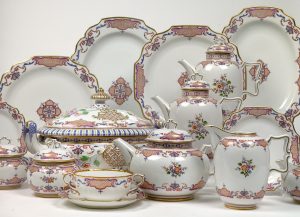 It was made by the Viennese porcelain manufacturer Augarten, between 1945 and 1947. The original design was created in the 18th century by the porcelain manufactory of Claudius Innocentius du Paquier which operated between 1718 and 1744, also in Vienna. The coloured decoration was originally painted in gold, iron red, purple, blue and green, with the addition of a mosaïque decoration. It was made in 1730, for the Abbot of the Augustinian monastery of St. Florian, Johann Baptist Födermayr. His double coat of arms can be seen on the lid of the bowl and also on the mirror of the présentoir. The quality of the decorations, the coloured and gold-heightened leafwork, the strap- and latticework as well as "German" and "Indian" flowers and cartouches decorated in relief with shells make this service an exceptional work of art. It was commissioned by the Augustinian monastery of St. Florian in Upper Austria and bears the emblem of "Brucknerstift St. Florian" and the signet of J. & L. Lobmeyr Wien.
INFORMATION about the AUCTION
Auction date: Works of Art – Furniture, Sculptures, Glass and Porcelain auction, 24th October 2019, 2 p.m.
Location: Palais Dorotheum, Dorotheergasse 17, 1010 Vienna
Exhibition: 4th October 2019 – 24th October 2019
Contact: Ursula Rohringer is a specialist for porcelain at Dorotheum
View now the auction catalogue and read our new myARTMAGAZINE!