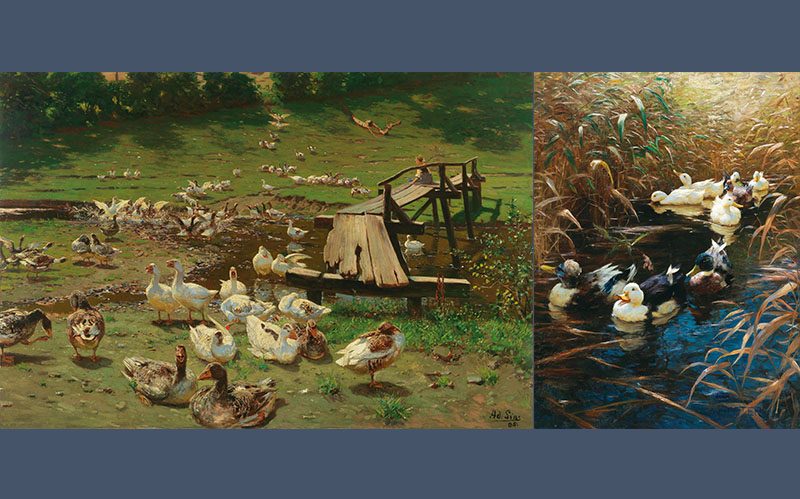 The 19th century paintings auction on the 29th of April will feature works by Eduard Köster and Adolf Lins, two painters who specialised in the depiction of ducks and geese. Though it may seem peculiar at first, their paintings are fresh and full of atmosphere, captivating the viewer through the immediacy of their observation and their surprising motifs.
Both painters found their inspiration in rural parts of the German-speaking region. Adolf Lins' paintings focus on children, geese and ducks by a village stream, pond, or in the garden. He picks intimate moments that radiate a great deal of peace and affinity with nature. Eduard Köster is particularly fascinated with the shimmering feathers of ducks, and with the effects of the wind and sun on the water and reeds. His "duck paintings" became his trademark and made him very successful among contemporaries.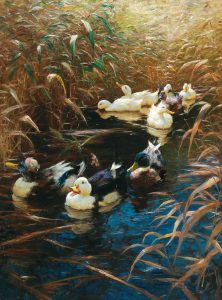 Alexander Koester, son of a stocking manufacturer, completed a pharmacist's apprenticeship at the request of his parents. Upon completion of this, however, he did not take on his learned profession, but enrolled at the Karlsruhe Academy. There, under Karl Hoff and Claus Meyer, he graduated from his studies of art in 1885. He went on numerous trips and was soon able to secure his livelihood with his portrait and genre painting. In 1896 he moved to the South Tyrolean resort of Klausen, where ultimately his most fruitful period of creativity began, and he joined the 'Klausner Kunstkolonie'. When painting in nature, he quickly discovered ducks as the preferred motif for his paintings. He observed these animals intensely to capture in his pictures the way in which the sun's rays are reflected on their plumage. The resulting dynamic, atmospheric compositions ensured that success of this varied pictorial motif.
Even during his lifetime, his works gained great popularity, and numerous reproductions exist. For example, the present lot has been selected for the advertising of a four-colour print by Gebrüder Schmidt, Buch- und Steindruckfarben-Fabrik and illustrated in Theodor Goebel, Graphische Künste der Gegenwart, Stuttgart 1902. He was an outstanding representative of 19th century painting and was able to capture the liveliness of the ducks in his works with expressive brushstrokes.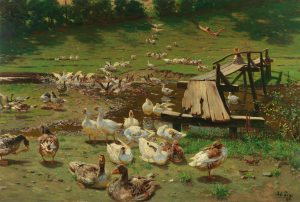 Adolf Lins studied at the Academy of Fine Arts in Kassel and in 1874 on the advice of his teacher for the first time sojourned for study purposes in Willingshausen in Schwalm. His friendship with Dusseldorf artists such as Heinrich Sondermann, Hugo Mühlig and Hans Richard von Volkmann prompted Lins to move to Dusseldorf in 1877. There he settled down in the house of the carpenter and art transporter G. Paffrath and worked with Ferdinand Brütt. Drawings and studies resulted from numerous further stays in Willingshausen and after 1908 in nearby Röllshausen, but also on the Lower Rhine. Lins exhibited his children's scenes as well as the numerous village views and landscapes filled with staffage figures from 1877 mainly in Berlin, Dresden, Dusseldorf, Munich and Vienna. From the 1880s, he preferred to paint creeks and pastures populated with cows and sheep, but especially chickens, ducks and geese, which earned him the nickname 'Goose Lins' ('Gänse-Lins').
INFORMATION about the AUCTION
Auction Date: 29 April 2019, 5 p.m.
Location: Palais Dorotheum, Dorotheergasse 17, 1010 Vienna
Exhibition: 20 April – 29 April 2019
View now the auction catalogue and read our new myARTMAGAZINE!