Susanne Wenger – Visionary and Guardian
The artist Susanne Wenger was born in Graz in 1915 and left Austria in 1949, whereupon she moved to West Africa with her husband, the cultural philosopher Ulli Beier. She soon found a new home in Nigeria and, after a serious illness, she began to busy herself with the mythology and religion of the Yoruba people. She was ordained a priestess and founded the 'New Sacred Art' collective alongside with Yoruba artists, craftsmen and priests. The group restored and expanded the Sacred Grove of Osogbo. This town is home to numerous sculptures, cult shrines and architecturally striking buildings and has been a UNESCO World Heritage Site since 2007.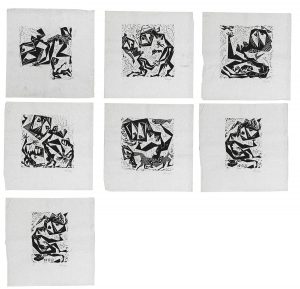 Susanne Wenger's artistic work has always seen her be both a preservationist and a courageous pioneer. In the 1940s, she was involved in the establishment of Art Club Austria in Vienna and had already enjoyed numerous international exhibitions, including with Sonia Delaunay and other post-war French artists. She could have become a central figure in the Viennese art scene, but instead, she decided to emigrate to Africa. However, Wenger's works were, in fact, shown at exhibitions in Europe and America during her time in Nigeria; she continued to maintain contact with key curators and exhibited her work in Paris, London and Los Angeles, as well as in other cities. In 2001 and 2002, she participated in the exhibition 'The Short Century – Independence and Liberation Movements in Africa', curated by the former Dokumenta director Okwui Enwezor.
In her adopted country of Nigeria, Wenger is revered by many as a priestess and as a guardian of the Yoruba culture. She has also received numerous awards and honours for her artistic work in Austria. Today, the Susanne Wenger Foundation in Krems keeps her legacy as an artist alive.
The mixed lot up for auction consists of 7 woodcuts, which were probably shown in an exhibition in London in the 1960s. They originate from a privately held collection in the UK.
INFORMATION about the AUCTION
Due to the current corona situation, viewing and bidding on the works is currently only possible online on the Dorotheum website.
Auction date: 24 March 2020, 2 P.M.
Exhibition: online: www.dorotheum.at
Bidding: online: www.dorotheum.at
Information: Elisabeth Wallner, Specialist for Modern and Contemporary Prints, elisabeth.wallner@dorotheum.at