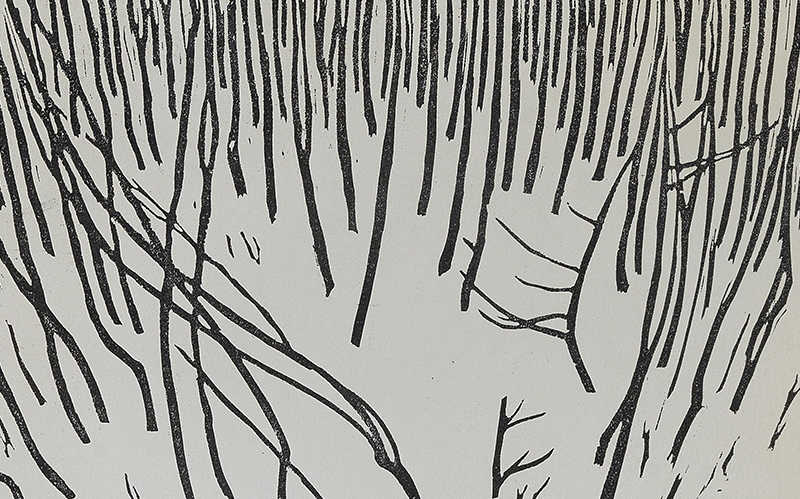 "Woodblock printmaking demands uncompromising clarity in artistic expression. I use a knife and a wooden stick to strive for a linear, rhythmically moving, almost abstract form in order to express the essence of nature – heightened by inner experience".
(Franz Traunfellner 1972)
Franz Traunfellner was born in 1913 in Gerersdorf near Pöggstall in the southern Waldviertel. When by chance he was given the tools, he began to learn and to teach himself the technique of woodblock printmaking.
The landscape of the Waldviertel, its people and animals were the preferred subjects of the artist. This remained the case, despite his frequent travels to Southern Europe, Paris and to the Worpswede artists' colony in Lower Saxony.
Woodcutting and engraving were his preferred techniques. With few exceptions, he printed his sheets himself; he regarded the printing process as an essential part of the creative process. In 1956 he received a scholarship at the Graphic Arts Teaching and Research Institute in Vienna and in 1960 he was the first artist to receive the newly established Culture Prize for Fine Arts of the State of Lower Austria. In 1963 Traunfellner gave up farming and lived from then on as a freelance artist.
His compositions of trees show strong musicality, a feeling for contrasts, vibrations, rhythm, sharply observed nuances and great precision.
"The tangle of trees in "Jungholz" is so clearly rhythmic, so memorably organized, that the impression is created that this is the only way a young wood can look", his painter colleague Franz Kaindl attested to him.
Today, Traunfellner's works can be found in the Albertina in Vienna, in the Belvedere, as well as in the collection of the Prince of Liechtenstein, in the Kochi-Shi Museum for Paper History in Ino-Cho Japan and in the Museo della Xilografia contemporeana in Carpi near Modena, Italy.