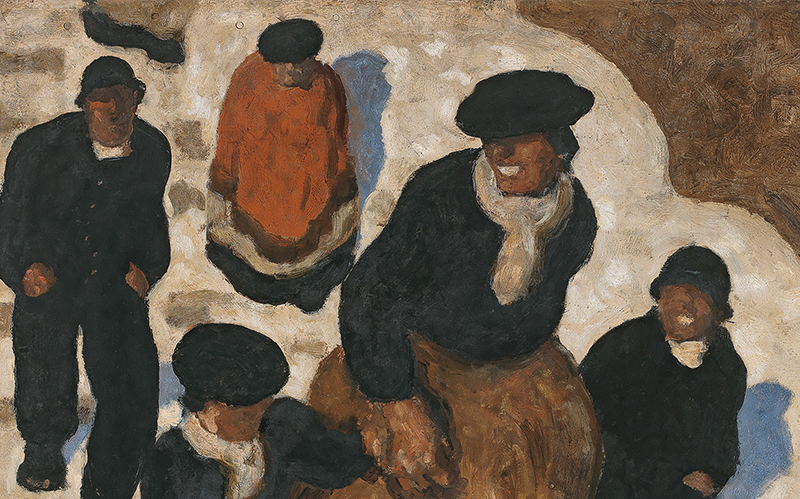 A fascinating tale of emigration and return: The story of an important painting by the Tyrolean artist, Alfons Walde, discovered in a private home in Israel and now back in Austria, is one of the top lots in the upcoming Modern Art sale on 29 November 2022, in which it will be sold alongside other works by the renowned painter.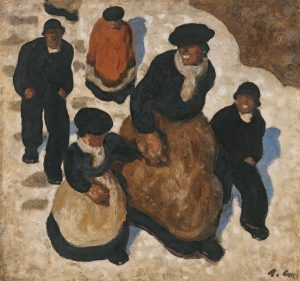 Alpine pastures under snow, ski tourers, snow-covered church towers and farms: motifs of the Tyrolean painter, Alfons Walde (1891–1958), who, despite his traditional Catholic background, was influenced by the modern aesthetics of Austrian Secessionism. He is considered to be one of the key protagonists of Austrian modern art. His painting, entitled Church Steps, is an abstract work, depicting – from a bird's eye perspective – a group of village people making their way to church. It is an exceptional example of his oeuvre. The painting was found in a modest cottage in the countryside in Israel, and now returns to Austria via Dorotheum's representative in Israel, Rafael Schwarz, for sale on 29 November 2022.
What is the story behind this unusual find? Franz Stiassny was born in Brno in 1901, finishing highschool in 1920 in Innsbruck, a town in which his family was well established as the owners of the renowned fashion emporium Stiassny & Schlesinger. Later he was trained as an economist in Germany. Between 1925 and 1933 he was the manager of a large German textile factory in Silesia employing 1,500 people. Stiassny steadfastly resisted government demands to replace Jewish employees with Aryan workers and as a result, in 1933 he and his wife Käte decided to emigrate with their two boys, aged 4 and 2, from German Silesia to Palestine. At the time, the export of currency was severely restricted, however the couple was able to take two items of value with them, a painting by Peter Paul Rubens, which was sold some time ago, and Church Steps by Alfons Walde. For Stiassny, the decision to emigrate in the early 1930s was life-saving. Tragically, unlike Franz, his sister Elli and husband Desider Friedmann, who was the last president of the Jewish Community of Vienna before the Holocaust, elected not to leave the Jewish community in Vienna. Both were murdered in the Nazi extermination camp of Auschwitz.
On arrival in Palestine, Stiassny, the father of two (and later of four), who had graduated from university in 1923 as economist and had become a respected manager of industry, was forced to start his life all over again. He established himself in the nascent state of Israel as a hardworking dairy and vegetable farmer in a village, while pursuing his academic interests privately. One of his sons that kept the Church Steps, recalls how in the early days he would take their milk to the village center on a donkey cart to be cooled before it was transported to Tel Aviv.
Parting with the painting 27 years after he received it from his father has been a very emotional affair, the current owner admits. His father, Franz, probably bought Church Steps together with a relative who emigrated to the USA who is said to have acquired two works by Walde. Church Steps has been very significant to his family he says – a symbol of continuity in an unsteady life. The picture always hung in the living room in the family home, it moved with the Stiassnys from one house to another and finally even accompanied Franz to his retirement home. Towards the end of his life, Franz Stiassny, his son relates, would point to the cheerful expression on the face of the mother with the two children depicted in the picture, and would smile himself.
After Franz's death, the painting passed on to his son, a former university professor of genetics. He explains that while he is not a collector himself, both he and his wife love art. Of the two paintings the family owned when they left Silesia, it was the Rubens
that meant the most to him when he was young but over the years it has been Walde's Church Steps that has had the most profound resonance for him. As the painting changes hands now, the family hopes that it will make its new owner happy – a word which, incidentally, translates in Czech as stiassny.
Information: Mag. Rafael Schwarz, Tel. +43-1-515 60-405, rafael.schwarz@dorotheum.com