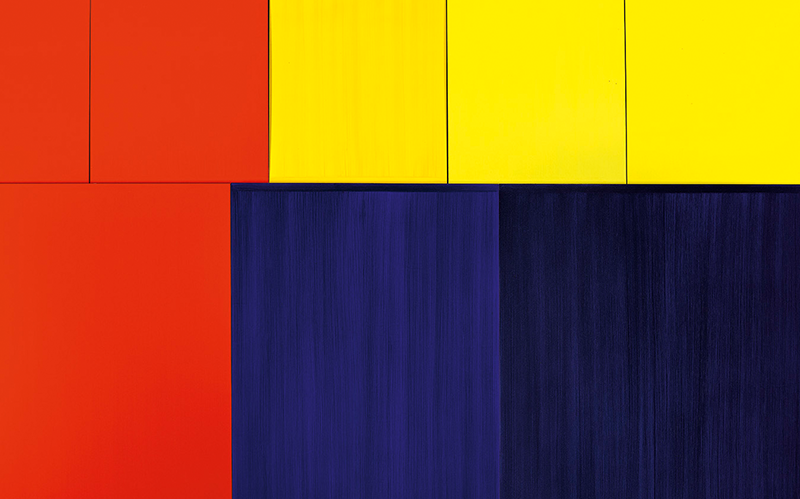 Spellbinding hues: abstract art epitomises the study of colour and light – more than that, it makes light and colour the very subject of painting. Three works by the artists Imi Knoebel and Heinz Mack, all featured in Dorotheum's June auction, are a case in point.
Colour and light
The physical, physiological, psychological and cultural aspects of colour as a phenomenon have long fascinated great theorists and artists. While colour itself is defined as a light-induced sensory impression, our perception of it is a subjective sensation. "We owe our ability to see and experience colour, but also our knowledge of it, to the continuing discoveries of painters in particular", writes the sculptor and art writer, Hans Joachim Albrecht, in "Farbe als Sprache" (Colour as Language, 1979), "This development of the eye comes about in an interplay of creation and contemplation."
German Expressionist painter Franz Marc was also deeply interested in colour throughout his career and assigned an individual character to each of the primary shades. As he explained in a letter to August Macke, "Blue is the masculine principle, austere, and spiritual. Yellow the female principle, gentle, cheerful and sensual. Red is matter, brutal and heavy, and always the colour that the other two have to battle and overcome!"
Epitomising the role of colour in contemporary art are three works by Imi Knoebel and Heinz Mack, all coming up for sale at the June auction at Dorotheum.
Imi Knoebel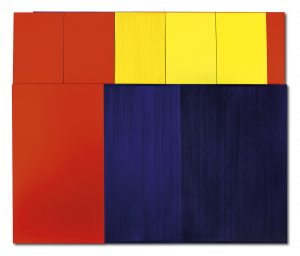 A large-scale work from Imi Knoebel's "Ich Nicht" series uses only the three primary colours red, yellow and blue. The three basic hues appear in isolated, rectangular surfaces on the canvas, rendered with a dynamic, clearly visible brushstroke. The primary colours intone a wide-ranging, in fact endless subject matter, "a theme with endless variations; classic and yet never not modern; the greatest possible concentration and densification in one work while simultaneously keeping all other possibilities present; simplicity that has to be found again and again and a complexity that cannot be mastered", as stated in the 2007 catalogue accompanying the exhibition entitled "Imi Knoebel: Works from 1966 to 2006" at the Wilhelm Hack Museum. Knoebel's choice of a reduced formal vocabulary and limited colour palette was deliberate. The artist is particularly fascinated with the effect of large, monochrome colour blocks and stripes.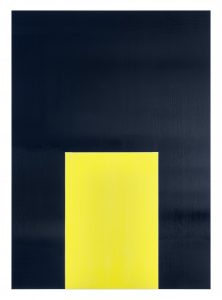 A second Knoebel work included in the auction was created as part of the artist's "Pure Freude" series. Named after his wife Carmen's eponymous record label, it explores the effects of colours and forms. Works in the 2001/2002 series are minimalist with an intense spatial effect, with a composition reminiscent of the kind of colour field painting practised by, for example Barnett Newman and other American artists of the 1960s. The title "Pure Freude" (pure joy) also invites associations with Paul Klee and his theories concerning the purity of colour. Works in this series present monochrome colours in individual, distinct colour fields on aluminium. Here, Knoebel also keeps his brushstrokes visible, so that a closer look reveals texture in what at first glance appears to be a smooth surface. The work "Pure Freude Nr. 39" features a captivating, strictly geometric arrangement of the two colour fields.
Heinz Mack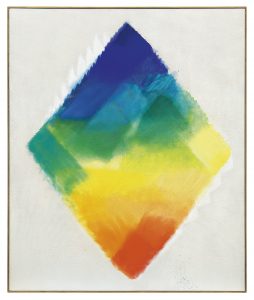 Earlier this spring, 2021, Heinz Mack told an audience at Düsseldorf's Kunstpalast, at the opening of an exhibition to celebrate his 90th birthday, "I cannot live without colour; it means beauty, sensuality, and energy".  Mack's investigation of the colour spectrum and effects produced by the refraction of light is essential to the Zero artist's œuvre and has been a hallmark of his work since the 1960s. "Großes Farblicht", his 1994 work for sale at Dorotheum, depicts a large, coloured rhombus on a white background. Here, the artist contrasts the cool colours blue and green in the upper part of the picture with warm yellow and orange hues in the lower part of the composition.  A closer look reveals distinct gradations of colour in the various shades. Hence the main subject of this work is not colour in the general sense, but above all light and its effect in the form of colour in particular. Hues in the painting appear in a prism-like refraction of light on a white background, maximising their intensity.
AUCTION
Post-War and Contemporary Art, 23 June, 16:00 (CET)
Palais Dorotheum, Dorotheergasse 17, 1010 Wien
20c.paintings@dorotheum.at
Tel. +43-1-515 60-358, 386
View now the auction catalogue and read our new myART MAGAZINE