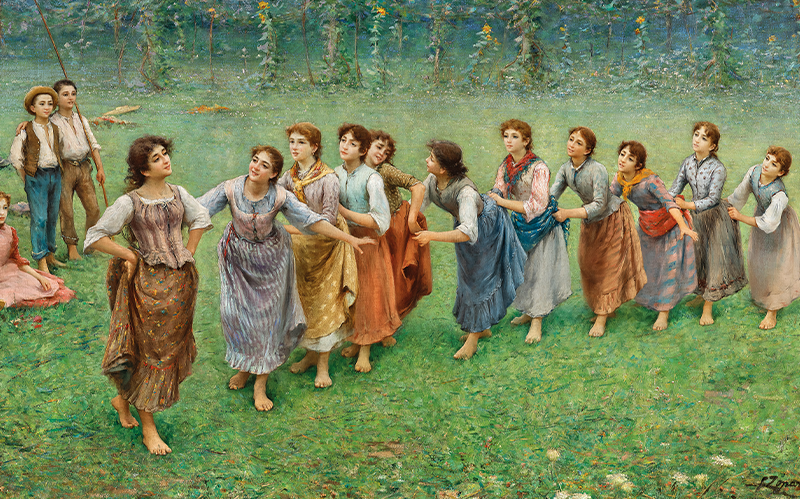 Fausto Zonaro (1854–1929), La Coda del Diavolo, oil on canvas, 79.5 x 137.5 cm, estimate €100.000 – 160.000
Fausto Zonaro's painting – the embodiment of unaffected joie de vivre – was long thought lost. After an eventful journey, La Coda del Diavolo will be auctioned at Dorotheum in October.
"Those strolling through Pera are bound to be captivated by this magnificent painting by Fausto Zonaro, artist to the Sultan. It depicts Veneto village girls frolicking in a picturesque green meadow. The painting is a true testament to the refined taste and elegance of this brilliant artist, who has arranged his colours so masterfully as to make his subjects appear alive. Indeed, one might say he has imbued them with a soul."
This is how the Italian magazine La Turchia described the painting La Coda del Diavolo on 1 December 1906. The artwork was displayed in the window of the showroom of the Hereke carpet factory in Beyoğlu. This early work by the Italian-born artist Fausto Zonaro was the result of a visit to his family in Tramonte, a village in the hills of Padua. As his sister recounted of its genesis, "It was during the holidays that our brother Fausto came to the countryside to spend a little time with us. He had a beautiful painting in mind, which he started shortly after his arrival. On several occasions he had observed a game that young girls played on the grass in their spare time. It was called 'Devil's Tail'."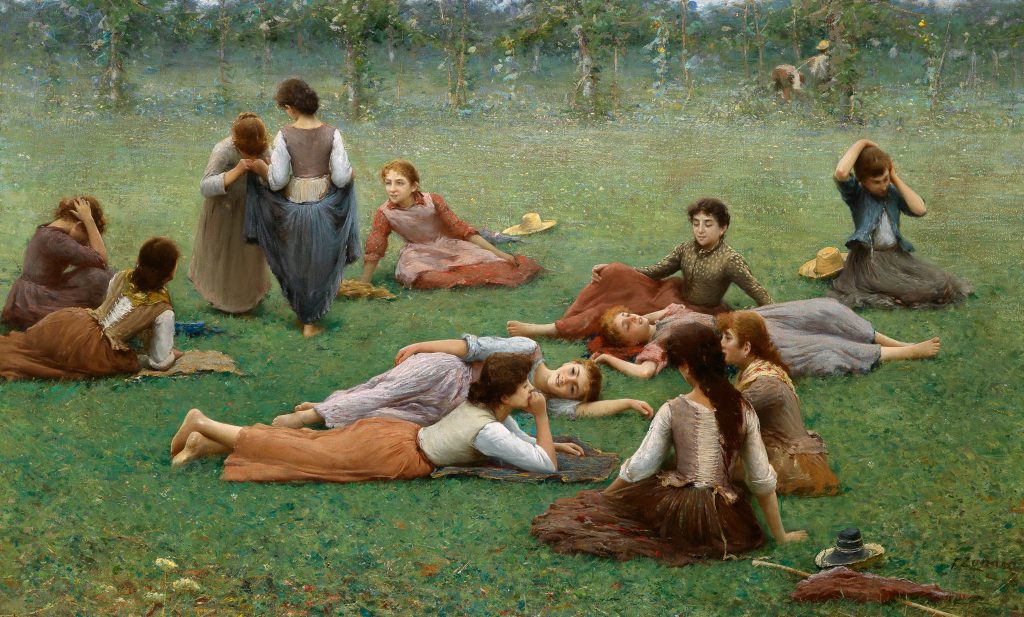 The painting depicts a scene from a popular children's game in rural Italy: the strongest and tallest girl would lead a line of other girls, each grabbing the dress or apron of the playmate in front. The girl at the head of the line would then have to defend the others with outstretched arms against the devil's taunts. The game unfolds amidst a cacophony of shouts and laughter until the last girl in the chain is finally caught. Zonaro skilfully rendered this dynamic and spirited scene on canvas, capturing the girls' graceful yet modest demeanour with remarkable realism. A closer look at the painting reveals the reasons for the artist's deep attachment to it, his motivation for taking the work, along with Dopo il gioco – a depiction of girls resting in a meadow After the Game – with him from Italy to Istanbul (then Constantinople). Both Dopo il gioco, which was sold at Dorotheum in April 2010, and La Coda del Diavolo had been lost to history since their unveiling in 1908 as part of the last exhibition at the Zonaro family residence in Akaretler, Istanbul. The artist had created the two paintings as a diptych. Now, 13 years after the surreal-yet-remarkable rediscovery of Dopo il gioco, its counterpart La Coda del Diavolo – previously known only from a photograph – has reappeared in a German private collection and will be auctioned on 24 October 2023.
After a somewhat unsettled period in the late 1880s – during which Zonaro spent a brief stint in Paris in 1888 before settling in Venice, where he taught painting and met his future wife Elisa Pante – the painter set off for Istanbul with his young bride in 1890 to seek his fortune. He arrived on 5 November 1890 as a third-class passenger and immediately succumbed to the city's intoxicating allure. In his memoirs, he recounts an incident at the port of entry to Istanbul when a customs officer detained him and searched his belongings. Among them was the now rediscovered La Coda del Diavolo. When he explained that the painting was his own work, the officer was delighted. After paying a nominal fee, the hopeful artist was allowed to enter the country. From then on, Zonaro meticulously preserved the paintings from his Italian period. He kept them carefully rolled up in his bedroom to ensure their quick recovery in the event of a fire, a common occurrence in Istanbul at the time. He also exhibited them to the curious public and occasionally sent them to European group exhibitions. La Coda del Diavolo, for example, was exhibited in both Barcelona and Rome in 1896.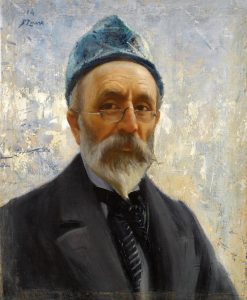 It was while serving as court painter to Sultan Abdul Hamid II (1842–1918) that Zonaro met the sultan's eldest son, Şehzade Mehmed Burhaneddin (1885–1949). A deep friendship developed between the two men and the Ottoman prince became an enthusiastic collector of Zonaro's works. When the revolution broke out and Zonaro's influential patron, Sultan Abdul Hamid II, was forced into exile, the painter decided to leave Istanbul with his family. La Coda del Diavolo, exhibited for the last time in 1908, probably remained in the artist's possession until 1910. It would likely have travelled with him to Italy, had not his friend Prince Şehzade Mehmed Burhaneddin visited his studio shortly before his departure. Zonaro ultimately parted with the cherished work, as well as other paintings, by selling them to the prince – a final testament to the deep trust between the two men. The prince wrote, "I am pleased to acknowledge that Monsieur Zonaro is without question the most important artist in the Orient today. I am very happy to have acquired some of his most exquisite paintings, which I consider to be masterpieces." Following his father's exile, Prince Burhaneddin moved to Switzerland and then on to Vienna in October 1915. He lived at the Hotel Bristol until late 1921 before moving on to Nice and Paris. In 1930, he made his way to New York, where he settled and lived until his death in 1949.
All trace of this masterpiece, which, along with Dopo il gioco, Fausto Zonaro himself considered to be the most successful and representative work of his early career, was lost in 1910. It is, however, very likely that Prince Burhaneddin took it with him to Europe, where it has now reappeared in a private German collection and is on view once again, for us to admire in all its glory.
Browse the auction catalogue now and read our new myART MAGAZINE