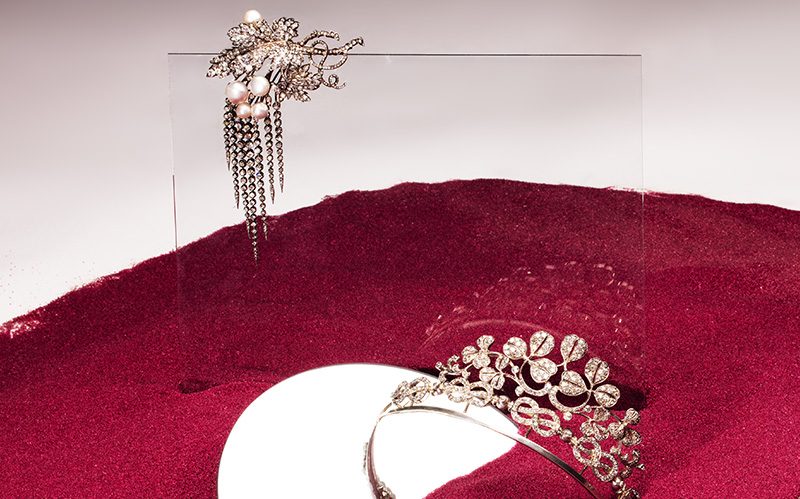 Jewellery with pedigree
The noble knight Prince Eugen is well known to every Austrian. His descendance from the House Savoy is no secret either – Eugen's family history leads us from Italy, to jewellery and eventually into the Dorotheum.
This is how various precious pieces from the holdings of the House of Savoy arrived at Dorotheum's auction on 17 May 2018.
Do you know the House of Savoy-Genoa?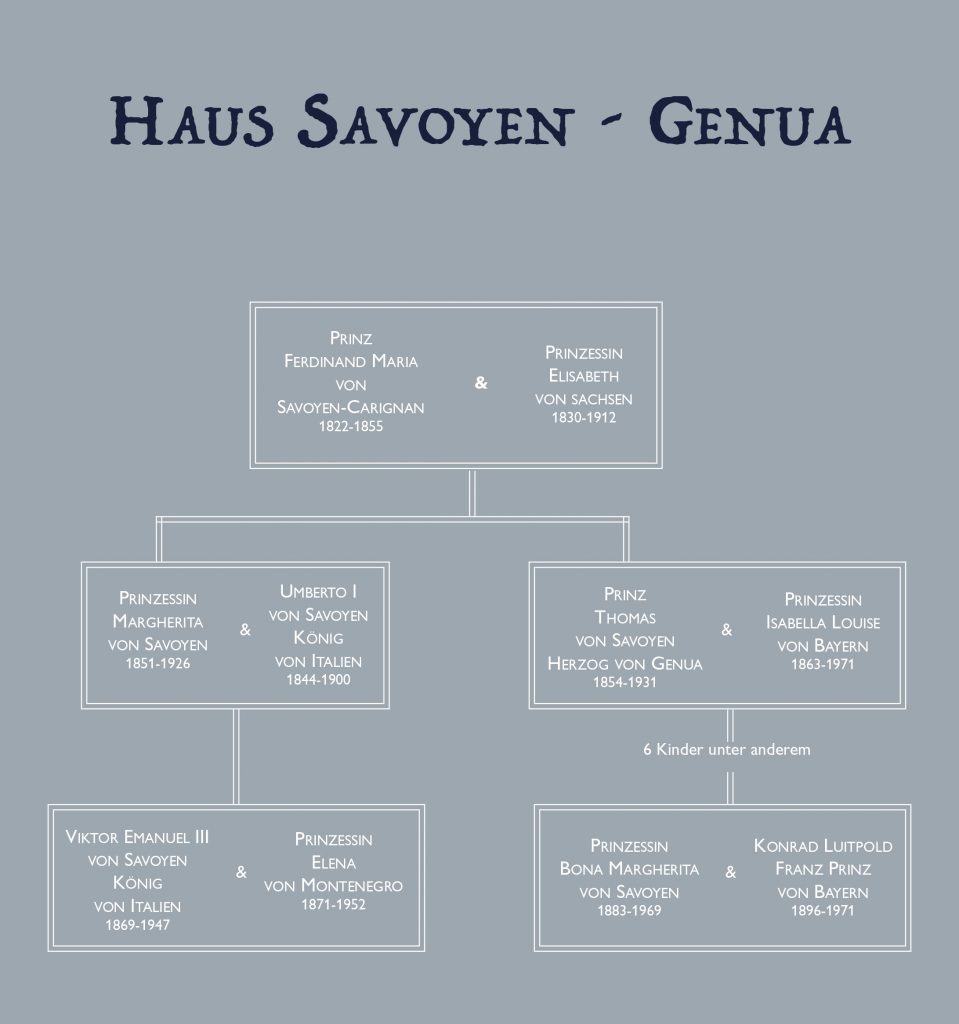 Prince Ferdinand Maria of Savoy-Carignano, born in 1822 in Florence, is a descendant from the same Savoy line as Prince Eugen, whose grandfather was appointed as first ruler of Carignano in the 17th century.
With the awarded title of duke of Genoa by his father Karl-Albert in 1831, king of Sardinia, Prince Ferdinand Maria of Savoy-Carignano not only became the first duke of Genoa but also the founder of the family line Savoy-Genoa.
During his marriage to Princess Maria Elisabeth from Saxony, they had two children:
Margaritha of Genoa, born 1851, became Queen of Italy through marriage with her first cousin, Umberto of Savoy.
Their son and successor, Viktor Emanuel, later became King Viktor Emanuel III. In 1896, he married Princess Elena of Montenegro, whose monogram-emblem is currently up for auction (Lot 25).
E stands for Elena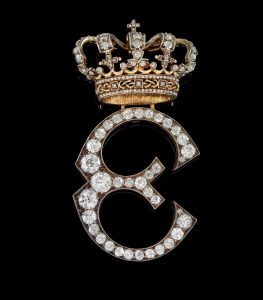 Princess Elena of Montenegro was born in 1873 as the youngest daughter of King Nikolai I of Montenegro. She studied Politics and Philosophy in St. Petersburg. Through her marriage with Viktor Emanuel, Prince of Naples, she became a member of the Italian monarchy in 1896 and after her husband's ascension to the throne, she became Queen of Italy in 1900. Furthermore, she was Queen of Albania, Empress of Ethiopia and duchess of Savoy.
Queen Elena primarily distinguished herself through charity work and her generosity.
Her personal engagement as a nurse during WWI was followed by medical studies and a doctor's degree.
The traditional goldsmith-manufacturers Chiappe in Genoa, Musy in Turin and Petochi and Cravanzola in Rome, were tightly connected with the Italian royal house. The original design for the diamond-studded emblem with Queen Elena's monogram was made by Musy and crafted by Cravanzola.
These monogram-decorations, adored by Italian royalty, were worn by the court ladies as pins on a blue ribbon.
The Savoy line in Bavaria
Thomas Albert Viktor, second duke of Genoa, born in 1854, was taken into care by his uncle King Victor Emanuel II after the early death of his father in 1855 and educated at the Harrow School in London. He was a passionate sportsman and lieutenant commander.
In 1883, he married Isabelle of Bavaria, with whom he had six children. The eldest daughter after two sons was Maria Bona Margherita, born in 1896.
In 1921, Maria Bona Margherita of Savoy married Konrad Luitpold Franz, Prince of Bavaria, in Château D'Anglie (Piemonte), where she was also born. She passed away in Rome, in 1971.
The tiara, the trembleuse, the emerald pendant and the amethyst floral bracelet originate from the holdings of this family line.
Tradition and Modernism combined
The tiara combines the traditional symbol of the House Savoy with fashionable elements from the end of the 19th/beginning of the 20th century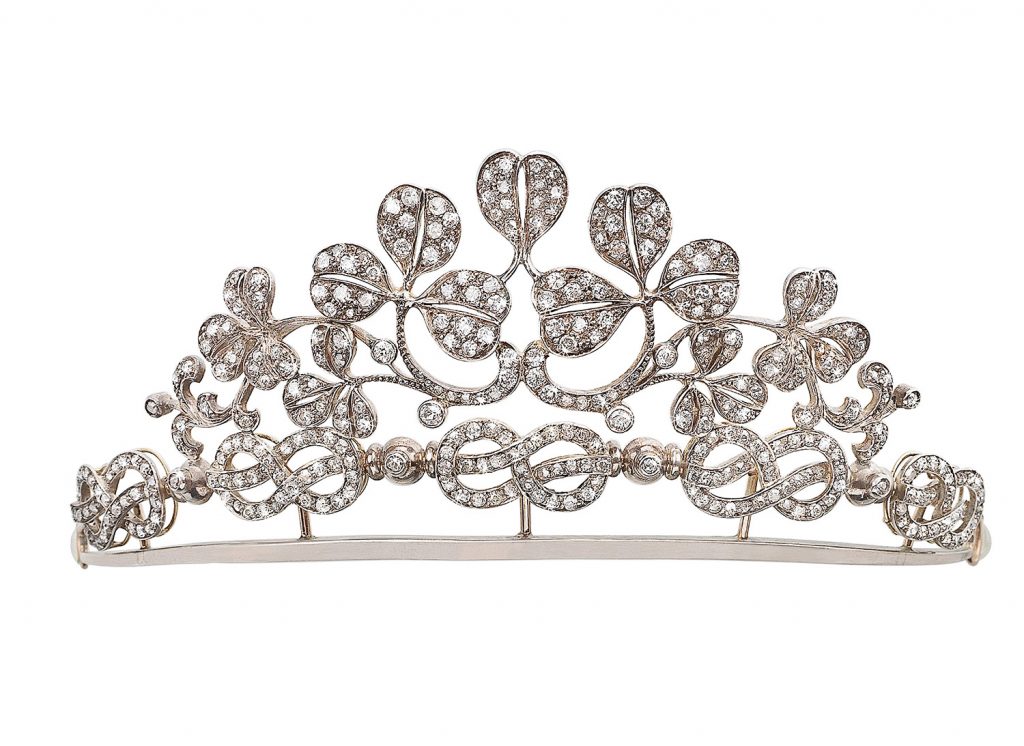 The crown's pedestal on the upper side of the silver frame is decorated with five "Savoy-knots" which are fitted tightly together. The ornaments of this "love rope" reoccur in various other European crests and medals.
In conjunction with the Italian crown and in the Italian heraldry it is regarded as a symbol of the House Savoy.
The "Savoy-knot" serves as decoration for multiple pieces of the family's jewellery, such as bracelets, crowns, necklaces and brooches. Often, they could be removed and worn with other attire in different combinations.
The stylized floral ornaments of this tiara, generously inlaid with diamonds, appear as three-leafed clovers. They are an example of naturalism, which reemerged into fashion during the last third of the 19th century and became a popular motif for brooches, pins and necklaces.