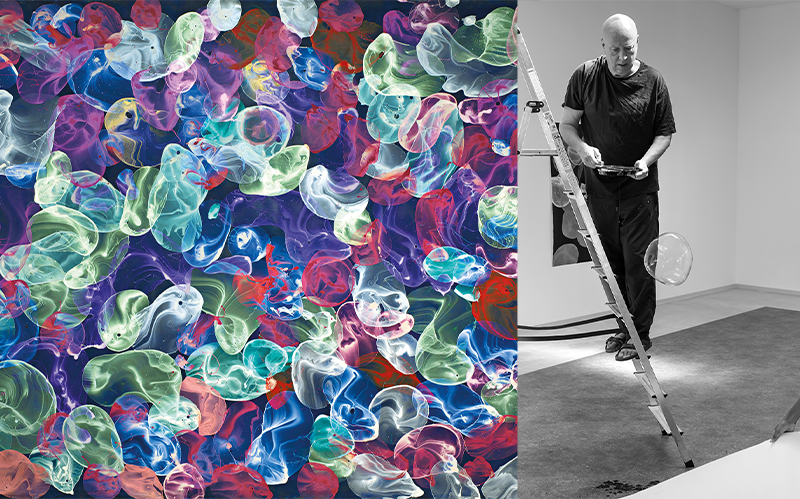 Jiří Georg Dokoupil is a quick-change artist in the contemporary art world. One of his favourite subjects, soap bubbles, is as changeable as he is himself. Dokoupil's most successful series include Soap Bubble Paintings, one of which is up for auction this autumn.
Jiří Georg Dokoupil has been creating art on canvas since the 1970s, for much of that time, without the help of brushes. Like a pop star, he completely reinvents his art with each series, thinking out of the box and expressing his creativity using a wide variety of materials ranging from breast milk to fruit juice. His œuvre now includes around 140 series that in no way resemble each other.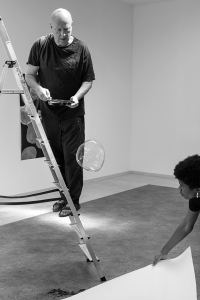 Dokoupil was born in 1954 in Krnov, Czechoslovakia. His family fled to Germany in the late 1960s. After studying liberal arts in Cologne, Frankfurt am Main and New York, where he experienced Hans Haacke's conceptual art at the Cooper Union, he lived in Cologne for a while working with five other artists including Walter Dahn and Peter Bömmels in a shared studio. This was the birth of the artists group Mühlheimer Freiheit, named after the address of the studio. The six artists of the group are important representatives of the Neue Wilde (Wild Style) movement of the 1980s. At that time, the German-Czech artist, Dokoupil, was already taking part in a number of ground-breaking group exhibitions as well as showing his work at the 40th Venice Biennale and at documenta 7. In 2012, he was awarded the Lovis Corinth Prize. Dokoupil acquired international renown through large solo exhibitions, for example at the Hamburg Deichtorhallen in 2005, and through his participation in internationally acclaimed shows such as The 80s at Städel Museum, Frankfurt am Main, and Geniale Dilletanten (sic) at Haus der Kunst, Munich, both in 2015. His works can be seen in museums such as the Fundación la Caixa Barcelona, Kunsthaus Zürich, Nationalgalerie Berlin, Staatsgalerie Stuttgart and the Van Abbemuseum in Eindhoven. Dokoupil now lives and works in Madrid, Rio de Janeiro, Plovdiv, and Las Palmas.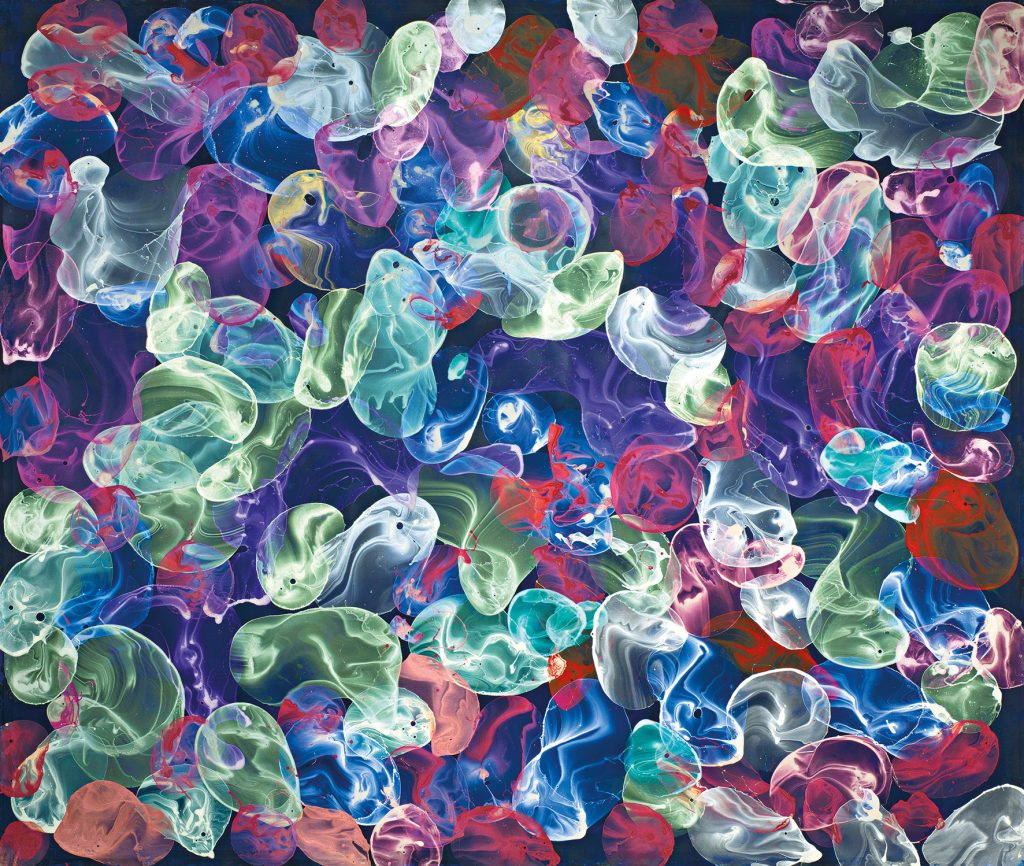 The Soap Bubble Paintings, which include Mis Mus Sian, are among the artist's longest-running series. Standing on a ladder holding a metal hoop, Jiří Georg Dokoupil lowers soap bubbles onto the canvas. To do this, he uses a soap solution mixed with partially shimmering pigments, the exact composition of which he keeps a secret. The soap bubbles' individual layers create an incredible depth for a two-dimensional work, while their different shapes and orientations evoke movement. Overwhelmed not least by the enormous format of over 2.5 by 3 metres, the viewer is immersed deeper and deeper into the cosmos of the work.