Works by Lucio Fontana are always a highlight when they come for sale at Dorotheum. This November's major auction once again feature outstanding works by the exceptional artist, who created art history with his slit and perforated canvases and objects.
"The hole is my invention, that is all there is to it. After this invention, I can die." Lucio Fontana's first perforated canvases were created in 1949, and a decade later the artist began to work on his famous cuts through the canvas. Holes and cuts, buchi and tagli, became variations on Fontana's fundamental concept. The Olii, on which Fontana worked intensively from the early 1960s, are also dominated by deep punctures and scratches.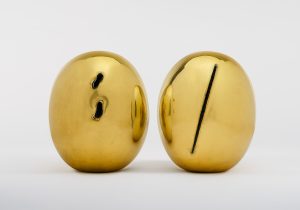 With the radical gesture of piercing, the flat surface of the image is broken. The light falls through the openings, creating a new spatiality and depth. In this way, Fontana crosses a boundary that opens a new dimension and thus a new freedom for art – a revolutionary path in art history. Accordingly, Fontana names his works Concetti Spaziali – spatial concepts: "A hole is the beginning of a sculpture in space. My works are not pictures, but art concepts."
Fontana allows the art genres – architecture, painting, sculpture – to merge into one another. In his Concetti Spaziali, real and imagined space combine; the view into the hole challenges the viewer's imagination. At the same time, the material character of the canvas or object is made tangible by piercing and cutting through it.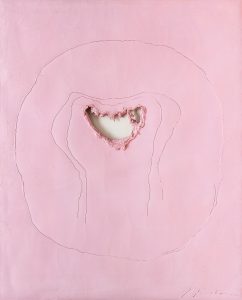 Fontana's Olii of the 1960s, as well as his metal works which were created during the same period, bear witness to the artist's sensual relationship to the material. He was fascinated by the texture of the malleable, slightly plastic oil paint, which is particularly well-suited to making visible gestures of scoring, piercing, or cutting. Fontana plays with the possibilities of handling canvas, paint, metal, glass or even light: the artistic gesture develops on the material and brings its potential to life.
Information:
Alessandro Rizzi and Patricia Pálffy,
Specialists for Modern and Contemporary Art