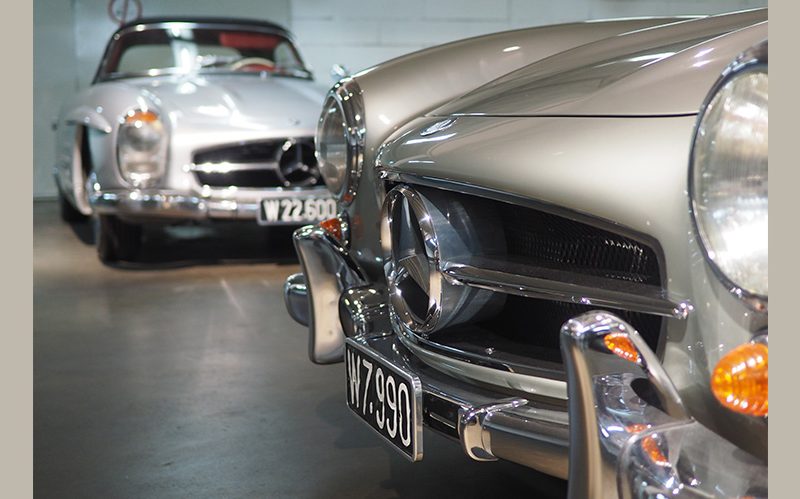 The Very Best of Mercedes-Benz
The Wiesenthal collection unites the very best cars to have ever left the Mercedes-Benz factory floor: 13 top models from the Austrian car dealership dynasty's personal collection are on sale at Dorotheum's Classic Cars auction on 1 December 2018 at the Austrian National Library.
The Collection of a Century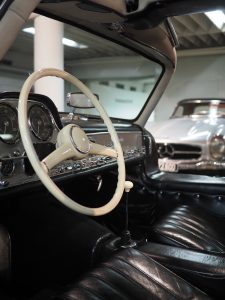 The license plates read W105, W119, W2008, W7990 and so forth; all of them old, small, black Vienna plates of a kind you hardly ever see on the city's streets anymore. Whenever they are spotted, however, they never fail to cause a minor commotion, partly due to the unusual plates, but mainly because of the cars to which they belong. The vehicles in question comprise the House of Wiesenthal's exclusive fleet of classic cars, a collection that has few equals in Austria or abroad.
That's its story:
It all began in the 1920s when Günther Wiesenthal first bought a stake in Mercedes-Benz' Vienna and Prague dealerships, founded the Motor Import Gesellschaft and expanded the sales organizations with a number of additional branches in what was then Czechoslovakia. In 1932, he was appointed managing director of the German carmaker's Austrian sales operation, and three years later Mercedes-Benz promoted him to head of exports at the company's German headquarters in Stuttgart.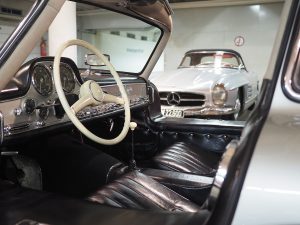 After the end of World War II, Gūnther Wiesenthal returned to Austria where he founded the Mercedes-Benz Zentralbüro in Salzburg in 1955. Just three years later, however, he took off again, this time to the US where Mercedes-Benz made him the company's first president of US operations. Wiesenthal picked his protegee, Georg Pappas, as his replacement as managing director in Salzburg.
Having returned once again to Austria, in 1960 Günther Wiesenthal acquired the Vienna branch of F. K. Wittke, which was to become the backbone of the Wiesenthal family's business ventures in the decades to follow – something the patriarch unfortunately did not live to see. Günther Wiesenthal died the same year of leukemia. While Wiesenthal's family inherited 50% of the Zentralbüro, the other 50% went to Georg Pappas. From that day on, Mercedes-Benz' Austrian sales organisation was divided into two separate entities, East and West. The East was managed by Wiesenthal's widow Hilde.
In 1972, Günther Wiesenthal's daughter, Susanne Sulke-Wiesenthal, and Patrick Graf Douglas, took over from Hilde. As her father before her, Susanne Sulke-Wiesenthal sought to further the family's interests outside of Austria, and through the success of EuroMotorcars, Susanne Sulke-Wiesenthal managed to turn the Vienna-based family business into a global enterprise. It is also Susanne Sulke-Wiesenthal and Patrick Graf Douglas who established the Wiesenthal collection as we know it today. From the end of the 1970s onward, new acquisitions were increasingly added to the family's already existing fleet of Mercedes-Benz cars. Added to the favoured pontoon- and fin-equipped Coupés were the best and most exclusive models from generations past: A 300 S, in its day the world's most expensive car model, a 600 Pullman that carried the license plate number W1000, signifying that it was Austria's first – and for a ten-year period only – street car. The collection also includes two 300 SL, a Roadster with the production number 11, and a specimen of the now legendary gull-winged Coupé.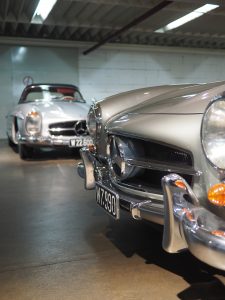 Until their deaths, Susanne Sulke-Wiesenthal and Patrick Graf Douglas continued to grow the collection, and today it offers a rare cross section of the history and development of post-war Mercedes-Benz. 13 models are up for sale. These cars embody the best of the best, some beautifully refurbished, others as original as the day they left the factory, all with an elite provenance.
The Wiesenthal collection

1952 Mercedes-Benz 300 S Roadster
1954 Mercedes-Benz 300 b Cabriolet D
1954 Mercedes-Benz 220 Cabriolet A
1955 Mercedes-Benz 300 SL Coupé
1957 Mercedes-Benz 300 SL Roadster
1957 Mercedes-Benz 220 S Cabriolet
1958 Mercedes-Benz 220 SE Coupé
1964 Mercedes-Benz 600 Pullman
1965 Mercedes-Benz 230 SL
1970 Mercedes-Benz 280 SE 3.5 Cabriolet
1977 Mercedes-Benz 450 SLC
1979 Mercedes-Benz 450 SEL 6.9
1986 Mercedes-Benz 560 SEL
AUCTION
The Wiesenthal Collection
1 December 2018, 5 pm
Nationalbibliothek (Austrian National Library), Josefsplatz 1, 1010 Vienna
The vehicles will be exhibited at the Austrian National Library in Vienna from 27 November to 1 December!