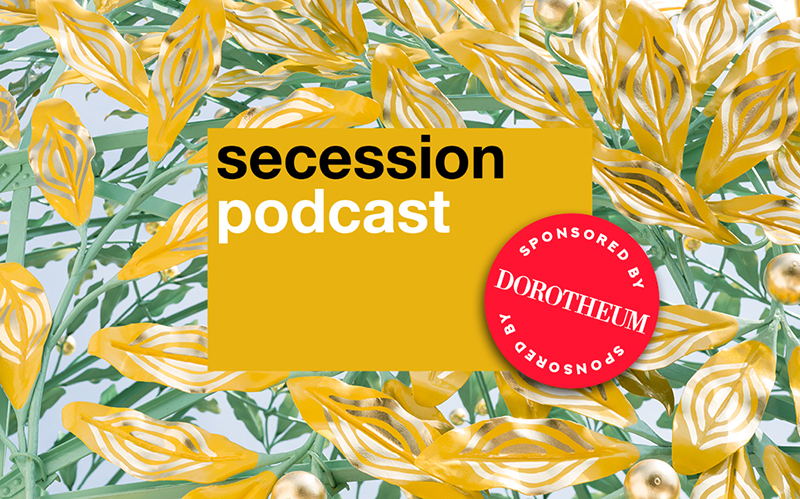 Photo: © Jorit Aust
The Secession Podcast, made possible by the Dorotheum, is the Secession's new digital series with 4 major topics divided into: Members Artists, Discourse and Sound.
Secession Podcast
In conversations with artists, curators, and experts, the Secession  podcast provides interesting insights into the twelve to fifteen exhibitions of contemporary art that take place at the Secession every year.
The program also features discussions on current issues as well as experimental sound formats and dialogues with members of the Association of Visual Artists, who share their personal recollections and reflect on the 125-year history of this unique artist-run institution. 
Association of visual artists
The Association of Visual Artists Vienna Secession is now the world's oldest independent exhibition institution specifically dedicated to contemporary art. The program of ten to fifteen exhibitions per year is drawn up by the members of the board of the Association of Visual Artists in a democratic process and solely on the basis of artistic criteria. The primary objective is to present relevant current tendencies in international and Austrian art.
SECESSION
The Secession was founded in 1897 by a group of artists around Gustav Klimt who had split off from the conservative Künstlerhaus. Klimt became the first president of the Association of Visual Artists; other founding members included the painters Kolo Moser and Carl Moll and the architects Josef Hoffmann and Joseph Maria Olbrich. In 1898, Olbrich designed the Secession's home as a built manifesto; the structure advertised the new association's commitment to cutting-edge modernist ideas. Another central vehicle for the Secessionist movement was the association's art magazine Ver Sacrum (Sacred Spring), whose programmatic title adorns the facade in gold letters to this day.
Although early exhibitions at the Secession sometimes featured women artists like Charlotte Andri-Hampel, Sophie Burger-Hartmann, Julie Baroness Myrbach, Emilie Pelikan-Mediz, Teresa Feodorowna Ries, Käthe Kollwitz, Elsa von Kalmar, and Elena Luksch Makowsky, women were not admitted to the Association until 1949. The first women members were Elfriede Stark-Petrasch, Hedwig Wagner, and Margret Bilger. In 1974, Christa Hauer-Fruhmann was the first woman to be elected to the board; the first female president, Barbara Holub, took the helm of the Secession in 2006.